Today, we are excited to present a special edition of our newsletter, featuring deeper insights from our Civic Engagement Poll (CEP). This issue explores how Ukrainians perceive the impact of civil society organizations, their attitudes towards common stereotypes associated with these organizations, and their willingness to support reconstruction efforts and CSOs financially. This edition also features an insightful gender-based disaggregation analysis of CEP, offering a nuanced perspective on civic engagement across different demographics.
Furthermore, we are delighted to announce the launch of our updated Request for Applications, designed for civil society initiatives. This updated version offers even more comprehensive institutional and project support, fostering greater citizen involvement in democratic progress, bolstering trust in civil society, and bringing us closer to Ukraine`s victory. We encourage you to read, submit your applications, and join us in the endeavor to enhance civil society in Ukraine!
****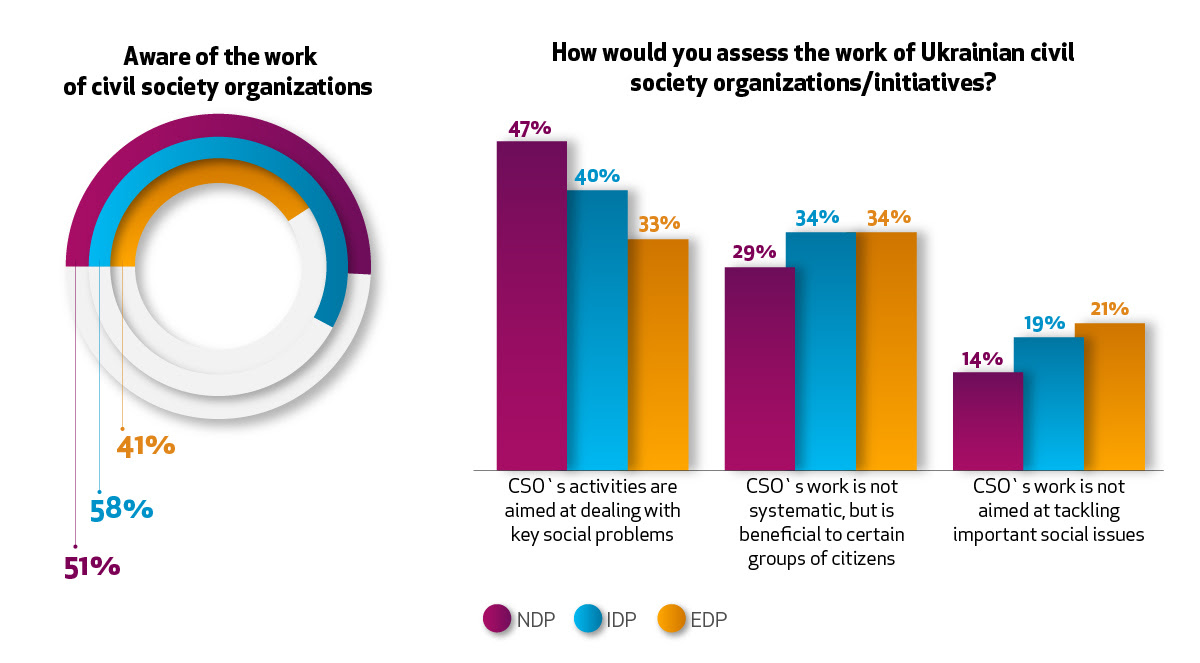 Ukrainians from all three surveyed groups – non-displaced persons (NDPs), externally displaced persons (EDPs), and internally displaced persons (IDPs) demonstrate awareness of CSO activities. Among these groups, 58% of NDPs, 51% of IDPs, and 41% of EDPs are aware of such activities. In general, Ukrainians agree that CSO`s work is aimed at dealing with key social problems with 47% of NDPs, 40% of IDPs, and 33% of EDPs sharing this point of view.
****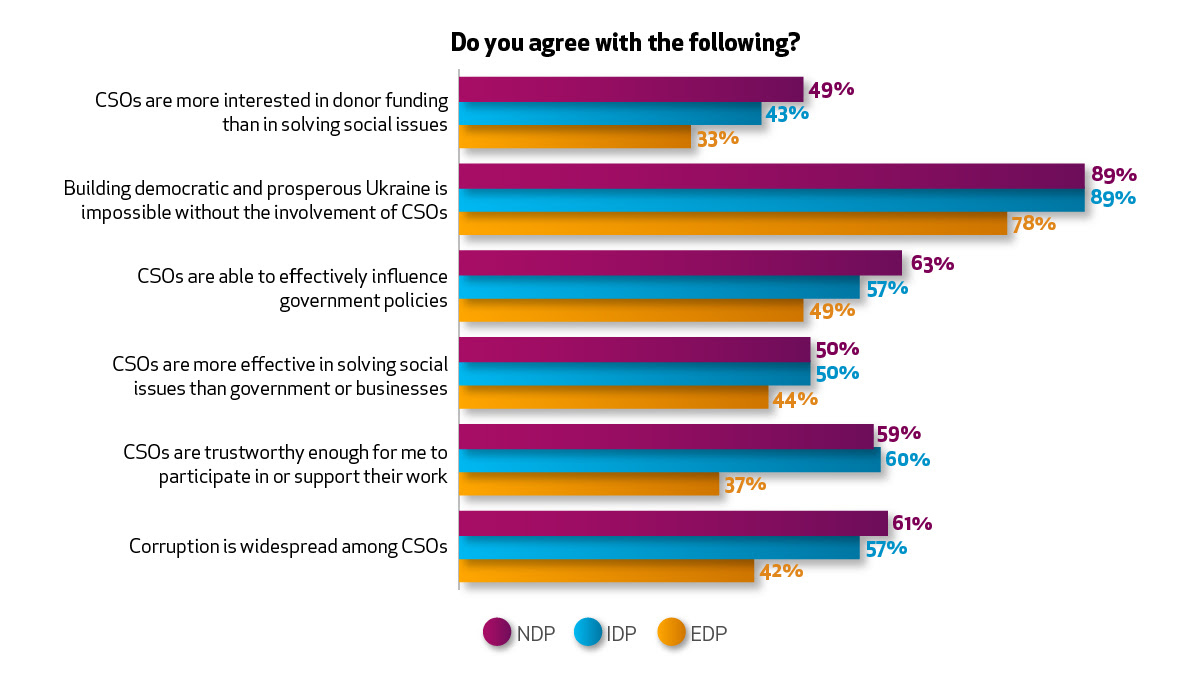 Citizens residing in Ukraine tend to report more confidence in CSOs and their role in ensuring the democratic development of the country. In particular, 60% of IDPs and 59% of NDPs agree that CSOs are trustworthy enough to participate in or support their activities, compared to 37% of the externally displaced population. Furthermore, a significant majority of those residing in Ukraine, with 89% of respondents, believe that the development of a democratic Ukraine is unachievable without the involvement of CSOs. In terms of perceived influence on government decisions, 63% of NDPs and 57% of IDPs believe that CSOs can influence government decisions, whereas 49% of EDPs share this belief.
EDPs exhibit a distinct viewpoint on certain negative narratives associated with CSOs. They are comparatively less likely to believe that CSOs prioritize donor funding over solving social issues and perceive CSOs as less corrupt, with 42% believing corruption is widespread among CSOs, compared to 61% of NDPs and 57% of internally displaced Ukrainians.
****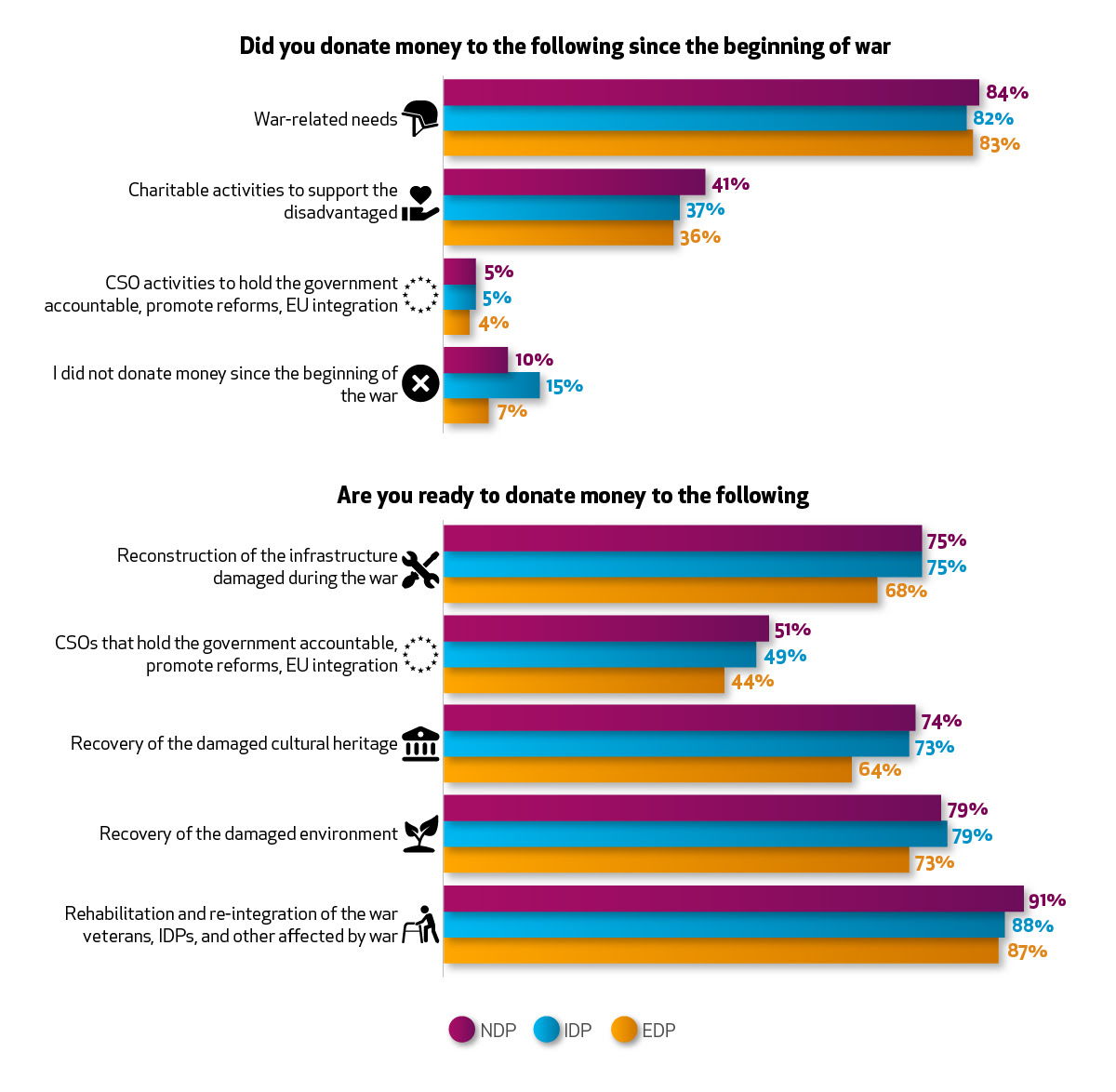 An overwhelming majority of Ukrainians donated money to war-related needs since the beginning of the war (84% NDPs, 83% EDPs, and 82% IDPs). On the other hand, 5% of respondents residing in Ukraine and 4% of externally displaced citizens donated money to CSO activities.
Ukrainians are ready to donate money to various causes aimed at facilitating post-war recovery. This includes facilitating the rehabilitation of war veterans and others affected by war (91% NDPs, 88% IDPs, and 87% EDPs). Financially supporting the reconstruction of infrastructure (75% NDPs, 75% IDPs, and 68% EDPs, Restoring damaged cultural heritage (74% NDPs, 73% IDPs, and 64% EDPs. Addressing environmental issues (78% NDPs, 79% IDPs, and 73% EDPs. Yet, fewer respondents from all samples are ready to donate money to civil society organizations that promote government accountability, reforms and EU integration (51% NDPs, 49% IDPs, and 44% EDPs).
****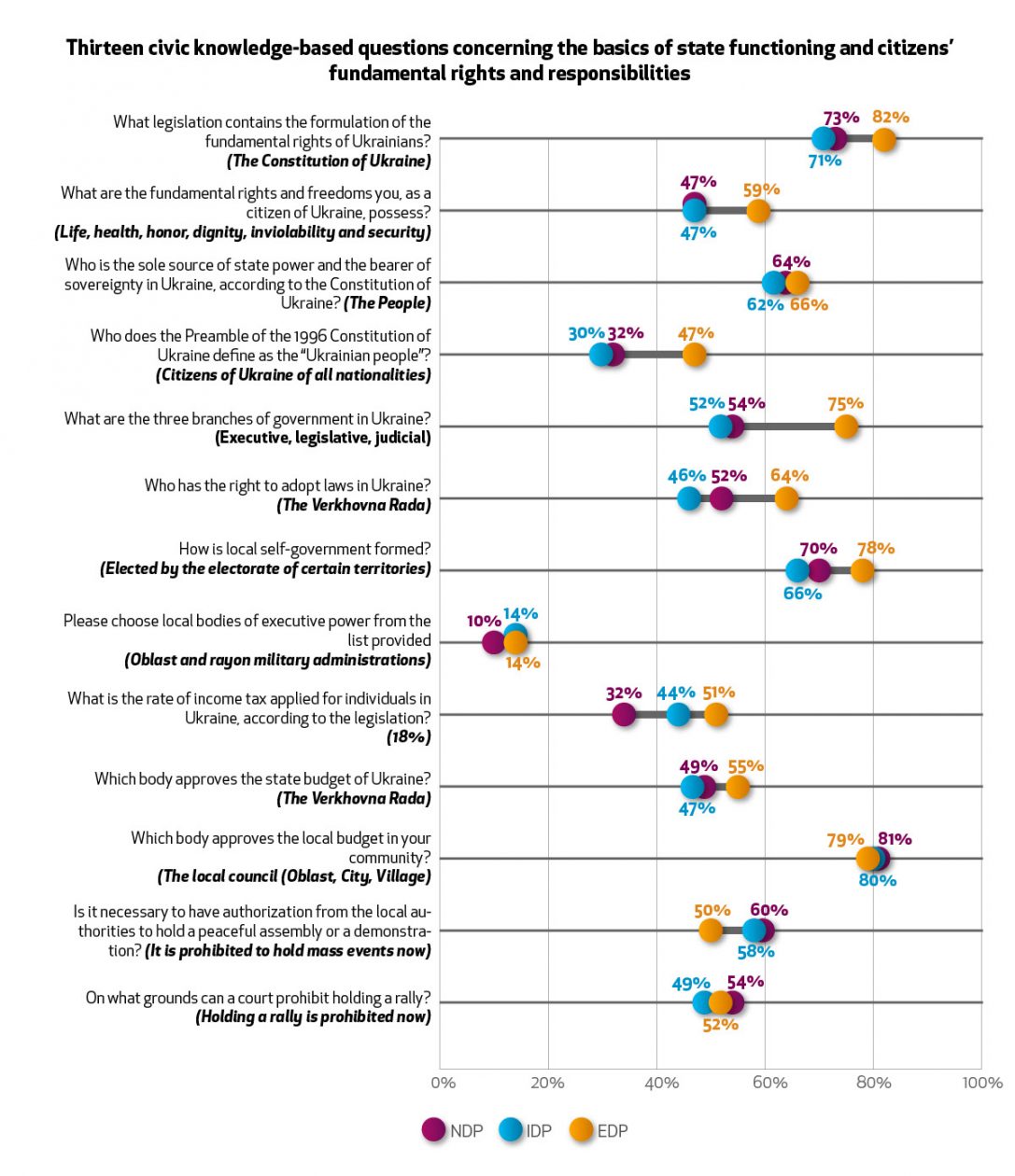 As part of the survey, respondents were asked 13 knowledge-based questions concerning the basics of state functioning and citizens' fundamental rights and responsibilities. Apart from the wartime regulation prohibiting the right to peaceful assembly in Ukraine, EDPs demonstrate considerably higher civic knowledge than NDPs and IDPs – 32% provided correct answers compared to 18% among both NDPs and IDPs. At the same time, respondents from all surveyed samples faced challenges with identifying local bodies of executive power. Only 10% of NDPs, and an equal share of 14% among EDPs and IDPs, provided the correct answer to this question.
****
Opportunities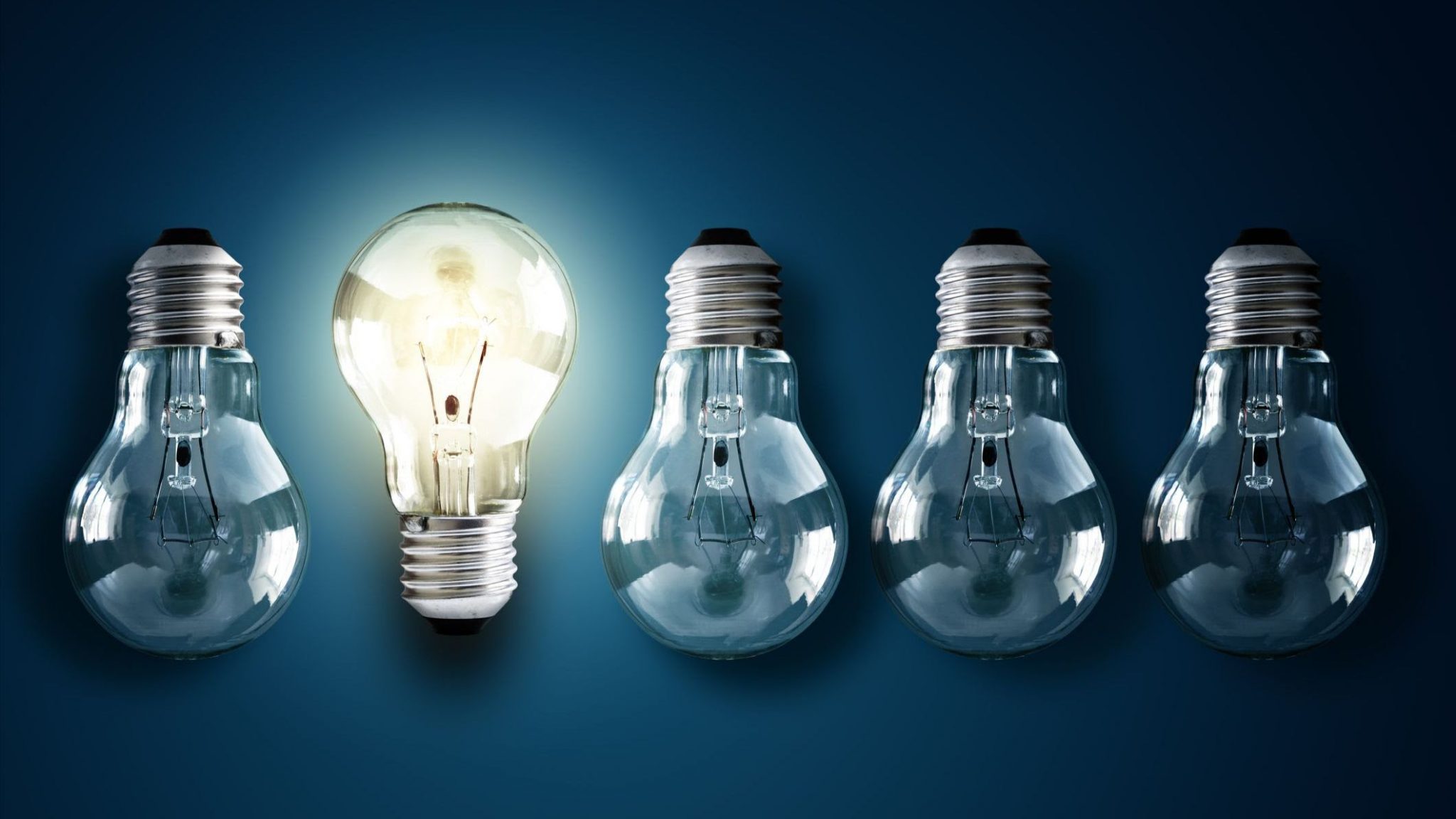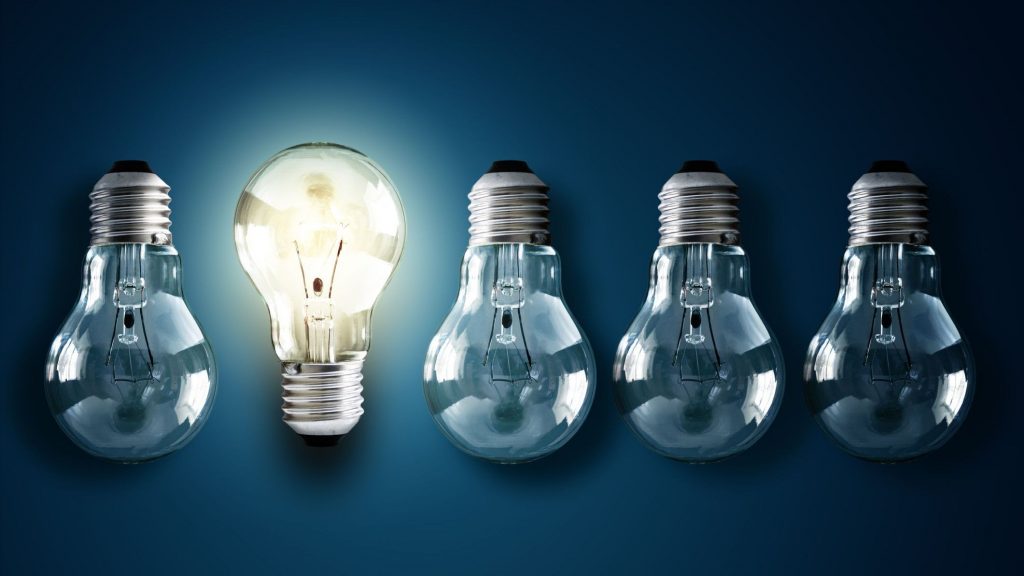 More Opportunities! We Introduce an Updated Request for Applications
Long-awaited! We are pleased to introduce our updated and enhanced Request for Applications for civil society initiatives. It provides expanded institutional and project support, contributing to increased citizen participation in democratic processes, strengthening confidence in civil society, and advancing Ukraine's drive towards victory. We encourage you to review its terms and conditions, submit your applications, and join us in empowering civil society in Ukraine!
****
What We Read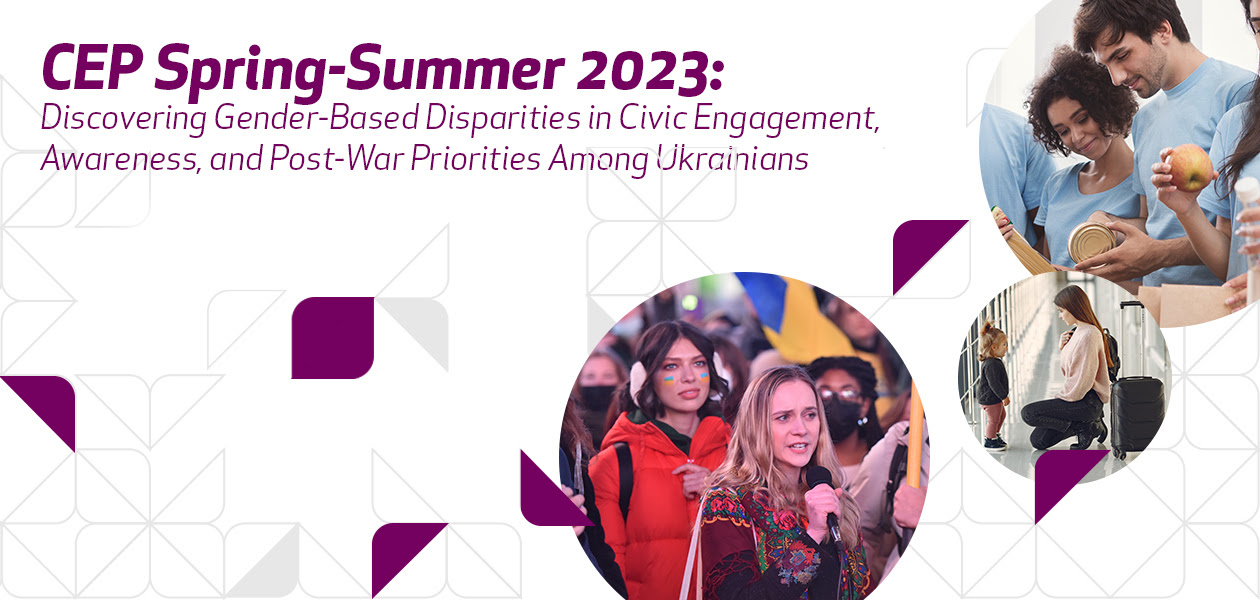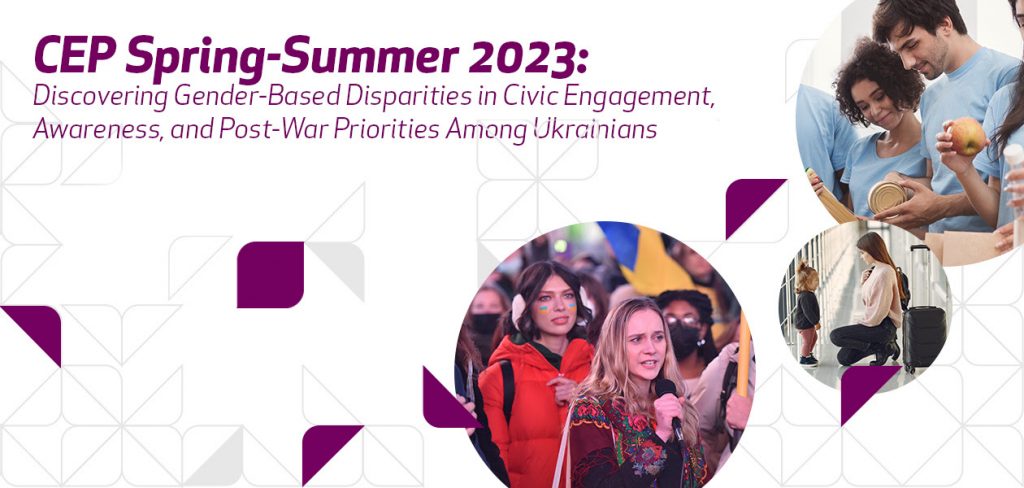 CEP Spring-Summer 2023: Discovering Gender-Based Disparities in Civic Engagement, Awareness, and Post-War Priorities Among Ukrainians
In our latest Civic Engagement Poll (CEP) for Spring-Summer 2023, we present key gender-based differences in civic engagement among Ukrainians. This analysis focuses on diverse aspects such as democratic participation, awareness of reforms, civic knowledge, and perceptions of pot-war priorities. We have disaggregated CEP data by biological sex across three groups of adult respondents: non-displaced Ukrainians (NDPs), Ukrainians who were externally displaced abroad due to the war (EDPs) and internally displaced persons (IDPs). Click the button below to learn more findings!
****