Being able to serve Ukraine's most vulnerable groups during Russia's war is a key priority for Pact under the USAID/ENGAGE project. To that end we have looked deeper into our 2022 Civic Engagement Poll (CEP) to dissect civic engagement, perception of reform processes in Ukraine, as well as involvement of Ukrainian women and IDPs in resisting Russia's aggression. Pact presents key findings based on the disaggregated analysis of the latest round of the CEP, conducted in summer 2022 under the USAID/ENGAGE Activity.   
Key Findings
Women's engagement in CSO activities and in the life of their communities skyrocketed in 2022 but remains marginally lower than that of men. In 2022 both women and men demonstrated significantly higher engagement in CSO activities and in the life of their local communities compared to any of the previous five years. While women were slightly less involved with CSOs and local community issues than men, the difference is marginal. In 2022, men have become slightly more active than women in both CSO engagement and involvement in local community issues for the first time since 2017.
---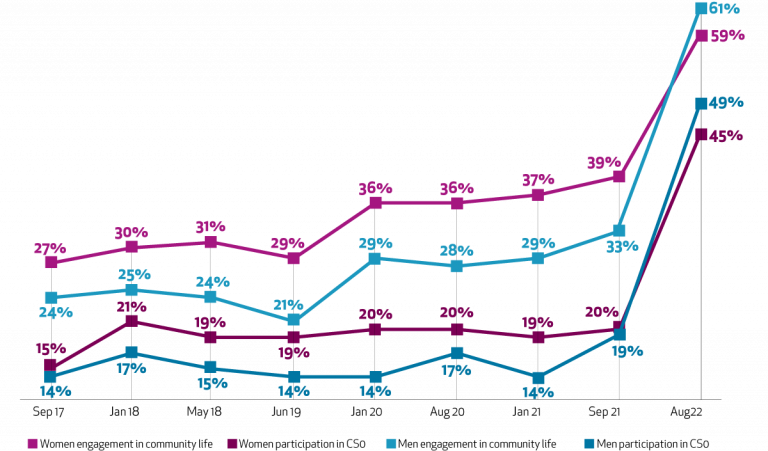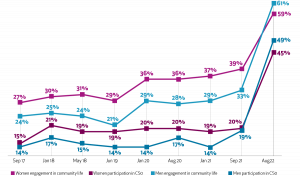 ---
Key barriers to participation differ for women and men. While "lack of time" and "physical condition" are shared top barriers to engagement with CSOs and in community life, the other key barrier for women is "care for the family", while for men it is "employment or study". In line with the general trend, the share of women who did not engage with CSOs or participate in community life has dropped significantly compared to 2021.
Despite a high level of involvement, women were less active than men in resisting Russia's aggression. Men participated slightly more than women in donating money to support the resistance (61% vs 58%), joining a volunteer movement to support the army, IDPs, or war victims (76% vs 69%), or reporting about enemy movement, whereabouts, or collaborators (10% vs 6%). Both women and men contributed almost equally to assist IDPs at shelters or offered them free housing (42% of men and 40% of women), procure goods for army needs (42% of men and 40% of women), and to provide information resistance (24% of men and 18% of women). Men are more likely to serve in the military or in territorial defense (20% vs. 2%), volunteer as professionals (10% vs. 6%), or give blood to the injured (14% vs. 7%). In general, the number of women who made no quantifiable effort to resist Russia's aggression is higher than of that of men (26% vs 19%).
Women have less personal experience with corruption than men, and are more optimistic about the government's effectiveness in eradicating corruption. Compared to what men claim, considerably fewer women claimed to have faced corruption personally (17% vs. 10%), yet both women and men almost equally believe there is progress in anti-corruption reform (52% vs 50%). 35% of women consider the government of Ukraine to be effective in fighting corruption, whereas only 28% of men believe so.
---
Have you or your family members directly faced corruption (bribe, extortion, nepotism etc) during the last 12 months? – Yes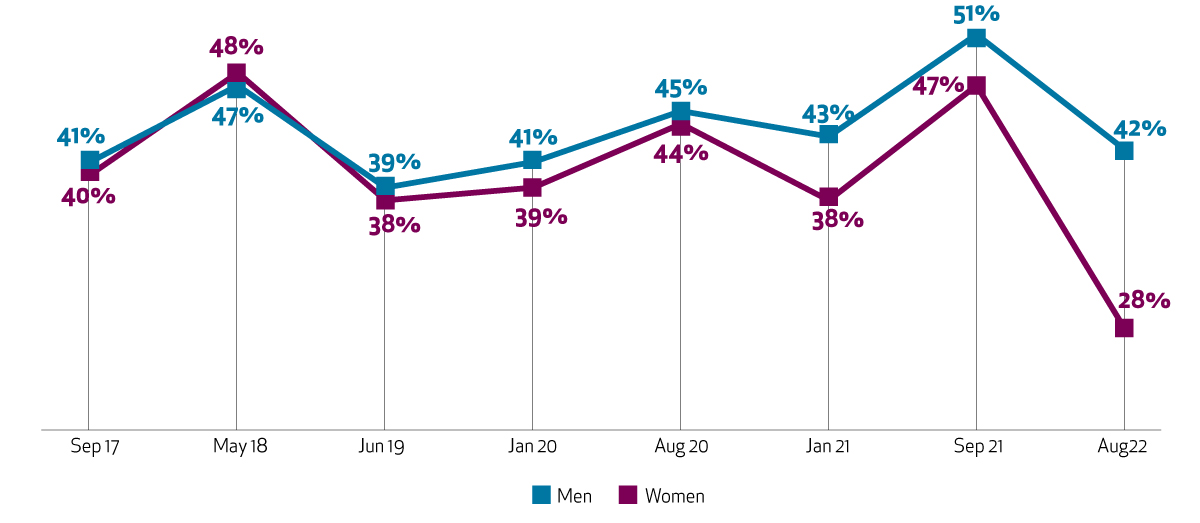 ---
Women less often than men participate and express interest in anti-corruption activities. 2% of women reported on corruption cases personally or by phone (compared to 5% of men) and 24% of women expressed an interest in doing so (compared to 40% of men). A similar tendency is observed when it comes to anonymous reports on corruption online or open reports on corruption in the media. Fewer women than men (45.2% v 59.2%) purport to be ready to collectively protest against national level officials or politicians who are involved in corruption.
Ukrainians are unanimous about Ukraine's key immediate reform priorities, but differences exist when it comes to the post-war period. The overwhelming majority of respondents unanimously believe that the anti-corruption reform is the most important one for EU accession, which Ukraine needs to implement immediately (83% for non-IDPs and 80% for IDPs; 85% for men and 80% for women). Both men and women share their opinion regarding the three most important reforms for EU accession: 1) anti-corruption (85% for men, 80% for women); 2) state security and defense (79% for men, 75% for women); and 3) healthcare (70% for men, 73% for women). IDPs rank state security and defense (77%), education and science (67%), and anti-corruption (80%) as the top three reforms that Ukraine must implement immediately in order to gain EU membership.
---
What are the most important reforms for EU accession Ukraine needs to implement immediately?

---
Choose the three most important issues Ukraine should resolve after the war

---
IDPs demonstrate a high level of engagement in CSO activities and community life, albeit still significantly lower than to local residents. 38% of IDPs were engaged in community life and the same share participated in CSO activities. While this level of participation appears quite high, it pales in comparison to non-IDP activism on both community and CSO-level activities (63% and 48% respectively).
"Lack of interest" stands out as a reason among IDPs for being less civically engaged. Compared to 8% of non-IDPs, 19% of IDPs said they had no interest in participating in community life. This is somewhat unsurprising, as the need to "care for the family" and the reality of "being evacuated" are among other top barriers for IDPs' more active civic engagement.
Women are more inclined to rely on the government for the safety of their families, while IDPs and men tend to rely on themselves. Men are more inclined to think that their efforts will determine the safety of their family, whereas women are inclined to rely more on the government. 18% of IDPs believe that the safety of their family depends entirely on their own efforts (vs 14% of non-IDPs).
---
Do you believe that your and your family's
safety
depends on: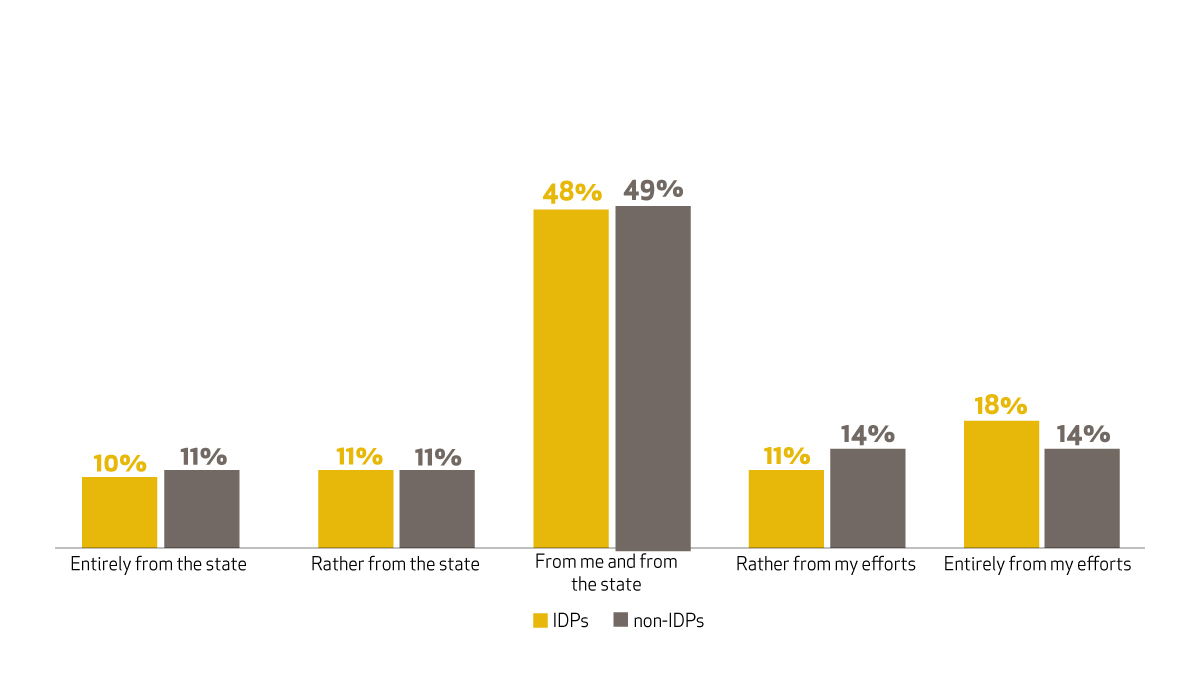 ---
IDPs contribute less to resist Russia's aggression and tend to focus on helping each other. Every third IDP assisted other IDPs, demonstrating empathy for people experiencing the same problems. IDPs also made a greater contribution than locals in the evacuation of civilians (17% for IDPs vs 13% for locals). On equal footing with local residents, IDPs volunteered as professionals (7%), gave blood to the injured (10%), and served in the military or in territorial defense (10%). However, the number of IDPs who did not contribute at all to resist Russia's aggression is more than that of the locals (31% vs 21%).
IDPs face less corruption and are more likely to take personal action to address it. IDPs have experienced less corruption than local residents (32% vs 35%), and they are more conscious regarding their own responsibility for tackling corruption in Ukraine. 35% of IDPs believe that the average citizen (as opposed to CSOs or the government) has the biggest role to play in countering corruption in Ukraine, as opposed to 32% of locals. IDPs are equally as determined as the local population to take action to prevent corruption in Ukraine. If notified about an incident of corruption, 60% of IDPs and 57% of non-IDPs are prepared to report. Every second IDP and local is prepared to collectively protest against a corrupt official.
About the CEP    
The Civic Engagement Poll is conducted under the framework of the Enhance Non-Governmental Actors and Grassroots Engagement activity (ENGAGE), implemented by Pact and funded by USAID. The survey gauges citizen awareness of and engagement in civil society activities, and citizens' participation in and perception of reform processes in Ukraine.  During the most recent survey, respondents were also asked questions about their involvement in resisting Russia's aggression.
The data collection for the USAID/ENGAGE Civic Engagement Poll was conducted by the research agency Info Sapiens, in July – August of 2022. Field interviews were conducted with Ukrainian residents aged 18 years and older via CATI: Computer-assisted telephone interviews. The survey sampled 2,042 respondents and was designed in accordance with the distribution of the adult population of Ukraine by age, sex, and settlement type according to the data of the State Statistics Service of Ukraine as of January 1, 2019 (excluding Crimea and non-government controlled areas of the Donetsk and Luhansk Oblasts). The margin of error of the sample is 2.2% (excluding the design effect).