The endless flow of news, updates, and messages offered by traditional media outlets may leave the ordinary citizen behind. Political control, clickbait headlines, propaganda and fake news create a huge gap filled by questions and misunderstanding. 
In this kingdom of chaos, Toronto TV is a life-saving buoy that offers a unique take on civic education and a platform for citizen engagement through 'edutainment'. Providing their viewers with an opportunity to influence the program's content, Toronto TV encourages them to actively participate in the social and political life of the country, regarding areas such as the implementation of reforms, gender- related issues, and equality. 
With the support of the USAID/ENGAGE activity, Toronto TV focuses on spotlighting urgent reform issues and social-political matters important to Ukrainians. In so doing, the organization informs Ukrainians about complex socio-political issues in an easy-going and user-friendly format.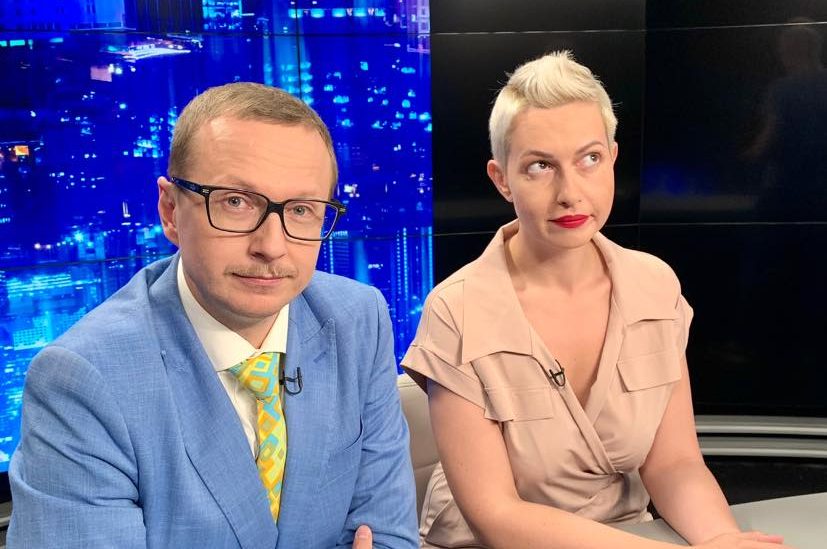 Despite the unique approach to highlighting information, Toronto TV has another important feature. The organization is stubbornly working to achieve complete financial sustainability to stop its dependence on donor funding, and it constantly introduces experimental sources of funding to achieve this goal. 
The program «#@)₴?$0» (this set of symbols are the creative title of UTT's TV show commonly also referred to as the Michael Shchur Show), made its debut in 2016 and is hosted by Roman Vintoniv, better known to many Ukrainians as the journalist, Michael Schur. 
From the very beginning, USAID/ENGAGE supported Toronto TV by providing funding and unfailingly extending the grant contract. Everything seemed to be in the right place. However, in 2019 the organization received a letter from ENGAGE, informing them   that financial support will be significantly decreased. Roman recalls that moment as a "shock therapy" that pushed his organization to leave the comfort zone. Instead of giving up or cutting down on its resources, Toronto TV decided to develop new instruments and focus on financial sustainability. "When you have enough money all the time, you usually do not struggle to look for additional resources. But when a donor suddenly decreases funding, then you realize that you have to consolidate efforts and do something". 
Toronto TV did not hesitate with a prompt response to a new challenge. Starting October 2019, organization integrated advertisements on its YouTube channel and launched a creator page on Patreon  – a platform that provides business tools for content creators to run a subscription service. Toronto TV uses two types of video ads on YouTube: ones integrated directly by YouTube, and paid commercials filmed by the team. Vintoniv mentions that most of Toronto TV's revenue comes from paid commercials on YouTube, making a significant part of the total budget of the project. The organization attracts those who are willing to pay for advertising, with the number of its subscribers on YouTube, with the number of its subscribers reaching more than 450,000. At the same time, people who donate on Patreon do it out of their loyalty and desire to support favorite show. As of April 2021, regular donations helped the organization to increase their revenue from Patreon to almost 11,000 USD per month. 

Meanwhile, the Toronto TV team is not afraid to experiment with new approaches and tools. For example, the project recently sold a meme that was put up for auction for 2,600 USD in the format of an NFT token. An NFT token is a unique proof of ownership over something you cannot usually hold in your hand stored on a blockchain. It can be a piece of digital art, tweet, video clip, or a meme. 
Toronto TV persistently explores their audience to keep the process going, come up with new great ideas, and continue to increase funding from its own sources. Even though the organization could not currently offer its audience anything more than its great content, it turned out that simply encouraging subscribers to support their favorite show by donating a few dollars was a successful step toward its goals.        
According to Vintoniv, ENGAGE helped to understand the needs of Toronto TV`s target audience by conducting numerous customer research initiatives and identifying its peculiarities. For example, in the beginning, YouTube subscribers were mostly men. After the research, the team expanded its content, hired new female hosts and attracted more women.                                                                                                                                       
A good understanding of their audience and persistent work on updating their content rewarded Toronto TV with the fruits of their labor. Their YouTube channel increased to 459 000 subscribers, attracting more partners willing to pay for advertising. With almost 2000 patrons, Toronto TV stays on the top of the list of Ukrainian creators on Patreon. Moreover, UTT is now testing a new paid service for advertising partners – conducting advertising campaigns and offering their expertise. Out of the 98 programs filmed during this project, 16 saw the light thanks solely to organization`s alternative funding. All the latest issues covered in December, February, and March were also produced at their own expense. 
Commercial advertisement on Facebook and Telegram), Patreon donations, and monetization of videos on YouTube increased Toronto TV`s revenue in the last quarter of 2020 by 56%, compared with the previous quarter. On average, during 2020 their revenues were growing by 18% every month, allowing to cover 20-25% of total budget. In March 2021, the organization collected 30% more than in February. 
With their experience, Toronto TV show that determination, self-development and ability to leave the comfort zone are the key to success. Leading by example, Roman and his organization encourage other CSOs and independent creators to try new approaches and tools, stop relying solely on donor funding and constantly explore the needs of their audience.