"We cannot always build the future for our youth, but we can build our youth for the future."
Those words from Franklin D. Roosevelt ring especially true in Ukraine. The illegal annexation of Crimea, Russian acts of aggression, an ongoing struggle with corruption, and economic woes will not be cured overnight. But youth can be prepared to lead Ukraine towards a brighter future. Youth include persons aged 15-24 years old, as defined by the United Nations, and currently account for about 6.2 million Ukrainians according to 2018 figures. With better tools to guide the country on its democratic and European trajectory, and to advance Ukrainian identity and economic growth, Ukraine's youth holds great potential to transform the country. But in order to achieve that growth, youth must be informed on how they can shape their country, innovate, invest in their careers and financial futures, become active citizens, solve problems and find trust in their government. To do so, Ukraine's youth will need to establish their roots and forge strong connections with civil society.
Ukrainian Youth Issues and Civic Participation
Last year the United Nations released a report compiled by the UN Working Group on Youth, titled "The State of Youth in Ukraine." The report provides a comprehensive view of the dynamics of Ukraine's youth, obstacles they face, and recommendations across spheres of health and well-being, education, employment, volunteerism, youth issues concerning the armed conflict, and the issue of participation in public and political life. Only about one-third of Ukrainian youth believe that the government adequately supports youth and their participation in public and or political life. However, more than 50% of youth have ideas on how to develop their communities and would also be willing to participate in the shaping of youth policies in their country. The findings suggest that Ukrainian youth may lack knowledge and support from the government, but nonetheless have strong interest in engagement. Compared to the adult population, those rates are considerably higher than the rates of interest in participating in relevant issues, which according to the USAID/ENGAGE National Civic Engagement Poll, conducted in January 2020, found that between 61-79% of the Ukrainian society (including adults) indicated that it had not participated and were not interested in participating across more than one dozen various activities at the local and regional level. And maintaining that interest and youth engagement as they transform from adolescents into young adults will be key for civil society organizations. The UN report also detailed some notable findings in this regard, concerning the relationships between youth and civil society organizations.
For example, the level of participation in youth civil society organizations currently remains lower than target levels, relative to levels of informal involvement in civic activities, which is partially attributable to lack of available information. According to "The State of Youth in Ukraine" report, about one-third of youth did not know about the presence of youth civil society organizations or their activities in Ukraine. And state youth policy was found to lack a unified and comprehensive approach to youth engagement in public and political life; from a methodological standpoint, the process of identifying problems among youth is considered to be ad hoc and quite dependent on international technical assistance.
Ukrainian youth indicated that several factors held them back from more engagement, including lack of time, a feeling that their efforts would make an impact, and lack of knowledge.
Still, compared to data from USAID/ENGAGE's poll, Ukrainian youth are bit more aware of civil society activities, wherein respondents (including adults) stated that they were aware of fourteen different civic activities at a rate ranging from 67% (participation in a peaceful assembly for a specific cause) to 39% (participating in formal advisories bodies at the local and national level), depending upon the activity. Interestingly, youth are considered to be among the most discriminated groups in Ukraine. Findings from the results of the USAID/ENGAGE National Civic Engagement Poll lend support to the UN finding that Ukrainian youth largely feel that the government does not adequately support them. For example, the figure below demonstrates that 24% percent of respondents of the USAID/ENGAGE poll believed that youth experienced violations and limitations of their rights and freedoms on the basis of their age (as defined by the Ministry of Youth and Sports of Ukraine, "youth" are young people aged 14-34). Relative to other groups, that rate is remarkably high. The result makes youth the second most discriminated group against in the country, falling below "pensioners," but leading "IDPs in the Donbas" and "women."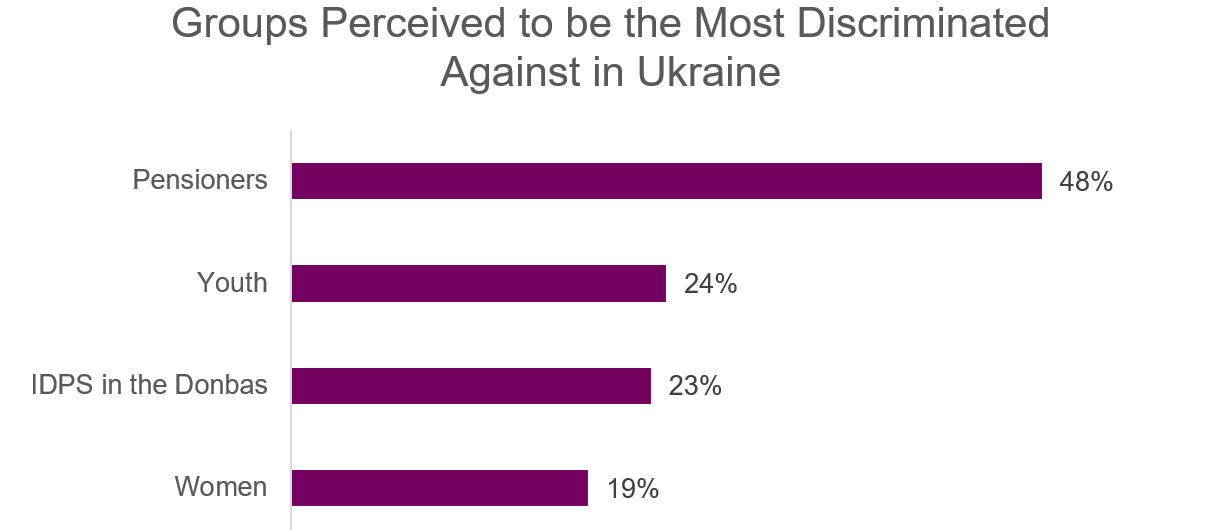 Meanwhile, the Ilko Kucheriv Democratic Initiative's Foundation, a USAID/ENGAGE activity partner, has also monitored Ukraine's future generations, including their beliefs and perceptions on numerous national challenges, gauging their beliefs on politics and national identity. The organization's recent study noted that while Ukrainian youth were only slightly different in their beliefs than the general population, younger generations are quite different in some traits. This is particularly true of Generation Z, those born between 1995 and 2015, who do not rely as much on parents and more often utilize internet and new technologies for income. For example, "among young people aged 18–29, 60% consider the breakup of the Soviet Union as a positive event," not considerably different than rates of older populations. And "most young people vote for democracy, at least as a value (75%), compared with 51% among older generations." However, some of the younger groups of youth—such as Generation Z—are considered to be quite different due to their constant access to flows of information via smartphones and their own new world of virtual social communication, where they create their own unique channels of communication. Their ability to be "influenced" or become "influencers" themselves is a key consideration for reaching youth, particularly through social media.
A 2017 report from USAID/ENGAGE partner, the New Europe Center, lends support to the Democratic Initiatives Foundation research. The New Europe Center, providing further contextual background of Ukraine's youth, found that: 91% of Ukrainian youth use social networks, 60% support Ukraine's accession to the EU, and that 58% agree that democracy in general is a good form of government.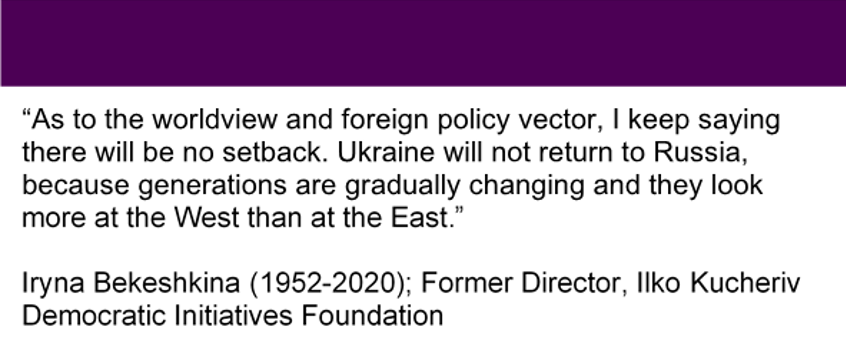 Civil society organizations also reach youth on social media, informing them about how their issues impact—and will continue to impact—their daily lives. For example, a USAID/ENGAGE network analysis found that Vitaliy Shabunin, co-founder of the Anti-Corruption Action Center, was among the civil society's most influential anticorruption voices. Coupled with the findings from a more recent study linking top influencers of youth with activities in politics, journalism, or entertainment, the role of influencers demonstrates that communication is key to reaching young audiences and that they are willing to listen to not only entertainers, but also activists engaging in real-world struggles.
Moving Forward: Steps for Engaging Youth and Civil Society's Response 
To better facilitate Ukrainian youth's involvement in public life, the United Nations Working Group on Youth recommends several steps. First, youth policy priorities should be mainstreamed into government strategic policies and concepts (such as decentralized reform, civic education, and civil society development). Second, legal frameworks should be updated for more effective use of mechanisms for youth participation. Third, capacity building of national and sub-national authorities should be developed so that existing mechanisms of youth civic engagement can be made more effective to improve participation. And lastly, civic awareness targets should be set for formal and non-formal civic education, to raise awareness of rights and responsibilities to participate. Ongoing efforts from civil society organizations, including USAID/ENGAGE partners, continue to ensure that these steps are being realized, with a multidimensional approach towards youth participation and engagement in Ukraine.
Connecting with youth is also crucial, whether it be online, offline, or at the local level. This summer the civil society organization "Freedom" conducted youth events that provide a fun and accessible outlet to nurture future citizens, through activities like its "DIY-party," creating public spaces and youth centers in the Zaporizhia Oblast. And the Kharkiv regional branch of the Ukrainian Leadership Academy has conducted meetings on media literacy, including issues of COVID-related myths during the meeting, and informing youth about the crucial importance of the personal reputation in the age of social media.
The nationwide #ЙдиОбирай (#GoElections) campaign, an initiative led by USAID/ENGAGE partner Global Office, has utilized innovative tools and social media in conjunction with  face-to-face activities in Eastern and Southern Ukraine to enhance the effect of information campaigns and to mobilize local youth communities. Voting is also key—the VlipyZaSebe video aimed at popularizing involvement of youth in the process of elections and generated more than 1,000,000 views on Facebook, Instagram and YouTube during the first two weeks after the launch of the campaign. Following the video, a series of pre-electoral youth hackathons across the country raised awareness of smart and rational voting among youth.
And while the COVID-19 pandemic may have stalled popular face-to-face summer concerts and festivals, alternative online concerts have allowed youth to connect digitally, thanks to a USAID/ENGAGE partnership with the Association of Mass Event and Atlas Weekend. A chatbot initiative "smthwentwrong" was developed last year to popularize the topic of civic literacy by explaining the influence of civic literacy on everyday life. And the new Facebook "Stay at Home" campaign explains the importance of small, everyday actions can impact all members of society, and encourage youth to be socially responsible to protect the health of society during the pandemic.
Through more formal mechanisms, like civic education, youth are now being given the tools to determine their own future. Thanks to USAID/ENGAGE efforts, a mandatory civic education course for tenth-grade students—"3D Democracy: Think, Care, Act"—has already produced promising results and continues to evolve. The course reaches approximately 60,000 students per year according to USAID/ENGAGE.  After completing the course, USAID/ENGAGE's data from 2019 indicates that 93% of Ukrainian students improved their civic literacy levels and the number of students passing the test increased by 28%.
The Ukrainian youth's interest in community participation is promising. And with greater opportunities to participate in public life and their local and national governments, Ukrainian youth can greatly contribute to policy formulation. To do so, civil society's continued engagement with youth, whether it be online, on the local-level, or through civic education classes in schools, will be a key to harnessing the potential of next generations to strengthen Ukraine. Through greater participation, youth will learn that that they can not only empower themselves, but that collectively, they can empower their country.