Here again we are thrilled to present you the results of the recent wave of our national Civic Engagement Poll. Traditionally, we conduct it twice a year to gauge the sentiment of Ukrainians about activism, engagement, and reforms to track the pulse of the civil society in Ukraine. We are confident that the insights from this poll can provide food for thought and help bolster effective decision-making. Enjoy your read and share with the world!
****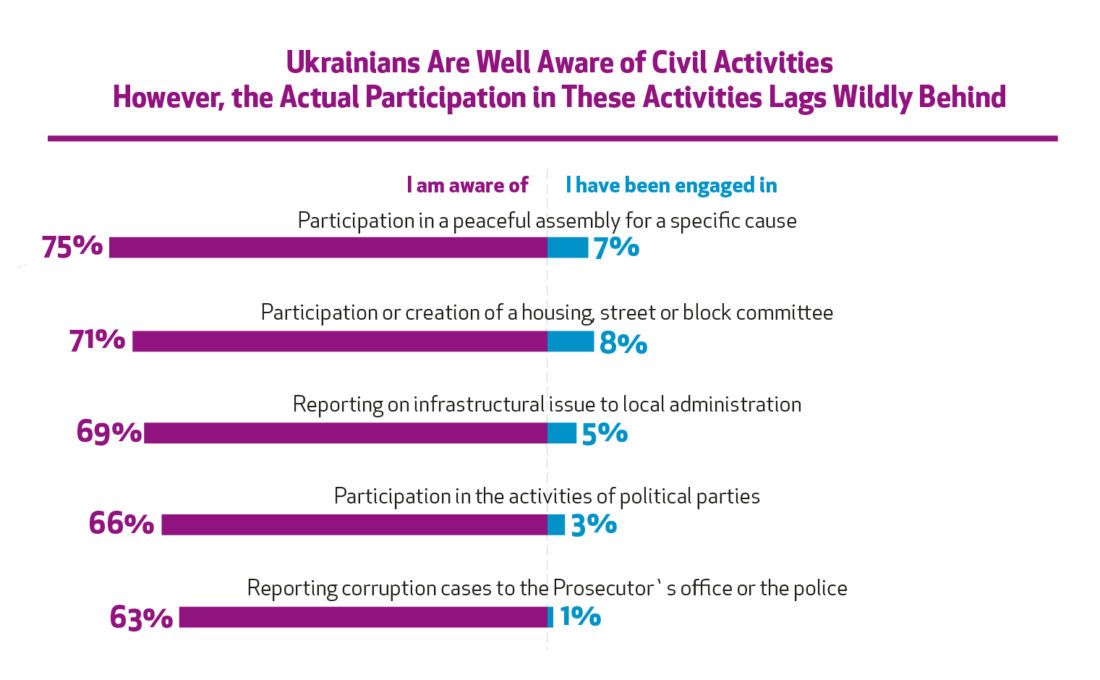 Ukrainians are Well Aware of Civil Activities, But Unwilling to Actively Engage
Our citizens may pleasantly surprise while asked about ways and opportunities to engage in life of their community or other civic activities. 75% reported that they are aware of participation in a peaceful assembly for a specific cause, 71% – about participation or creation of a housing, street or block committee, while 69% know about participation in the activities of political parties. However, the actual engagement in these activities lags wildly behind. Only 7% of respondents actually participated in peaceful assembly, 8% in creation of a committee, while 3% were engaged in activities of political parties in the past 12 months.
****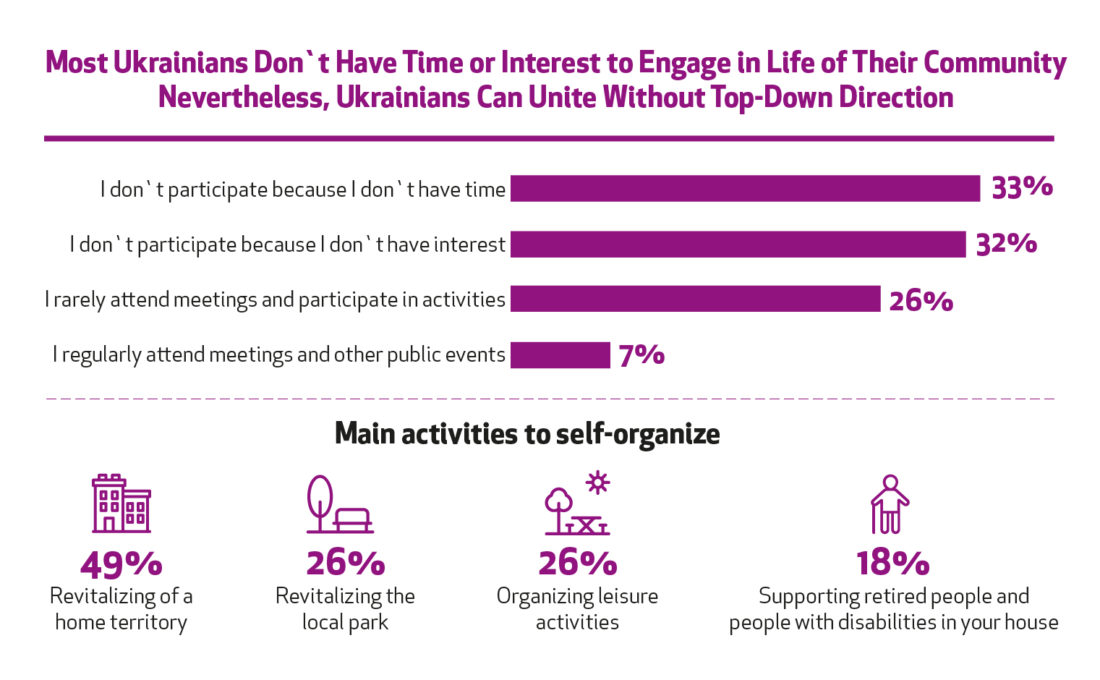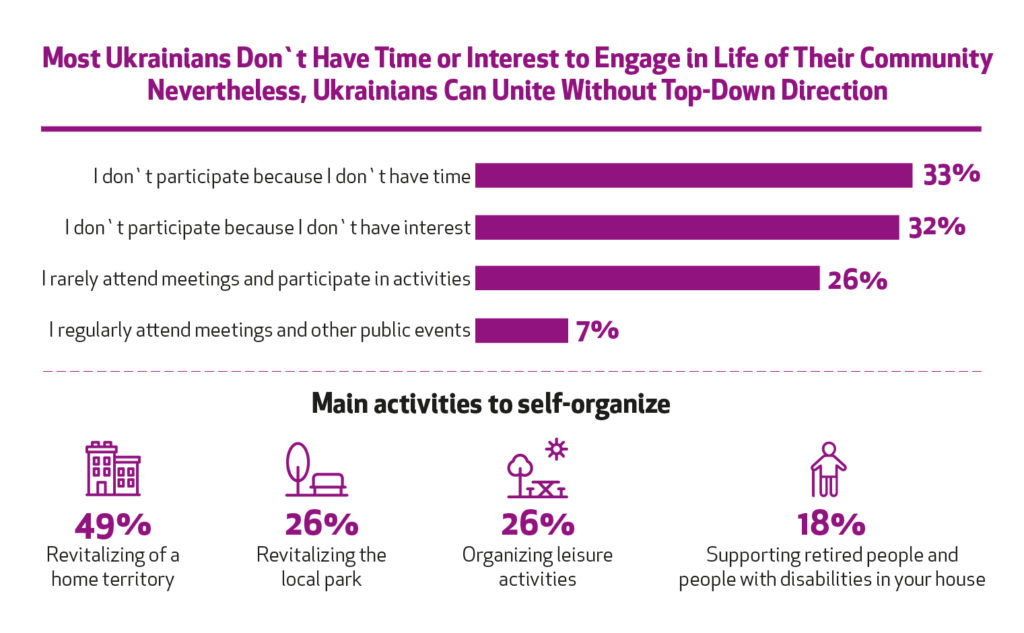 Ukrainians Admit Lack of Time and Interest are Key Reasons of Low Engagement
If you believe that Ukrainians are indifferent about the life of their community, then it`s the right time to change your opinion. One-third (33%) of respondents reported being engaged in the life of their communities, with 7% of those who regularly attend meetings and other public events for their house, a street, or a district. The other two-thirds either do not have time (33%) or interest (32%) to participate. At the same time, Ukrainians can unite and take care of themselves without any nudge from the authorities. Among the main activities to self-organize they named revitalizing of a home territory (49%) or a local park (26%), as well as organizing leisure activities (26%).
****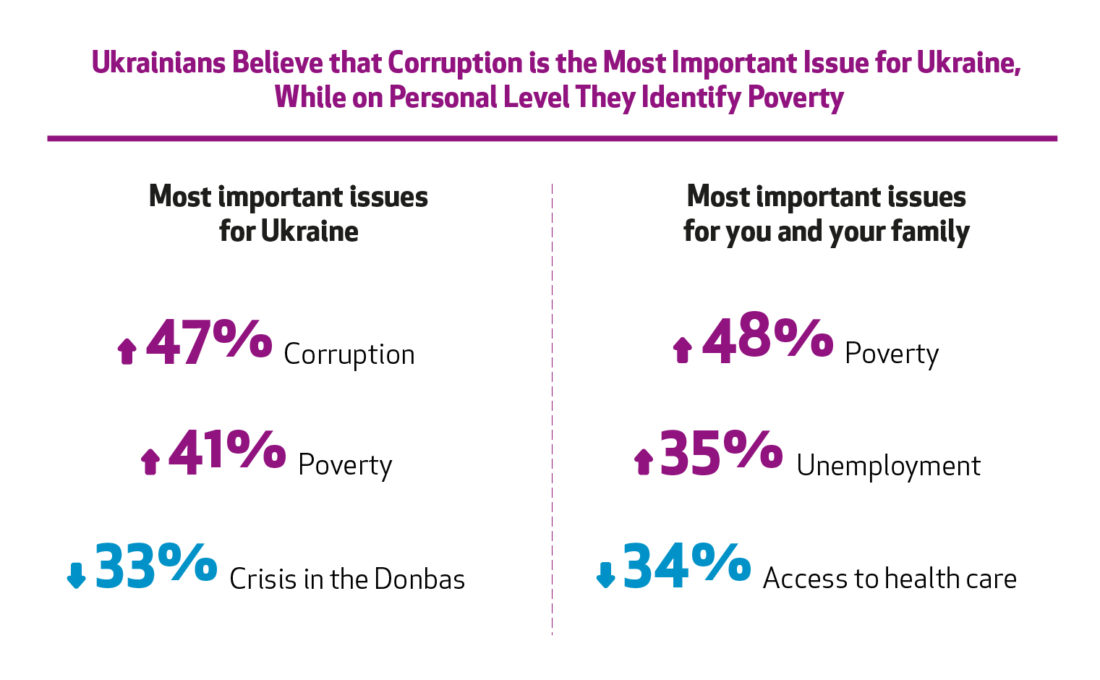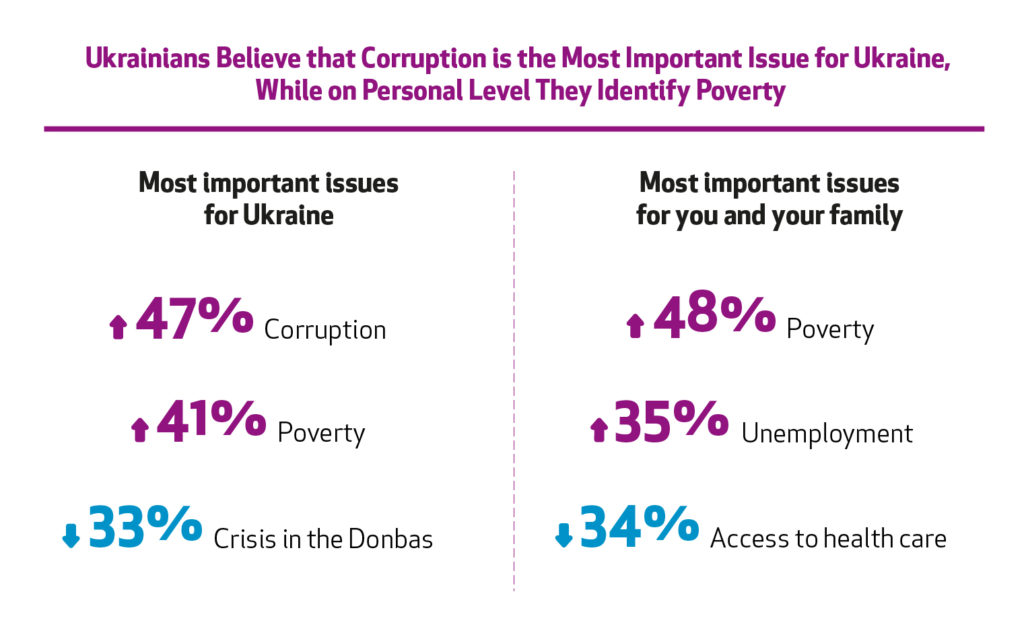 Ukrainians Have Different Views on Most Important Issues for the State and Their Families
When it comes to the most important issues for the state, comparing with the results of our previous poll, the number of Ukrainians, who consider corruption (47%) and poverty (41%) as the most important issue for the state have increased, while the number of those, who named crisis in Donbas have decreased (33%). On a personal level, more Ukrainians identify poverty (48%) and unemployment (35%) and access to healthcare (34%) as major issues for them and their families.
****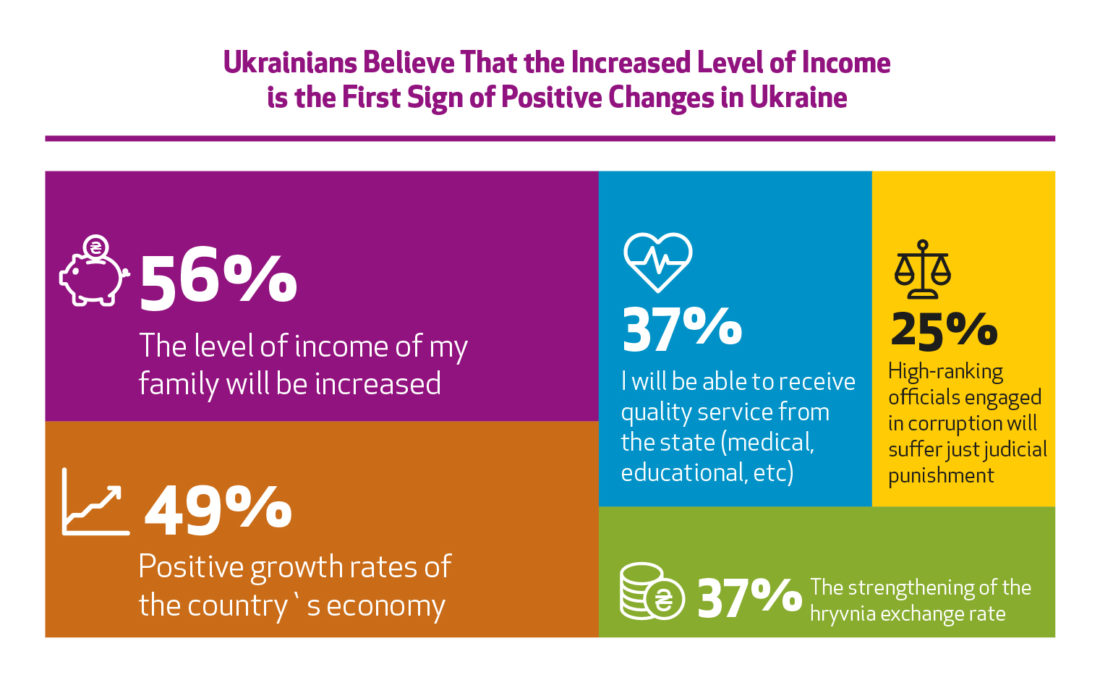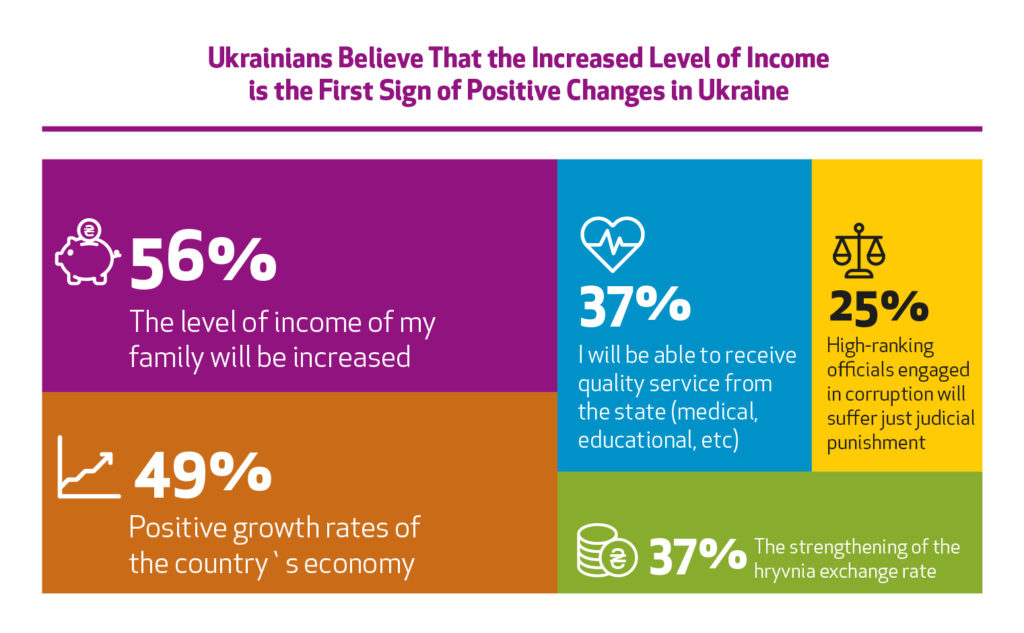 Increased Level of Income is the First Sign of Positive Changes
Money can`t buy happiness, however more than a half of Ukrainians (56%) believe that increased family income is definitely the first sign of positive changes in the country. Next comes the positive growth rates of the country`s economy (49%) and ability to receive quality service from the state (37%). Ukrainians also believe positive change requires punishment for corrupt officials (25%) and strengthening of the hryvnia exchange rate (24%). Generally, Ukrainians underline a slow tempo of reforms. Almost every third (27%) citizen experiences difficulty to predict their expectation of reforms' consequences, while about every sixth citizen (17%) expects the impact of reforms to occur within two-three years.
****