"When you feel selfish enough to lose yourself in helping others, that's when a patriot is born," Abhijit Naskar, a neuroscientist, wrote in one of his books. This is a truly magical moment when a person refuses to take a blind eye on bad things around and indulges in the life of their country. But how can one demonstrate devotion to a country and bring about real change? Start small and get things moving in your community to help the people near you. On the eve of Defenders and Defendresses of Ukraine Day we take a closer look at what patriotism means for Ukrainians and offer a selection of opportunities that can help you achieve socially important changes in the place you live – and in the long run on the national level. Engage in the traditional read!
****
Our Weekly Chart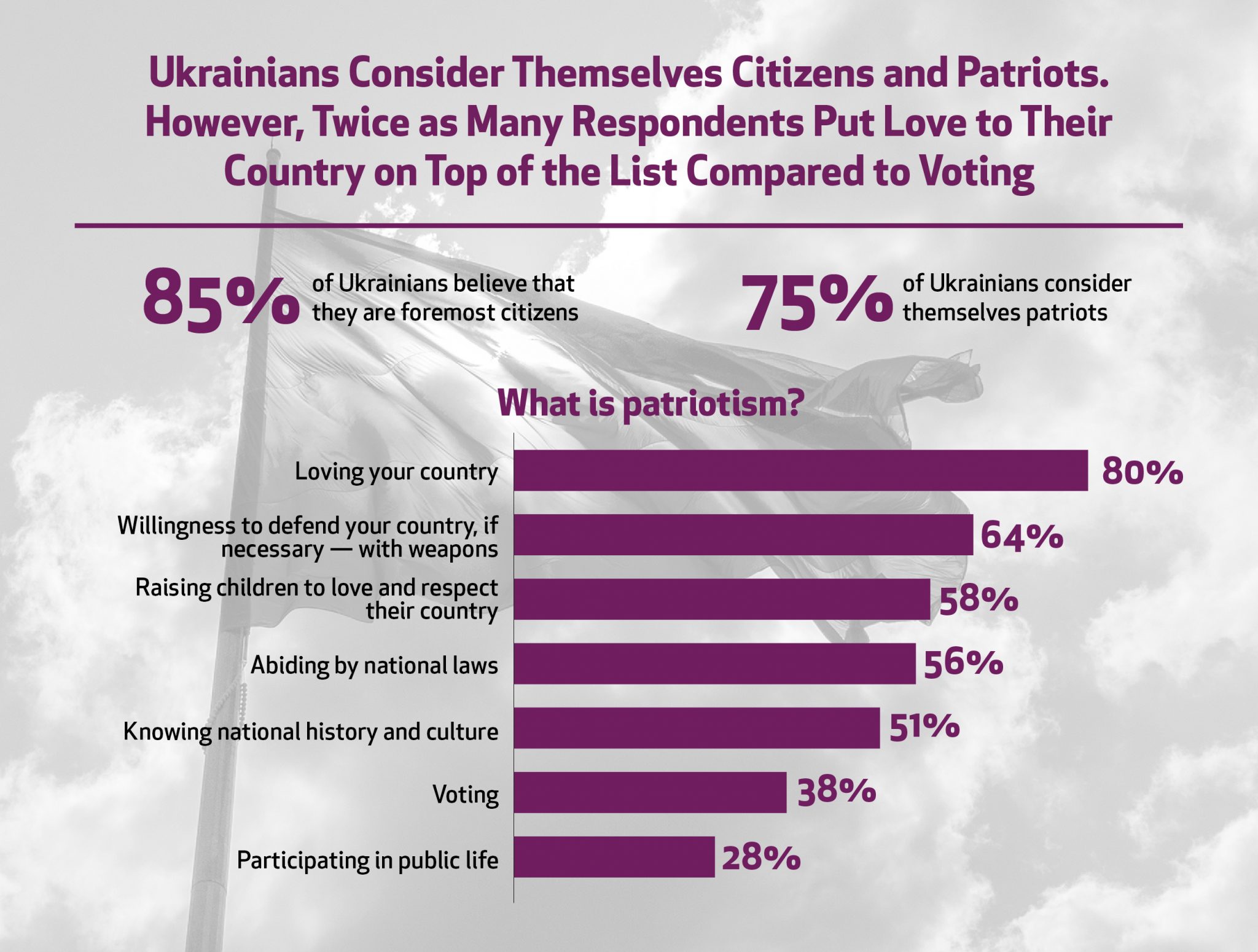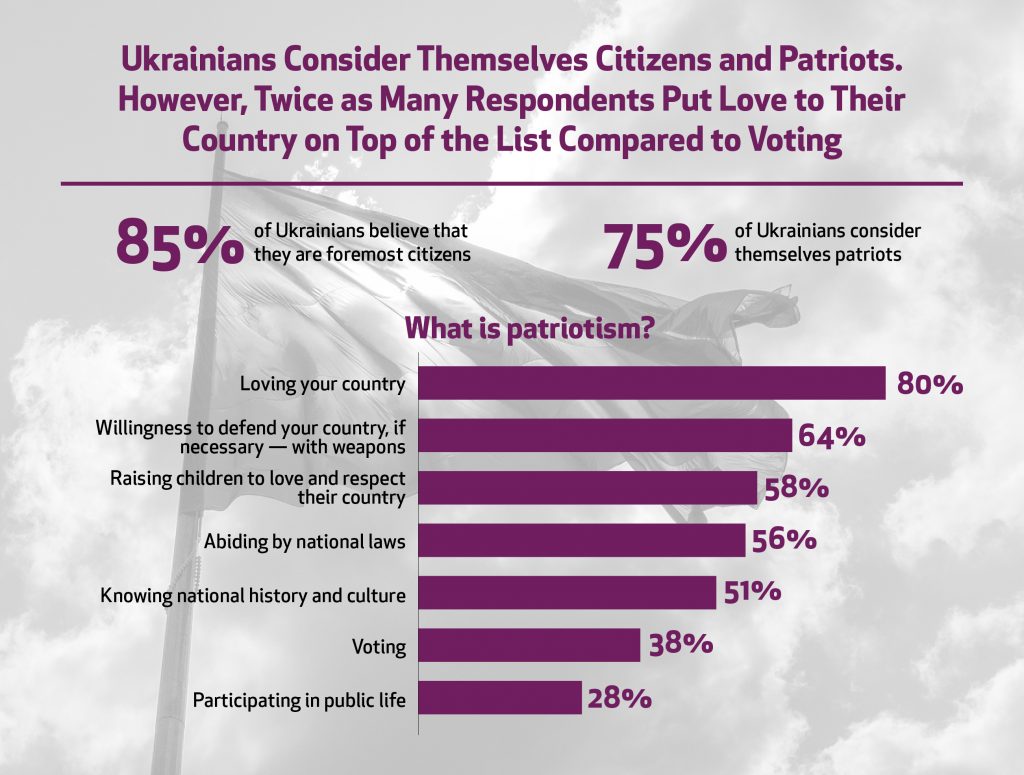 Patriotism is a virtue celebrated by ancient Greeks and Romans. Some would say that it is love and commitment to your homeland, for others, it means responsibility and readiness to protect it. According to a survey, 85% of Ukrainians consider themselves patriots. But what is patriotism for our citizens? The Ilko Kucheriv Democratic Initiatives Foundation poll revealed that 80% of respondents believe that it is love for your country, while for the other 64% it is a willingness to defend it. At the same time, participation in the social and political life of a country is not that important – less than a half (38%) consider voting essential for true patriots. Check our chart to find more details
****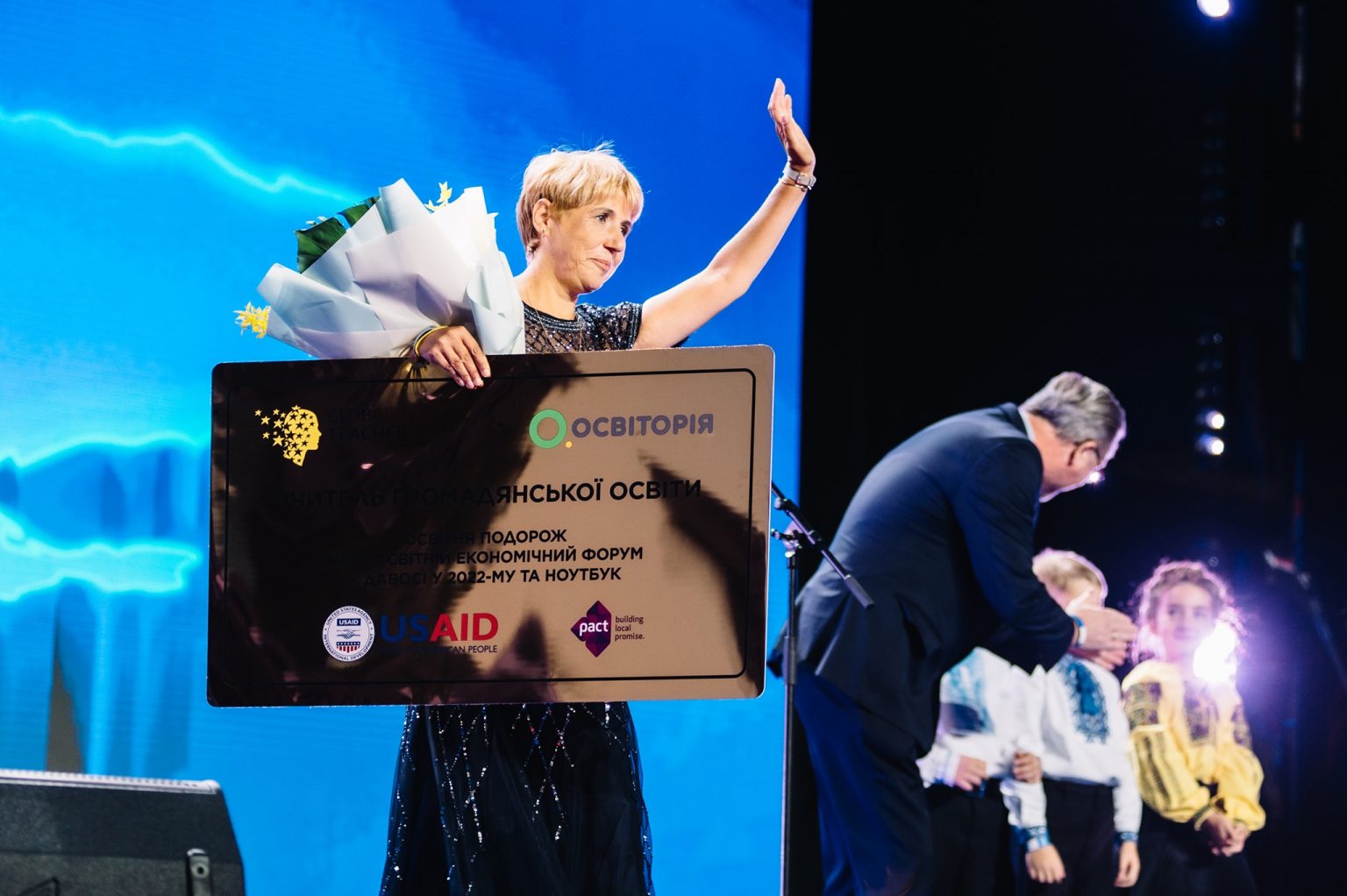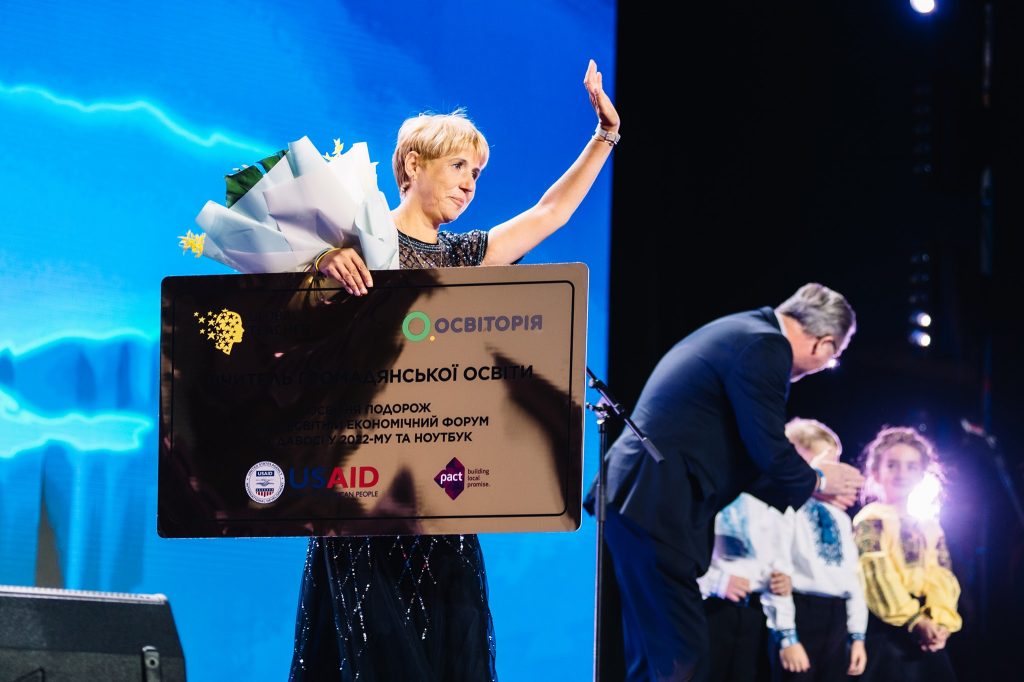 The Best Teacher of Civics Shares Lifehacks of Passionate Teaching
This year Hanna But from Melitopol was recognized as the best teacher of civic education at Global Teacher Prize Ukraine 2021. In the interview for Suspilne Zaporizhzhia, she shared what civic education means for her, how to inspire students and teach with passion.
****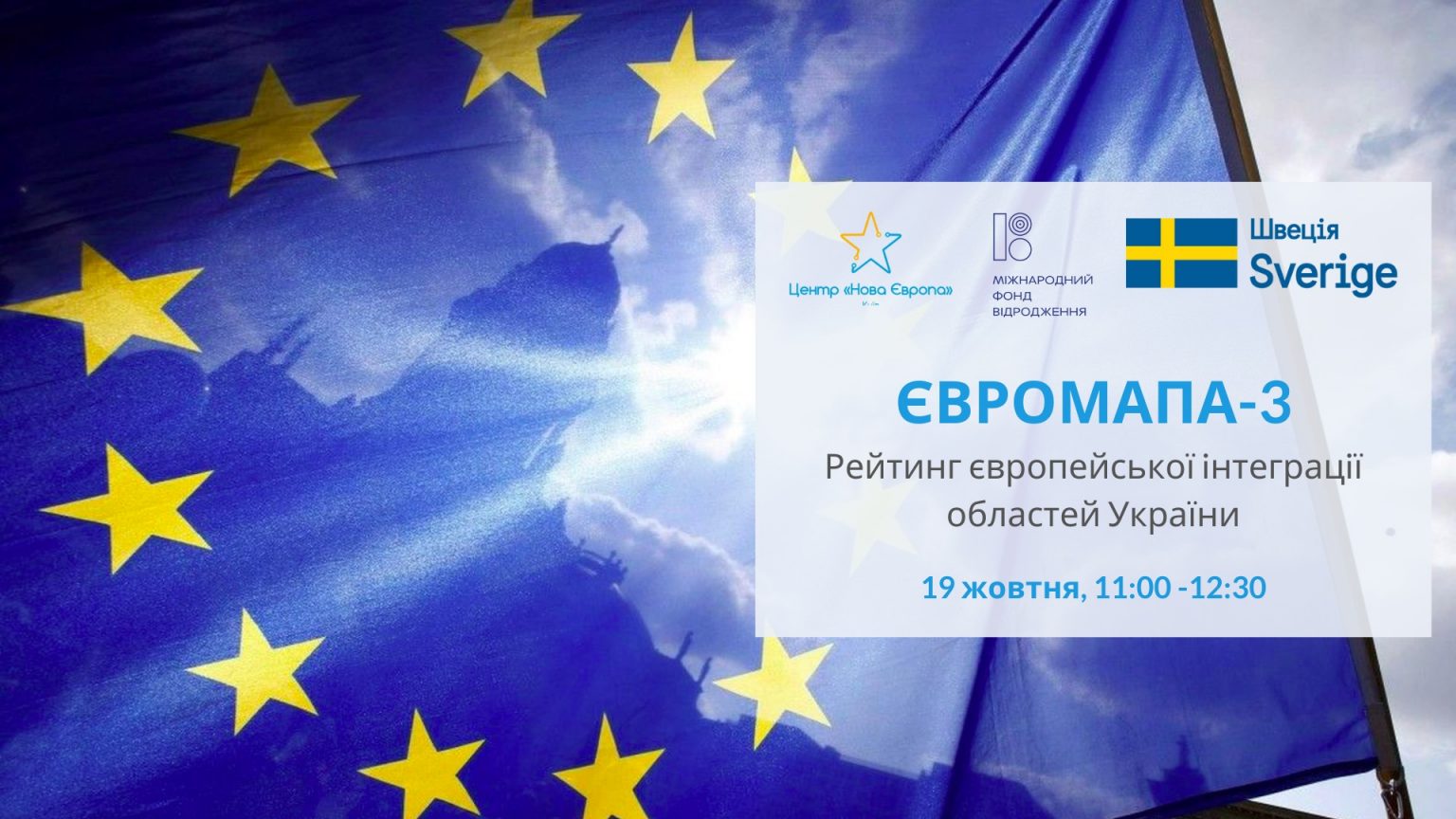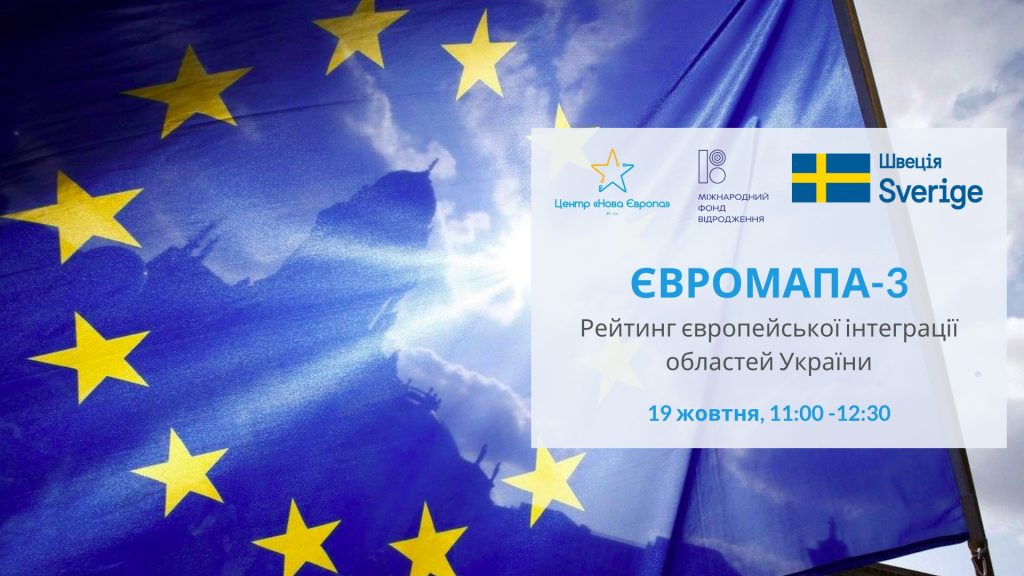 NEC Presents Study on the European Integration of Ukrainian Regions
On October 19, the New Europe Center will present the Euromap-3 – the third annual comprehensive study of Ukraine's progress towards European integration. It is a rating of Ukraine's regions, compiled based on compliance with the 49 indicators in 9 areas, which reflect the dynamics of the regions' rapprochement with the EU. It is also a great source of information for both think tank researchers and the government. Check the event page below for more details.
****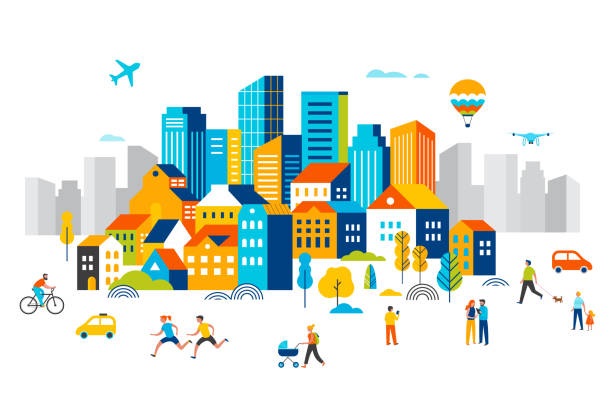 TIU Explores How Ukrainian Cities Changed Over Four Years
In the new report, Transparency International Ukraine analyzed how the Ukrainian largest cities changed in 2017–2020: what innovative practices they implemented, which spheres are the most open, and how Transparency and Accountability Rankings have affected competition between the cities. Why are some of them actively implementing changes while others remain passive? What motivates them, and what challenges hinder progress? Check the link to learn more.
****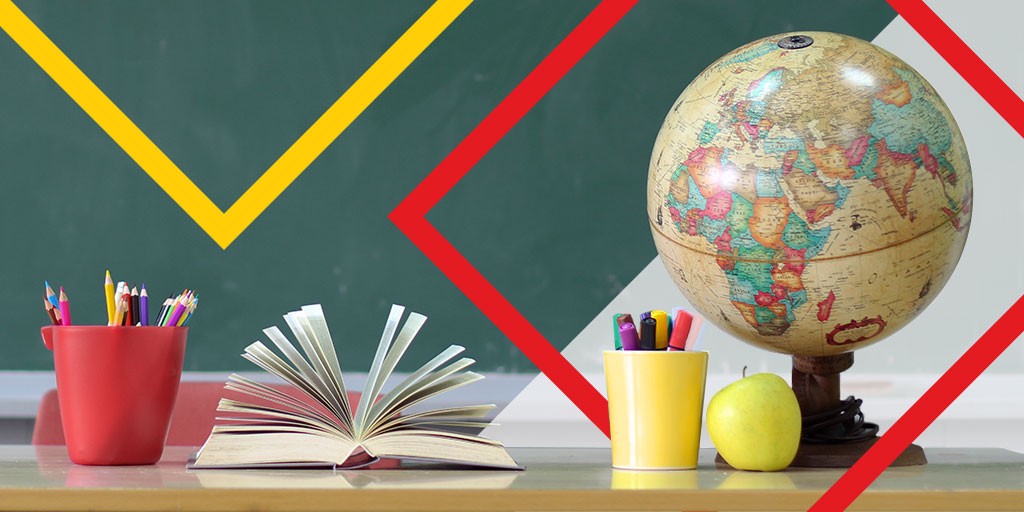 ULA Invites to Apply for Сivic Education Program
The Ukrainian Leadership Academy is opening enrollment in a civic education program in six hromadas of Ukraine. The program consists of a four-day training and further implementation of the developed ideas under the mentorship of experienced trainers. If you are 14 to 25 years old, live in one of these hromadas, and want to develop your community, do not hesitate to register at the link below!
****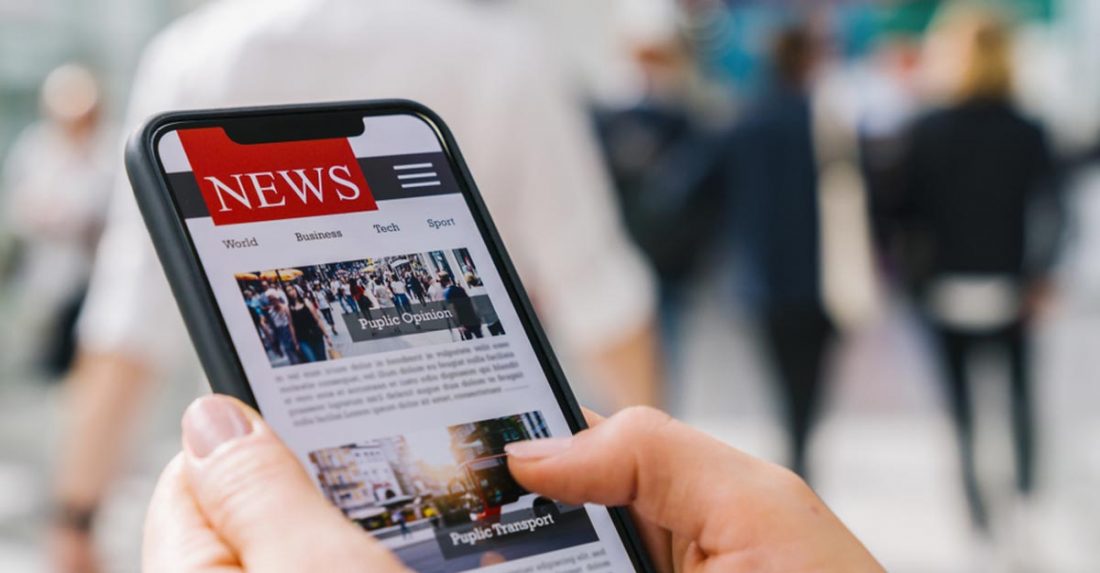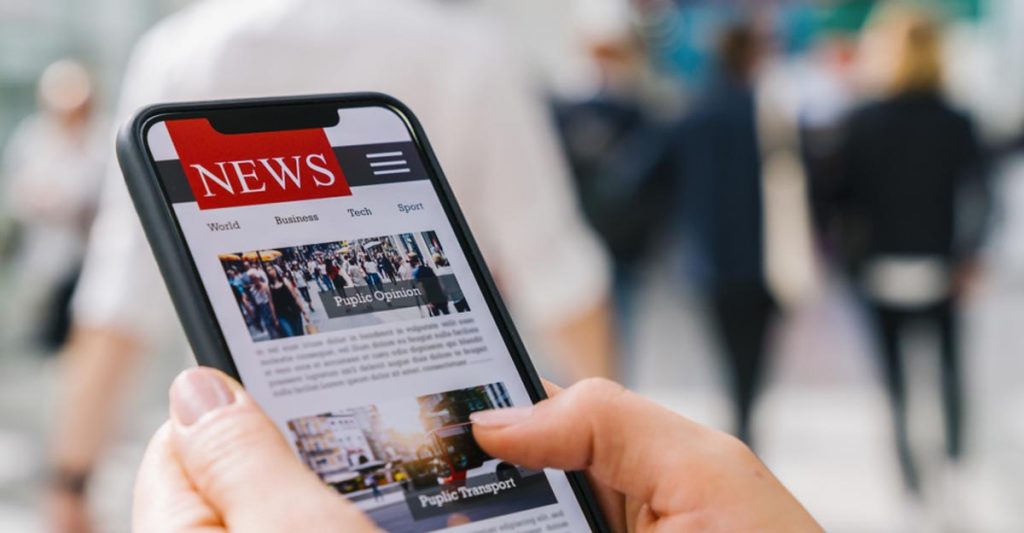 Media Analysis Tool from VoxUkraine
Media Ecosystem of Ukraine is a big data media analysis tool launched by VoxUkraine. It is a great instrument that allows you to check the preferences of Ukrainian media, what topics they cover, what experts they invite, and what news they distribute. The tool explores the Ukrainian media space to provide up-to-date information on key messages and linkage between media.
****
Civil Society News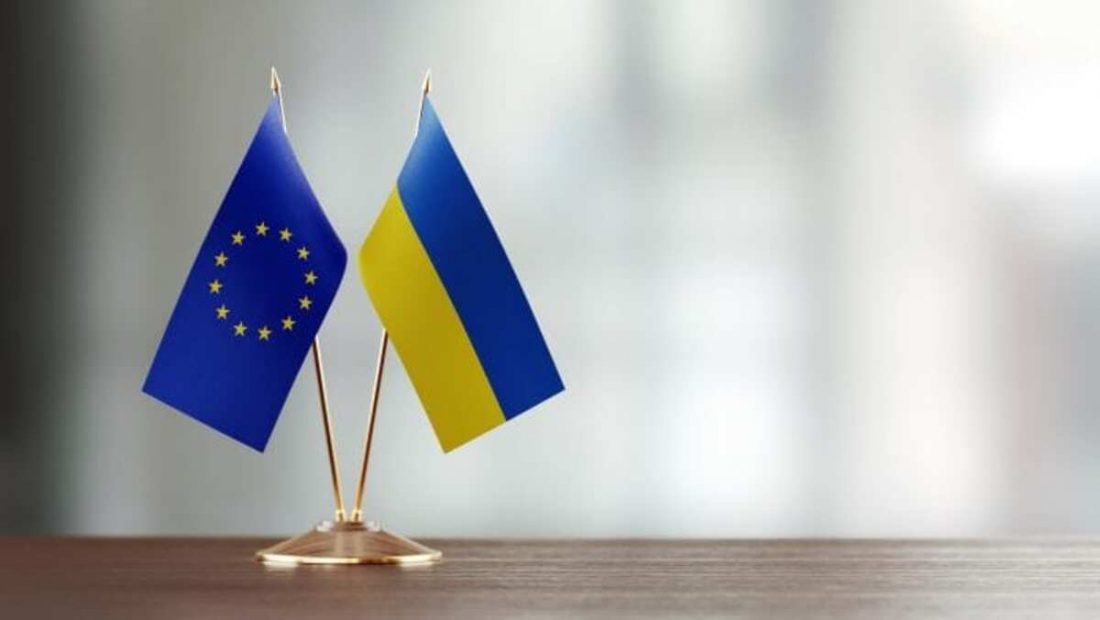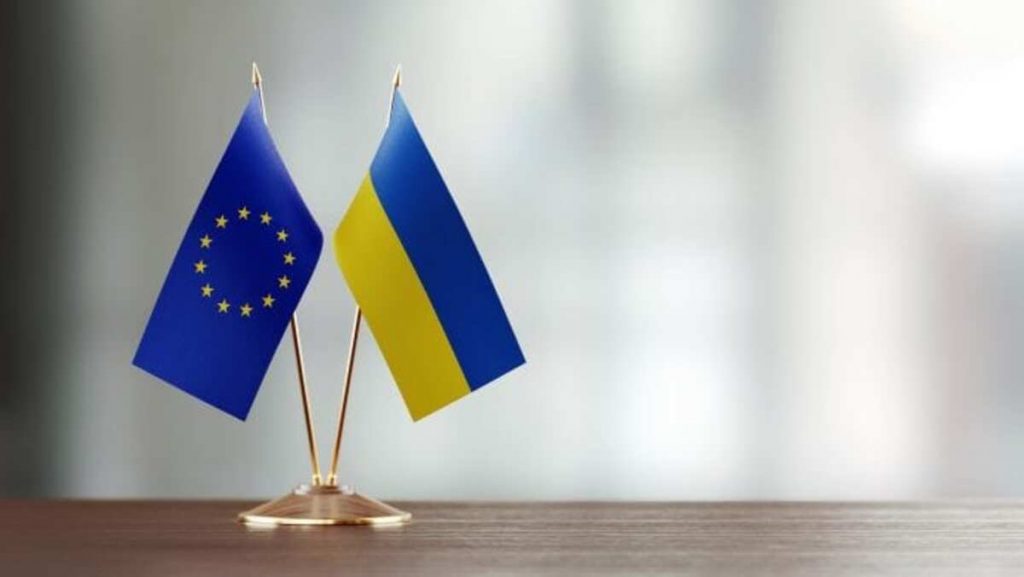 EU-Ukraine Summit: Moving Forward Together
On 12 October, the European Union and Ukraine reaffirmed their strong partnership and commitment to strengthening the political association and economic integration of Ukraine with the European Union at the 23rd EU-Ukraine Summit in Kyiv. Following the summit, both parties issued a joint statement. It outlines the next steps required to deepen economic cooperation and integration between the EU and Ukraine, diplomatic efforts to restore Ukraine's sovereignty and territorial integrity, cooperation in countering hybrid threats and disinformation, and tackling the impact of the COVID-19 pandemic.
****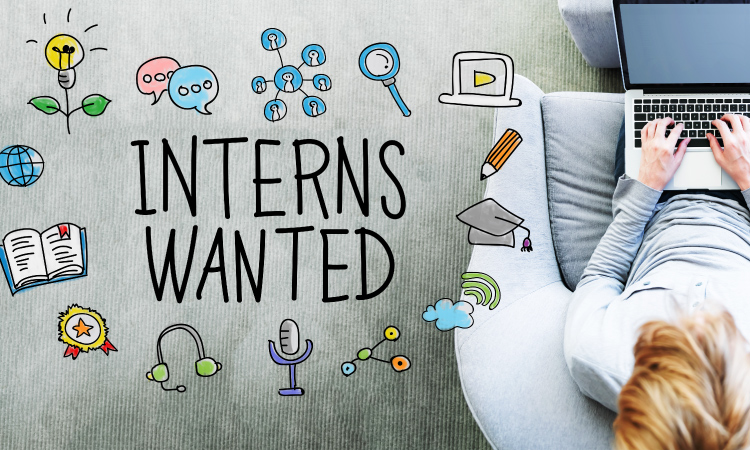 Youth Opportunities: Paid Internships in Local Governments
Do you want to gain practical experience in the field of youth policy? The British Council invites young Ukrainians to apply for an internship program in local governments, youth councils, and local youth centers. The program aims to help active youth gain experience of work with local authorities, try themselves as youth workers, and become part of a team. The application deadline is November 15.
****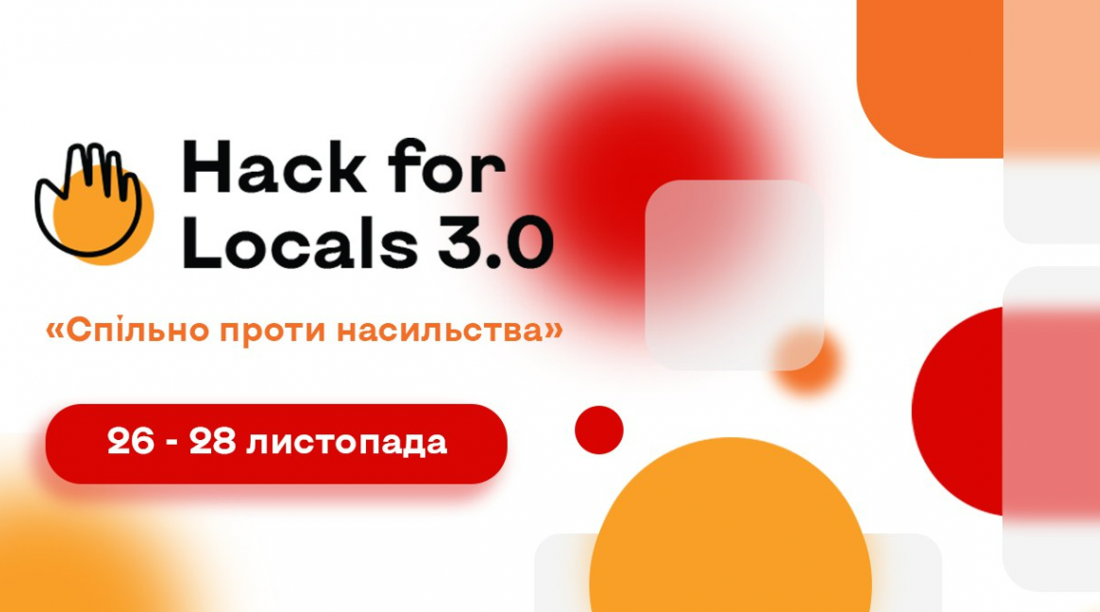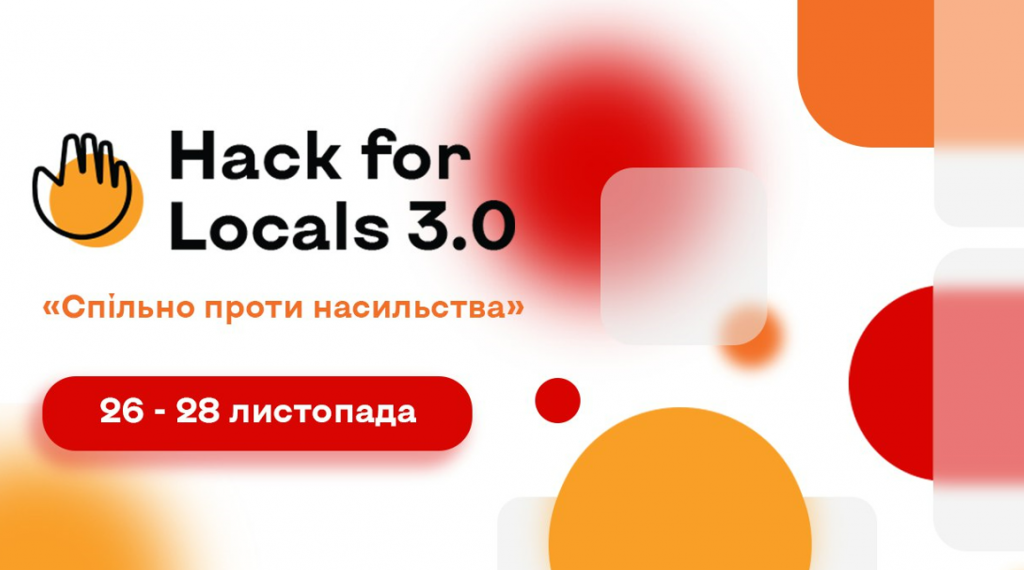 Together Against Violence: Online Hackathon from United Nations
Hack for Locals 3.0: "Together Against Violence" is an online hackathon for those who do not stand aside from social problems. Proactive citizens of different professions and industries will gather to create solutions to prevent and combat various forms of violence. The top three projects will get a chance to receive a grant from the United Nations Recovery and Peacebuilding Programme, grant application support, mentoring from organizers, and other valuable prizes from partners. Registration for the hackathon is open until November 21.
****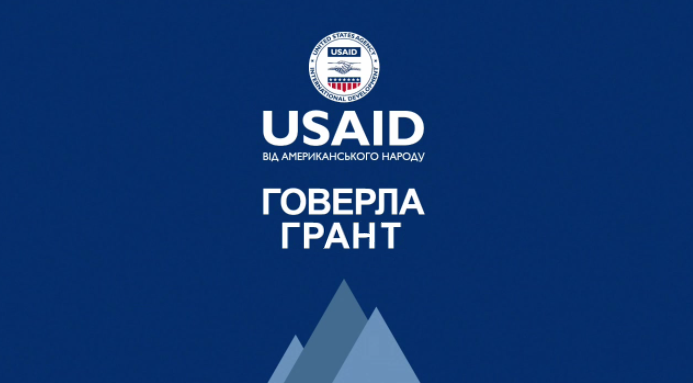 Grant Competition for CSOs from USAID HOVERLA
The USAID HOVERLA project announces an open call for civil society organizations to apply for the development of strategies and tools that will help involve local governments and citizens in public consultations. The call aims to introduce public consultation tools, make them more effective and efficient, and increase citizen participation in decision-making processes. The application deadline is November 8.
****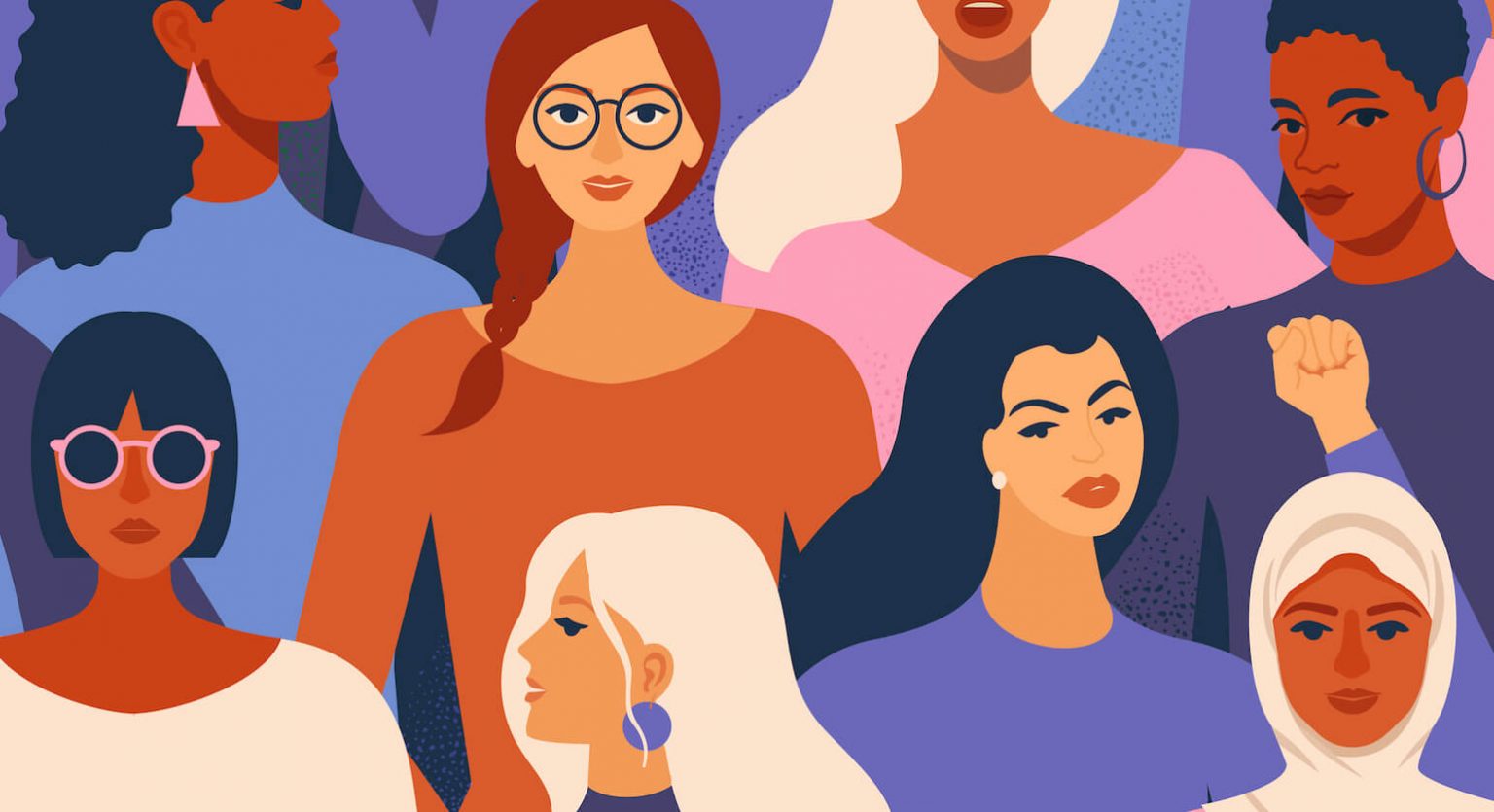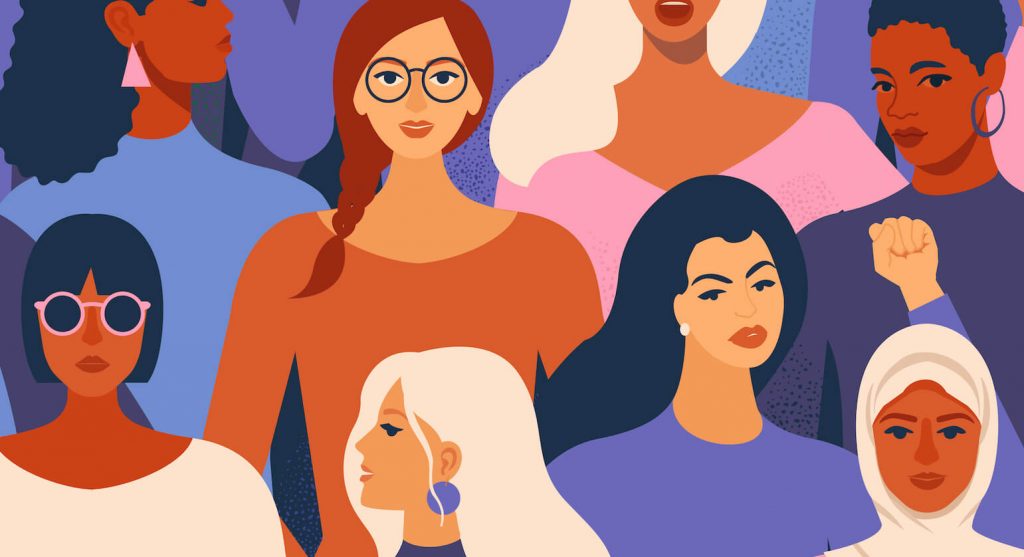 Grants for Ukrainian Women's Rights/Feminist Organizations
The Ukrainian Women's Fund announces a grant competition for women's rights/feminist organizations. The proposals should either support advocacy campaigns to address the challenges faced by women or strengthen the develop new regional and national networks and coalitions. In this way, the Fund aims to promote women's rights for more effective advocacy.
****