In the culmination of the summer waves of heat and normal life returned hand in hand. The largest Kyiv music attraction – Atlas Weekend – gathered hundreds of thousands of music lovers to share the pool of emotions and cultivate respect for inclusion, and social activism at the NGO alley. In this issue of our newsletter, we gathered some impressive stats from the festival organizers, a handful of updates from the "ECOnomize the Planet" environmental campaign and the hottest news from around the civil society. Get ready to engage in the traditional weekly overview.
****
Our Weekly Chart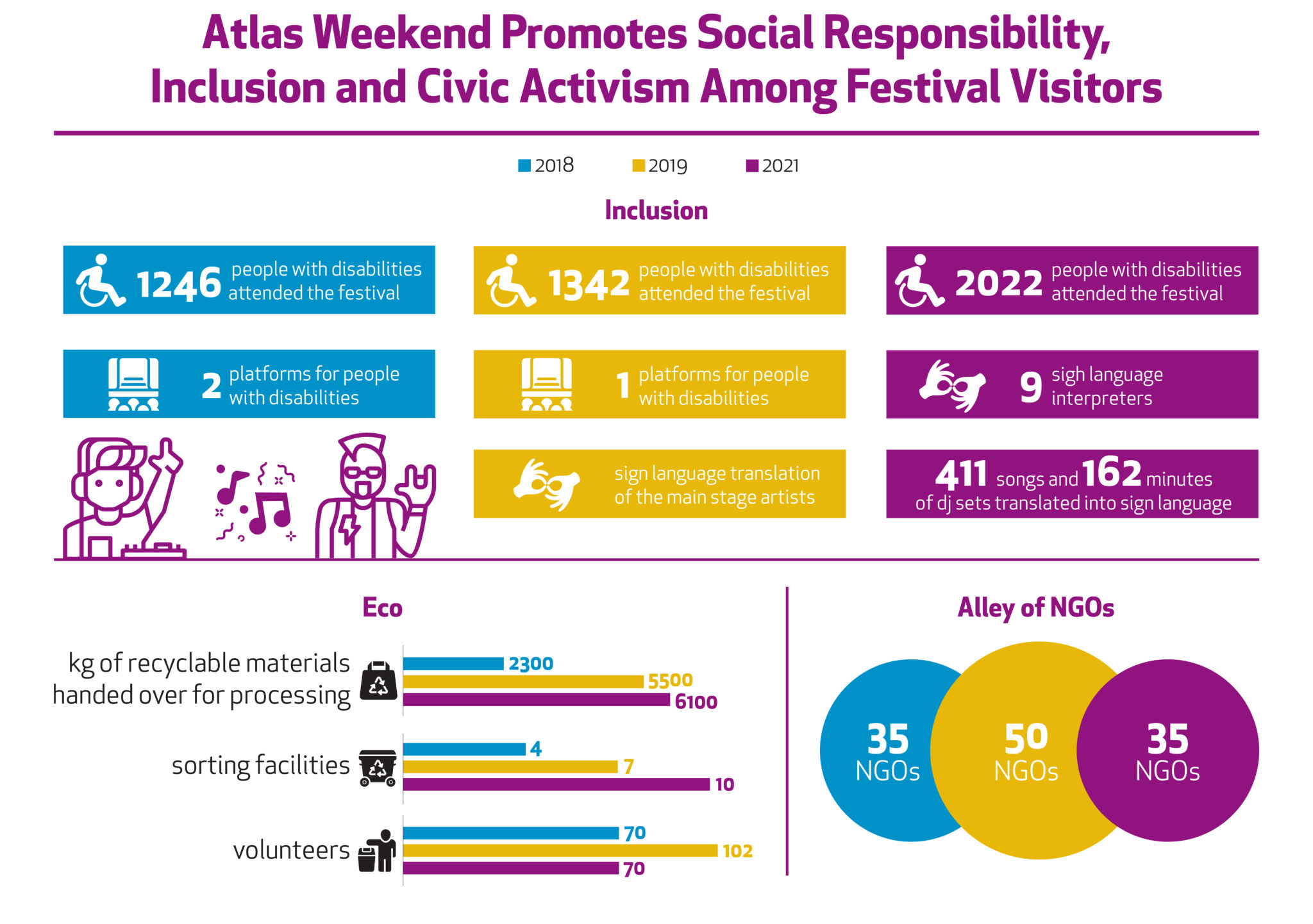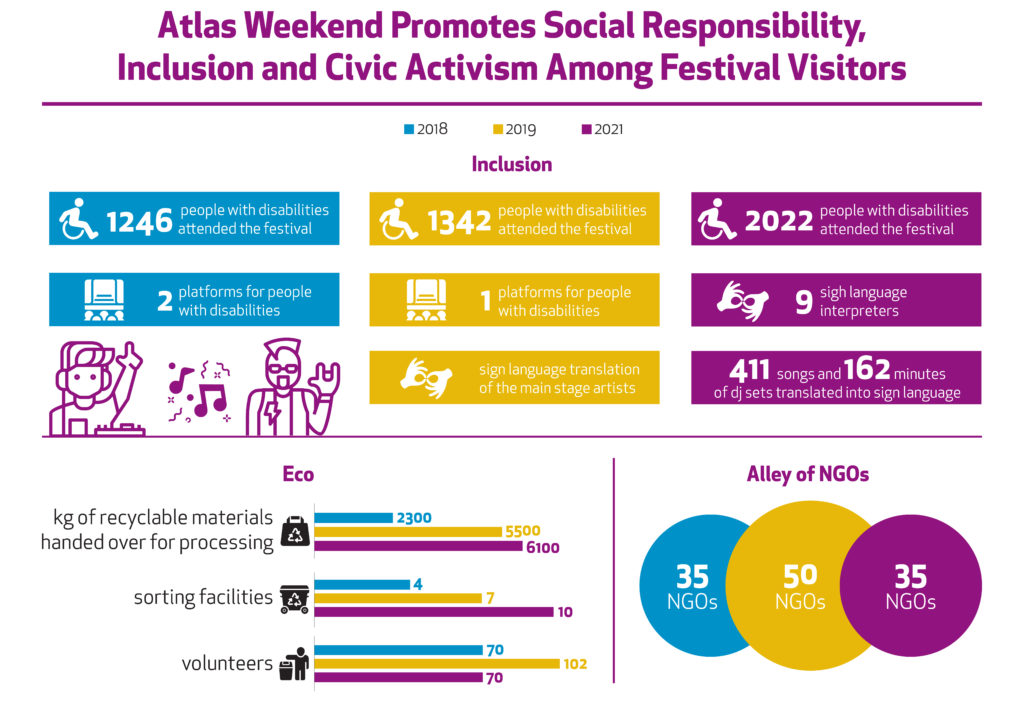 Atlas Weekend made a comeback this summer with its first live performances since 2019. As a temporary city of celebration and inspiration, this year`s festival have evolved into a great opportunity to raise awareness about inclusion, social responsibility and civic activism. Traditionally, 2021 NGO alley gathered 35 Ukrainian civil society organizations to showcase the positive changes made by activists in the areas of education, culture, health and inclusion. The festival also aimed at making live music and events fully accessible for people of all abilities so that everyone could have the opportunity to have amazing experiences. For this purpose, 9 sign language interpreters worked to translate 411 songs and 162 minutes of dj sets. Promoting environmental awareness and responsibility with 10 sorting facilities, the festival handed over for processing 6100 kg of recyclable materials. Check our chart to learn more!
****
Our News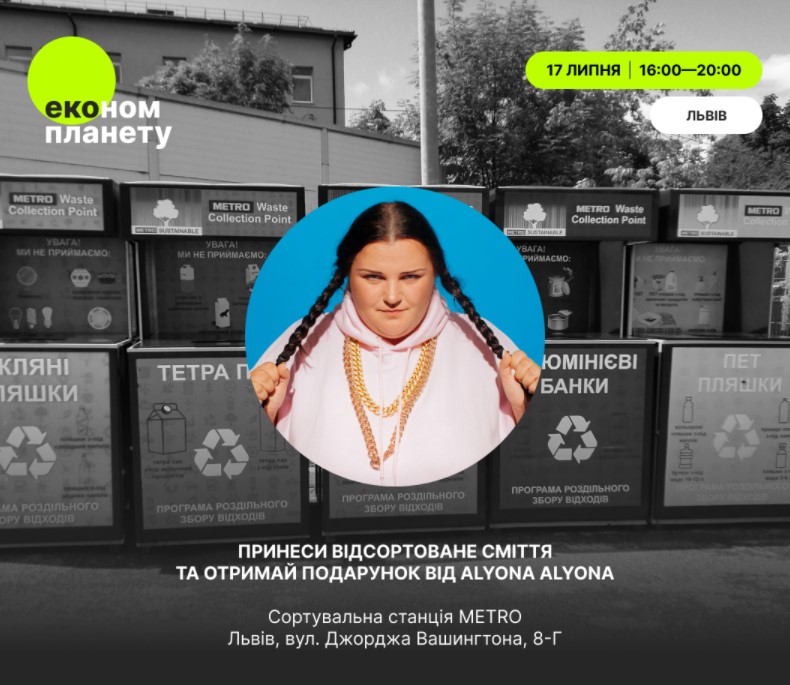 ECOnomize the Planet: Alyona Alyona will Hold Signing Session in Lviv
Lviv is the next stop of the nationwide environmental campaign "ECOnomize the Planet", implemented by USAID/ENGAGE activity together with the All-Ukrainian Association of Music Events (VAMP) and Metro Cash & Carry Ukraine. Want to learn more about waste sorting, meet Alyona Alyona and receive nice eсo – friendly gifts? Visit METRO Waste Collection Point in Lviv on July 17, and do not forget to bring a kilo of sorted waste! Follow the updates on the USAID/ENGAGE and All-Ukrainian Association of Music Events Facebook pages.
****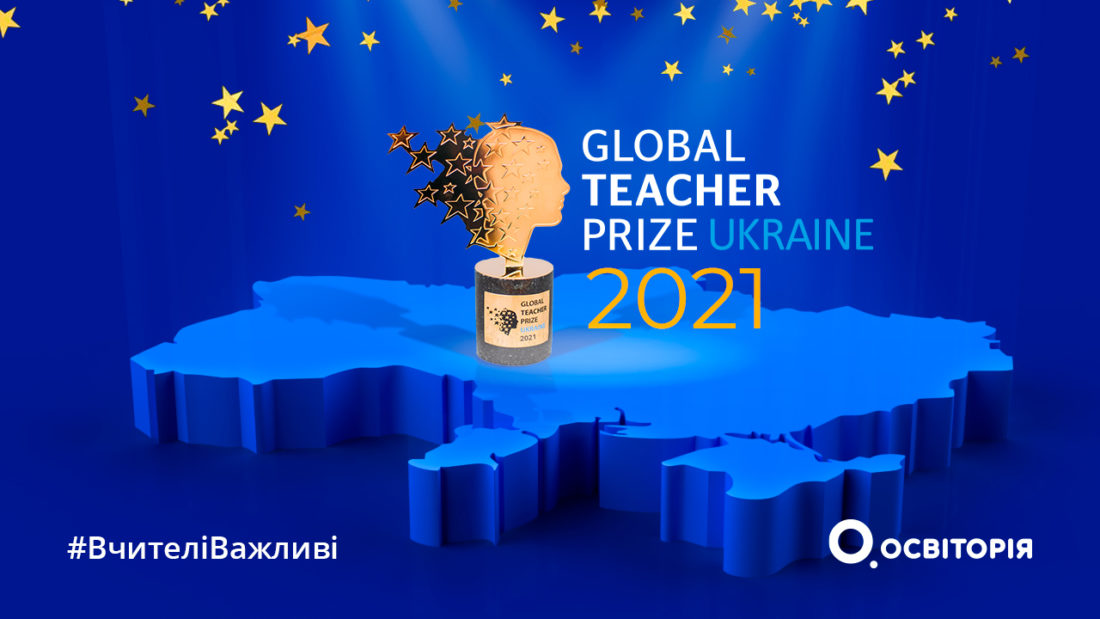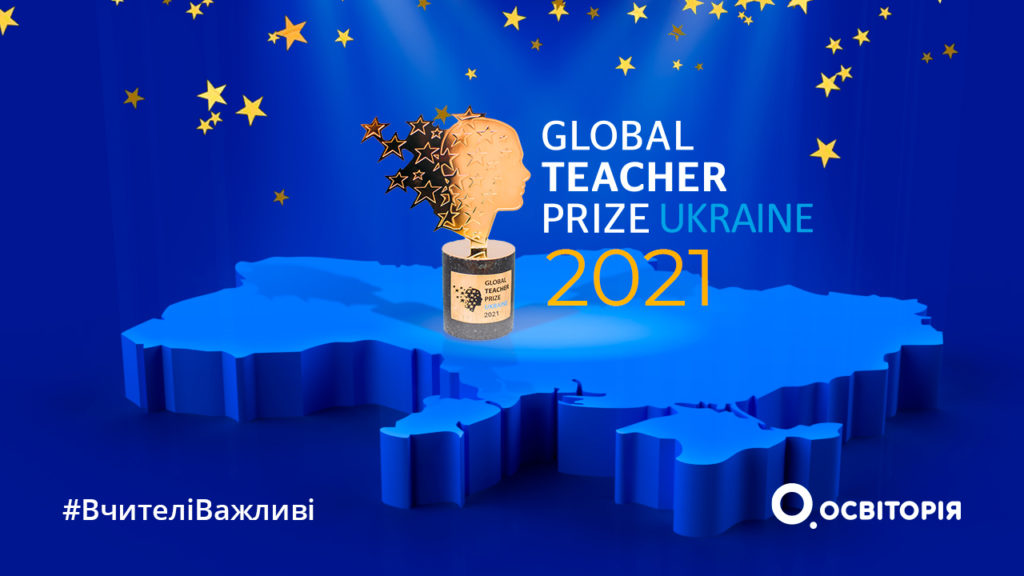 Global Teacher Prize Ukraine Announces Nomination for the Best Teacher of Civics
For the second time in the history of Global Teacher Prize Ukraine, we will celebrate the efforts of Ukrainian educators with a special award for the Best Teacher of Civics. It is aimed to honor those who improve the civic capacities of young Ukrainians and build the principles of a democratic state among their students. The winner will receive a chance to attend World Economic Forum in Davos in 2022. Follow the link below to nominate your favorite teacher or apply yourself!
****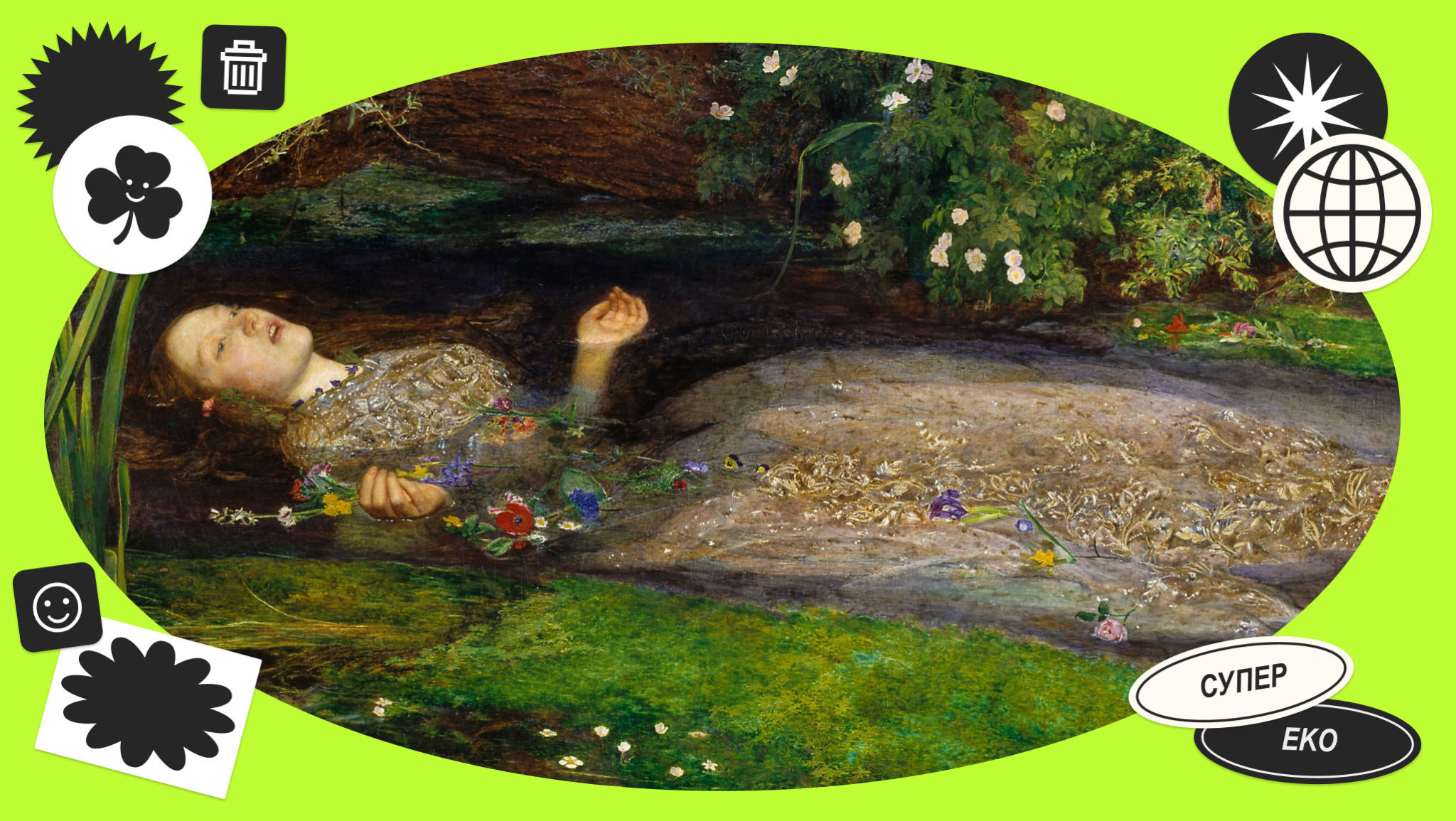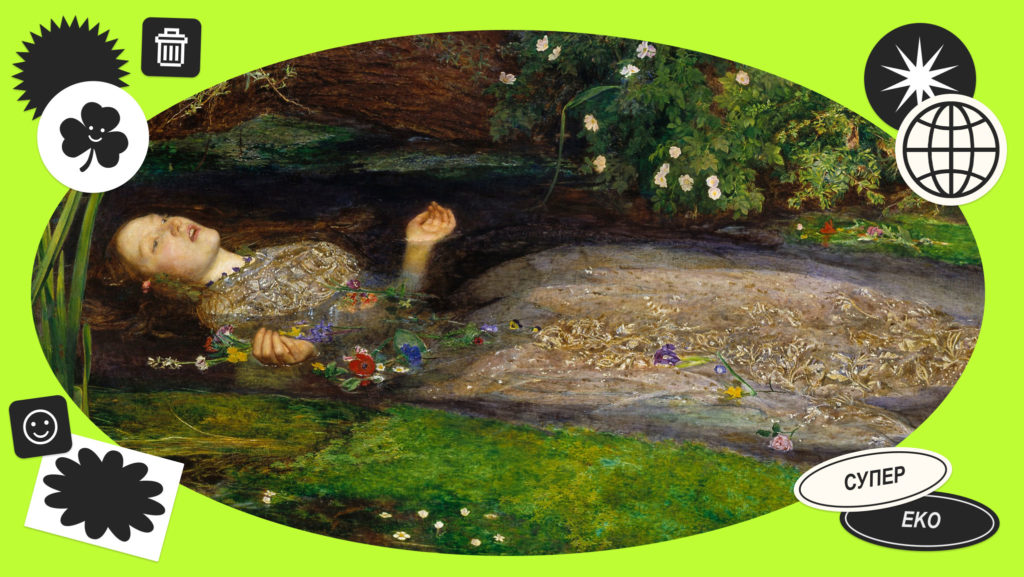 ECOnomize the Planet: Test Your Knowledge of Eco-Lifestyle
Together with Platfor.ma, USAID/ENGAGE and the All-Ukrainian Association of Music Events (VAMP) encourage you to check how close you are to an eco-friendly lifestyle with an educational quiz. First, you need to read the explainer article compiled of the answers to the most essential issues of everyday life that can be transformed into eco-friendly habits. Next, take a quiz and get a chance to win valuable prize! Find more information by the link below.
****
Partner News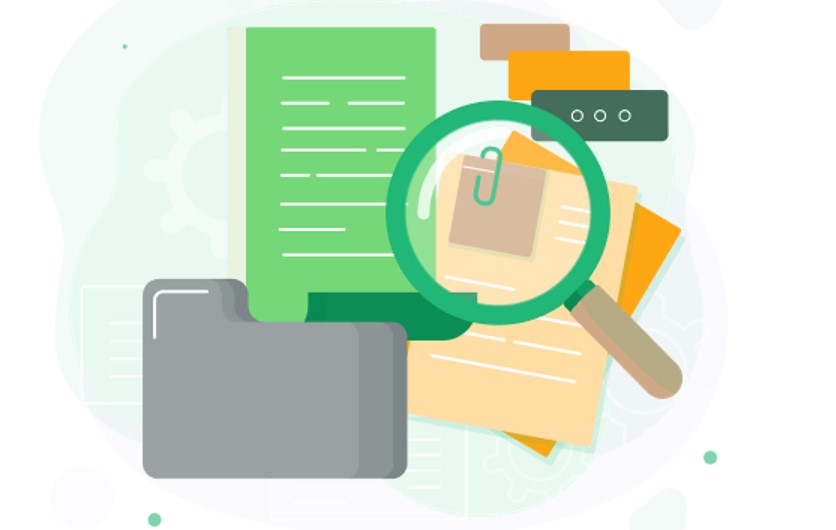 RPR Experts Present Reforms Monitoring at Ukraine Reform Conference 2021
On July 8, civil society experts presented public monitoring of the progress of reforms in Ukraine at Ukraine Reform Conference held in Vilnius, Lithuania. The monitoring was developed by the RPR Coalition based on the analysis of the implementation of recommendations from the sectoral analytical briefs on reforms in Ukraine.
****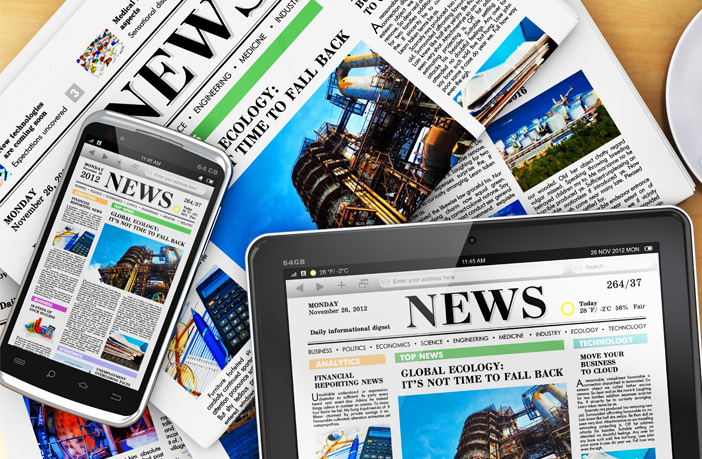 VoxUkraine Finds Out Whom the Media Consider Experts
Our partners from VoxUkraine released an article "Explainers of the World. Whom Do the Media Consider Experts?". For the piece, the experts of DataVox analyzed 608,867 top online news released during the last 4 months and identified 172 experts whom the media quoted at least 50 times. Want to learn who are the favorites of particular media and who promotes pro-Russian narratives? Then do not hesitate to click on the link below!
****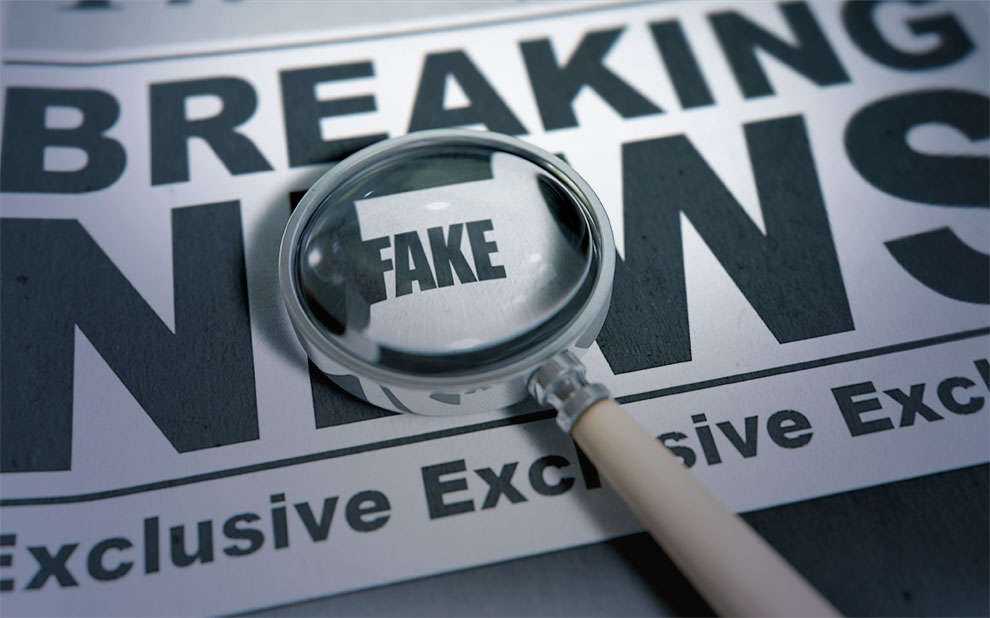 ULA Teaches Youth How to Recognize Fakes and Not Fall Victim to Malign Information
What should a fake publication be like so that everyone would believe that it is truth? To find out the answer to this and other questions, we recommend you to check the latest lecture by Viktoria Romaniuk, Editor-in-Chief of StopFake, prepared as part of the Ukrainian Leadership Academy`s School of Media Literacy project.
****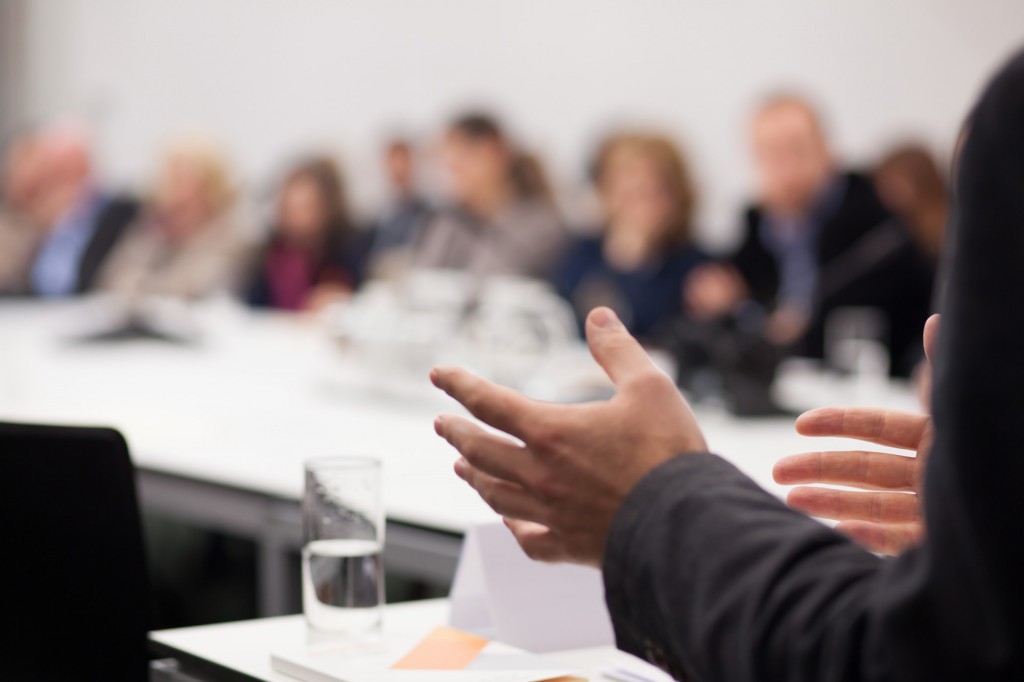 DIF Presents the Survey on Political Parties in Ukraine
On July 12, Democratic Initiatives Foundation presented the results of a survey "Political Parties in Voters' Eyes: How to Create Preconditions for Effective Representation". The experts discussed how political parties in Ukraine perform their functions, why Ukrainians do not trust them, how much Ukrainians are willing to donate to political parties from their own pockets, as well as advertising, election process, and beyond.
****
Civil Society News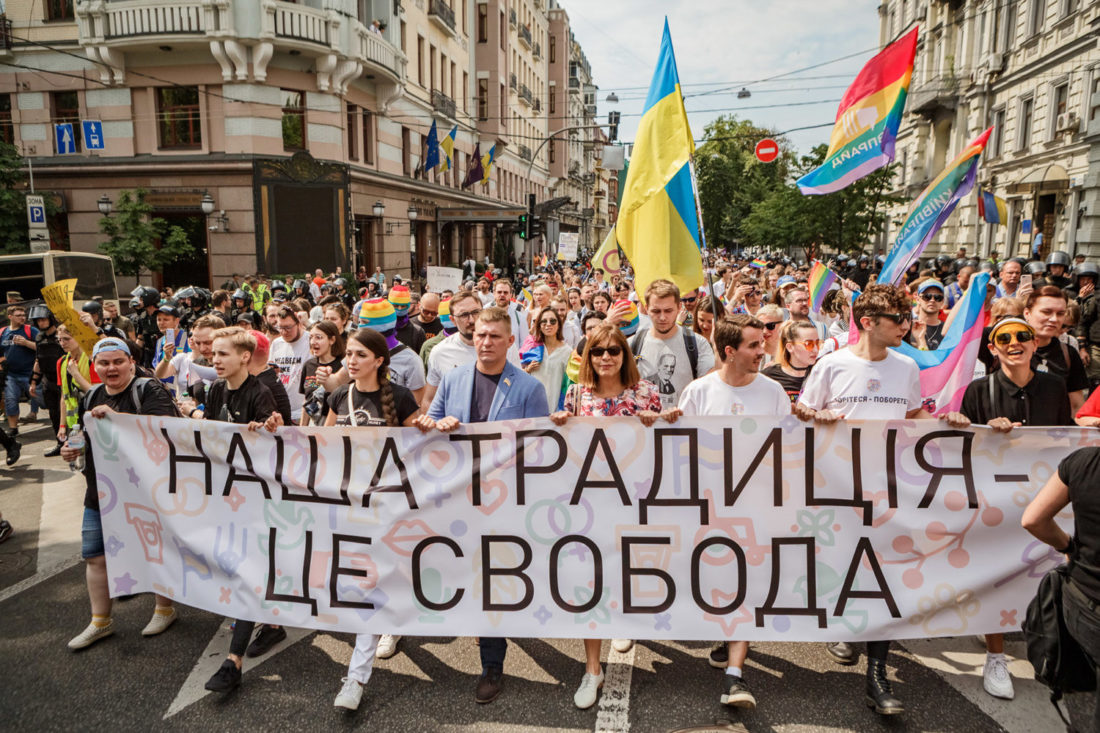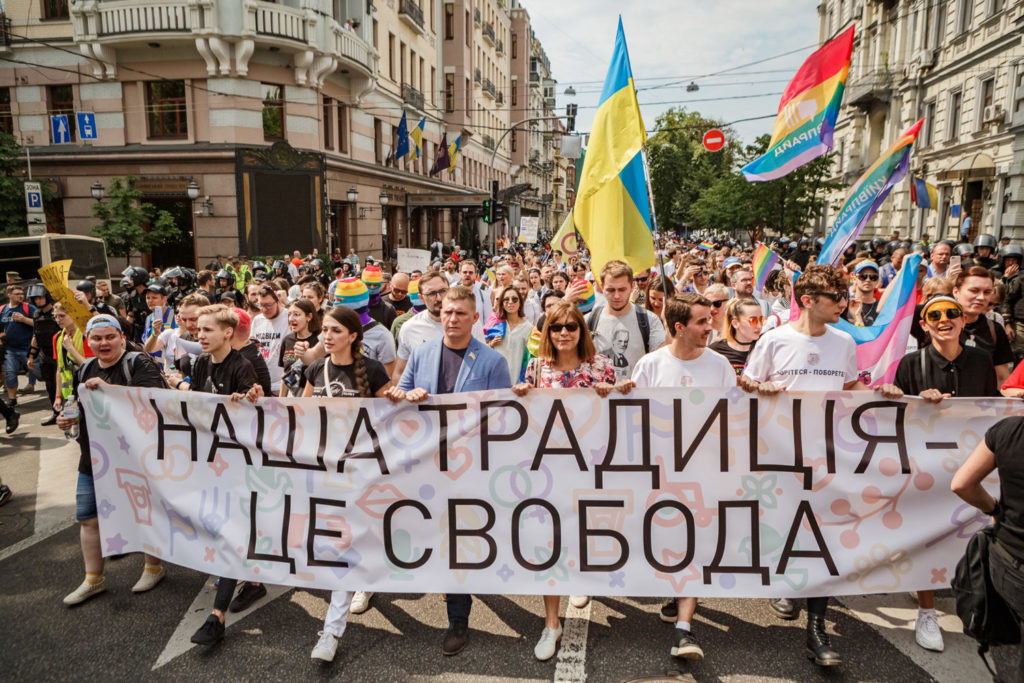 Volunteers Needed for the Equality March 2021
KyivPride is looking for volunteers for the Equality March that will be held in Kyiv this autumn. Volunteers are needed for a variety of tasks but most importantly to ensure that everybody can participate as safely and positively as possible. To apply for volunteering, please fill out the form. Deadline for registration is July 31.
****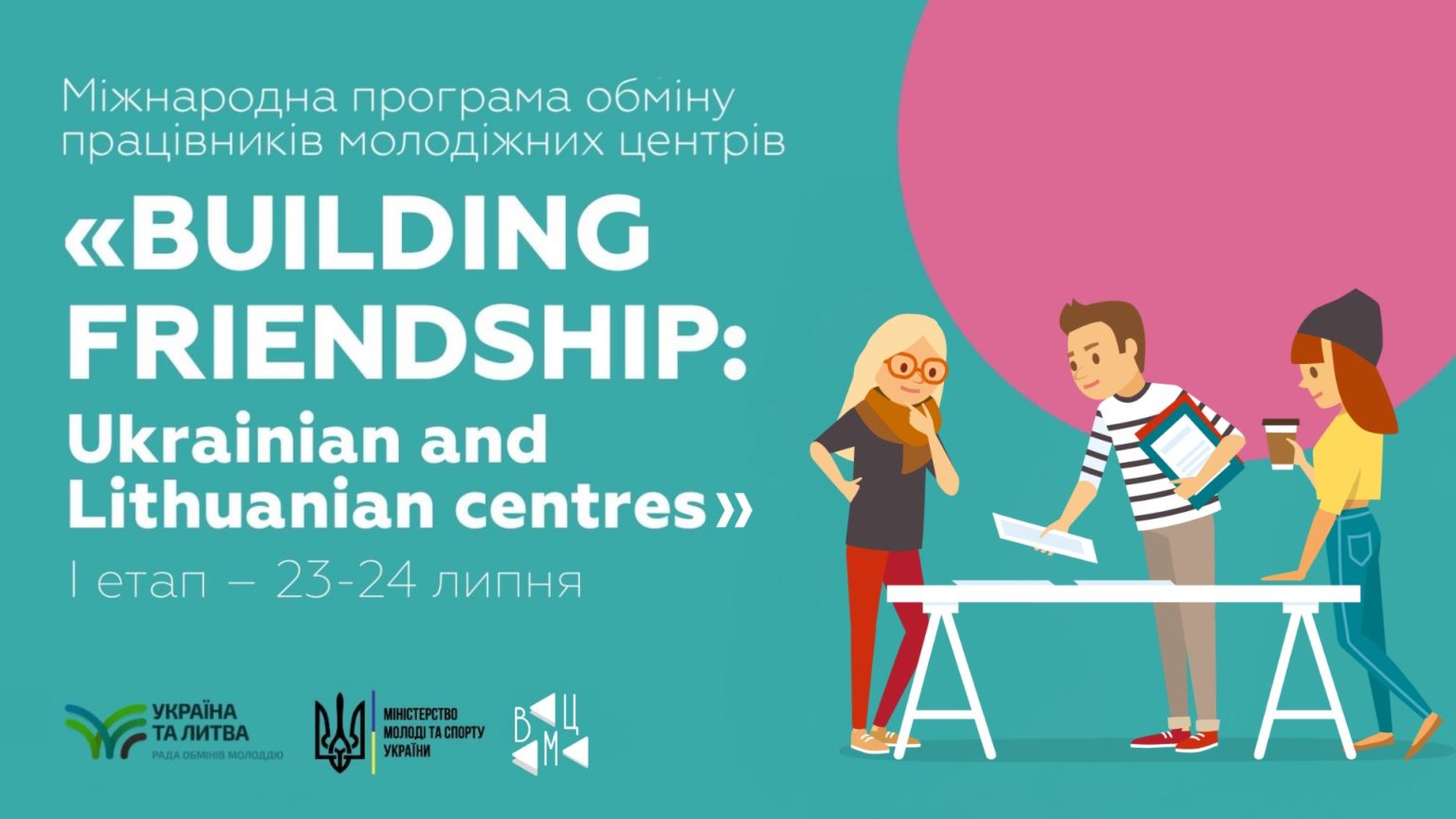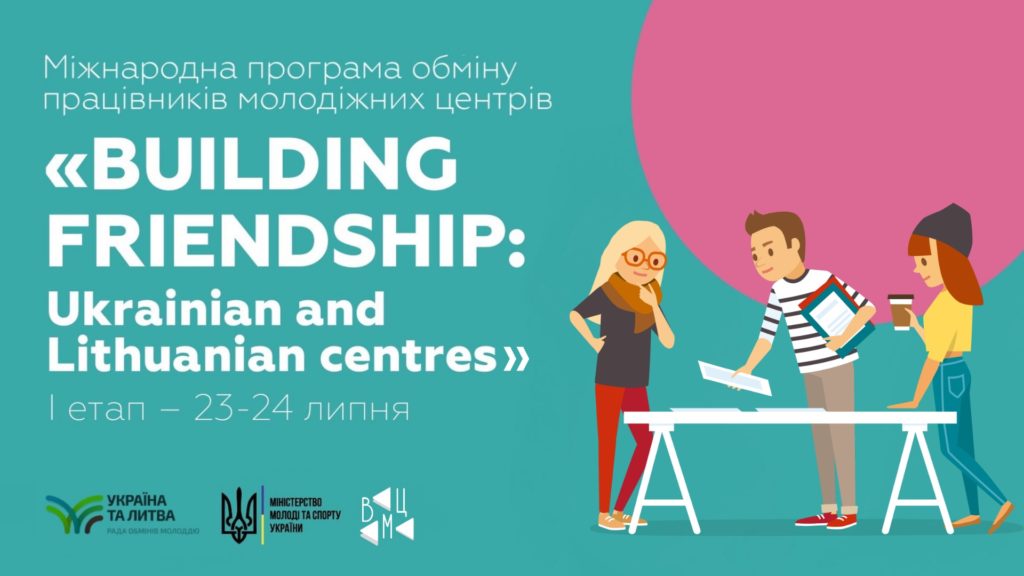 Youth Exchange "Building friendship: Ukrainian and Lithuanian Centres"
All-Ukrainian Youth Center together with the Department of Youth Affairs of the Ministry of Social Protection of Lithuania and the Ministry of Youth and Sports of Ukraine is looking for 10 youth centers to participate in the program "Building friendship: Ukrainian and Lithuanian centers". The participants will learn more about Lithuanian youth policy and share the practices of youth work in Ukraine. Application deadline is July 15, 2021.
****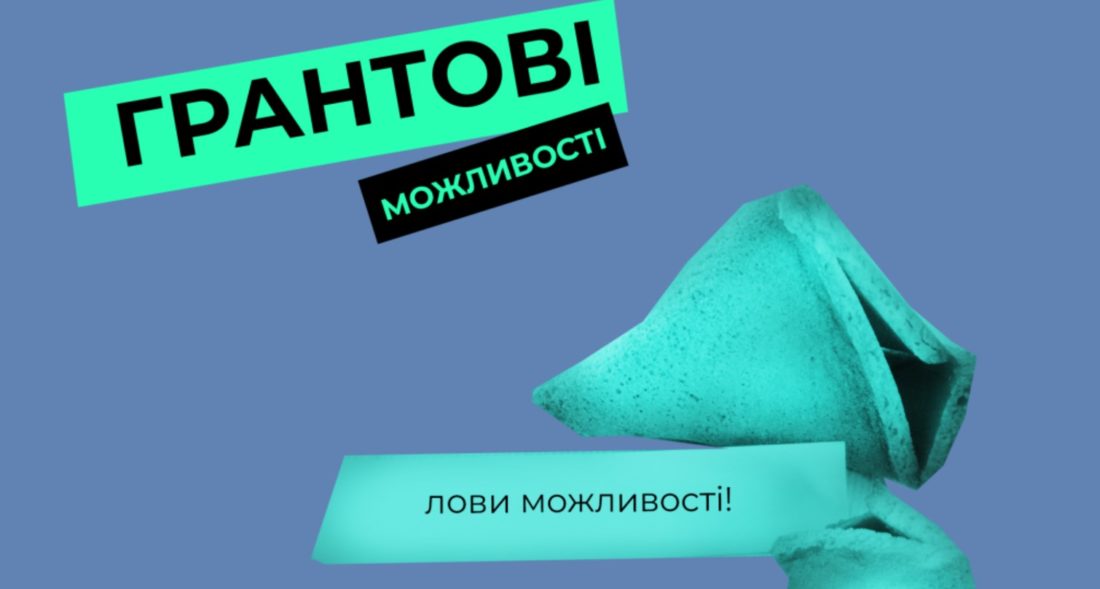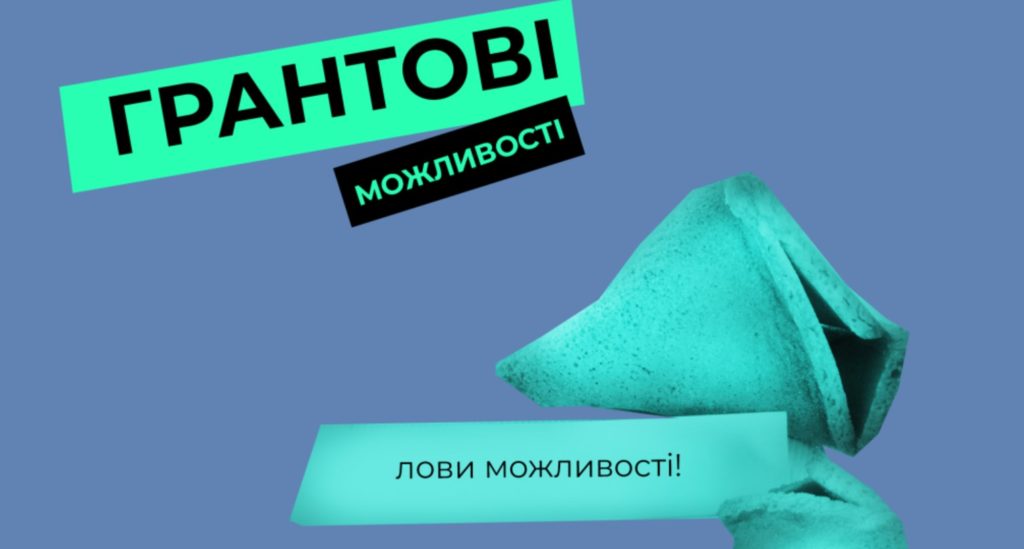 USAID/UNITY Announces Call for Proposals
USAID/UNITY (Mriemo ta diemo) Program announces open call for proposals "Pool of Opportunities" for projects that contribute to the development of leadership potential of young people (aged 10-35 years) and form a value-based Ukrainian identity. The proposals should aim to provide economic opportunities for youth, increase their civic activism, social cohesion, promote diversity, and improve approaches to gender equality and social inclusion. This call for proposals is open until July 31, 2021.
****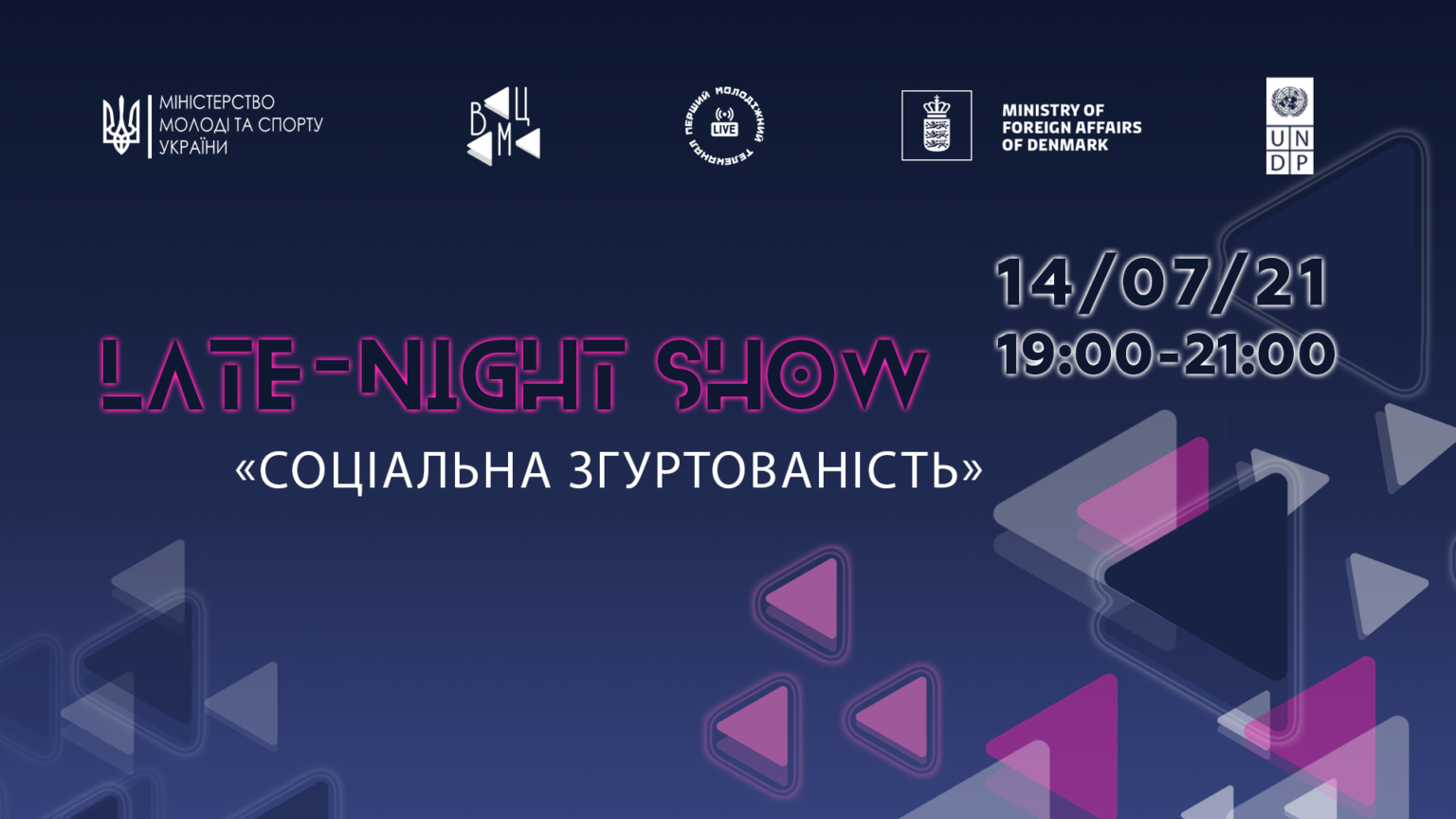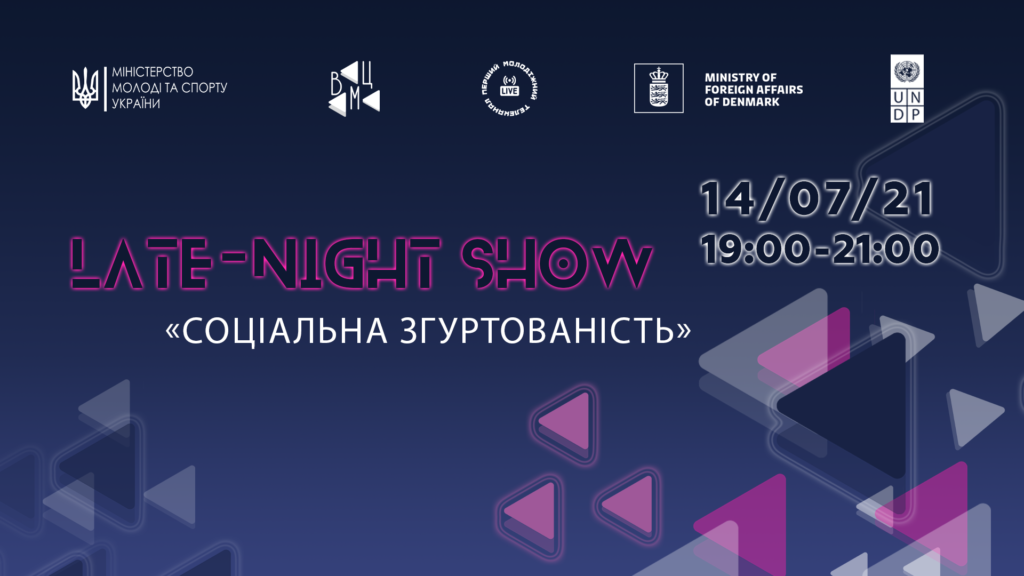 Late Night Show "Social Cohesion"
The All-Ukrainian Youth Center together with UNDP in Ukraine and the Ministry of Youth and Sport of Ukraine invite you to join the live broadcast of the Late Night Show "Social Cohesion" on the First Youth Channel. You will learn what social cohesion is and what prospects this program can give you. You will also be the first to read the Social Cohesion Handbook and appreciate its practical value. The viewers will get the opportunity to win cool prizes after passing topical real-time quiz.
****