Ukrainian women are widely recognized for their leadership in their country's civil society environment. After playing a key role in galvanizing efforts during the Revolution of Dignity, according to experts such as Professor Lauren Van Metre of George Washington University, Ukrainian women have made forward progress, utilizing the momentum of the spirit of reform of Maidan as an instrument for strengthening gender equality.
A record number of Ukrainian women have entered the Verkovna Rada of Ukraine during last summer's elections. As a result, today's ninth convocation of parliament is now the most well-represented by women—approximately 20% of its members are women. Elsewhere, gender equality standards are being benchmarked as a part of new Euro-Atlantic Integration policies and reforms.
Despite the progress, gender equality remains an issue of concern for Ukraine's civil society.
The President of Ukraine irked the activist community after referring to beautiful women as his country's "brand" last spring. Regardless of how the quip is interpreted, women's rights issues are no laughing matter for the leaders of civil society organizations and human rights organizations that cite an OSCE report showing that two in three Ukrainian women have experience psychological, physical, or sexual violence.
Ukraine seems unlikely to sign the Istanbul Convention anytime soon. The Council of Europe Convention's Istanbul Convention takes a firm stance against preventing and combating violence against women and domestic violence by criminalizing psychological violence, stalking, physical violence, sexual violence, and sexual harassment, among other offences. Despite being ratified by over 34 other Council of Europe members, leaders of the current administration have shifted the country's policy towards the Convention, stating last month that the prospects for ratification are low.
So, how do we reconcile the progress made with larger challenges and what can be said about the state of gender equality in the country? Is there a lingering mentality of gender discrimination? As an increasingly large body of data and research concludes that gender equality improves economic growth, can efforts to improve women's economic equality and opportunities improve Ukraine's economy?
The Global Gender Gap Report of 2020
The newest figures from the World Economic Forum's Global Gender Gap 2020 Report, benchmarking 153 countries on their progress towards 'gender parity', provides some insight.
The Global Gender Gap Report compiles various ratios into a Global Gender Gap Index Score. The Index Score is composed of four different sub-indices that each describe a particular dimension of a country's gender equality: political empowerment; health and survival; educational attainment; and economic participation and opportunity. With these sub-index scores, the Global Gender Gap Index allows for a global comparison of gender parity.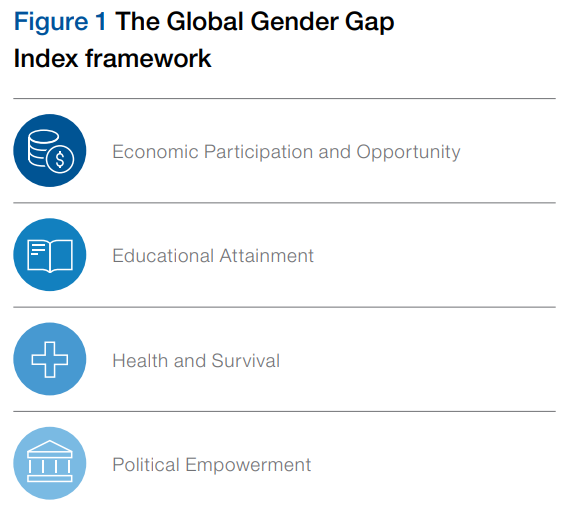 What is gender parity? Gender parity is a measure—a ratio, more specifically—comparing a particular indicator among females, such as average income, to the same indicator among males. When the female indicator is divided by the male indicator, a parity ratio can be calculated. Generally, a score of less than one indicates a disparity, or 'gap', favoring males while a score of one indicates that a measure has achieved an ideal level of equality.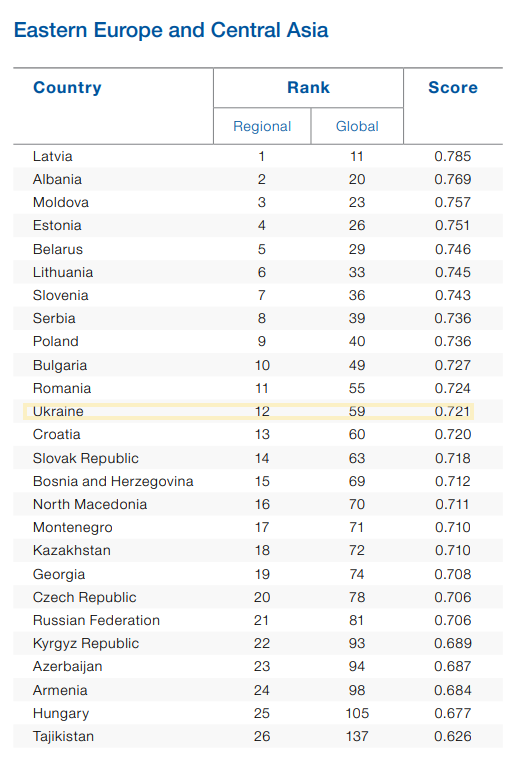 Ukraine On Point in Educational Attainment, Lags in Political Empowerment
In the 2020 report, Ukraine ranks 59 out of 153 countries, with a parity score of .721 of 1. Overall, Ukraine's total score shows an improvement from its 2006 score of .680. It has climbed six spots in the global ranking.
In regional terms, Ukraine ranks 12 out of 26 other Eastern European and Central Asian countries.
Ukraine scores strongest in the dimension of Educational Attainment, where it is tied with many countries for 26 place. This indicator is composed of literacy and enrollment in primary, secondary, and tertiary schools. In the category of enrollment, Ukraine scores excellently—more females attend all schools at all levels than males. Literacy levels are also quite high for females, as they are males as well.
Despite the progress women have made in their political representation in the Rada, Ukraine's performers the weakest in the Gender Gap Index score of Political Empowerment. It is ranked 88 overall in the world for the percentage of women in parliament and 82 in terms of women in ministerial positions.
Ukraine's 2020 Global Gender Gap Index Score also tells an important story about the role of conflict—while ranked excellently in 2006, the Health and Survival sub-index score has fallen by 52 spots in the 2020 ranking. It is the only indicator to have actually lost points (from 0.980 to 0.978) in the country scorecard.
Civil Society: A Key Role in Advancing Gender Equality

The Global Gender Gap Report states that it will take nearly 107 years for Eastern Europe and Central Asian countries to close its gender gaps if progress continues at its current pace. As it does in so many other spheres, Ukraine's civil society will need to play an active role in advancing gender equality to achieve a greater rates of advancement and progress. It has a good incentive to do so.
According to a growing body of literature, gender mainstreaming is more successful if it is informed and advanced by women's movements and wider civil society engagement, a process known as "the participative democratic model."
In the words of the Secretary-General of United Nations, Antonio Guterres, "The struggle for gender equality is a tough struggle, and obviously it is tougher when we look at it from the perspective of Governments and institutions… So it is civil society that is indeed being in the forefront of this struggle… Without civil society leadership and pressure, I doubt we would be where we are today."