Ukrainians Disappointed in Reforms, but Ready to Support Each Other and Their Communities
It finally happened! We are pleased to present to you the latest results of the USAID/ENGAGE Civic Engagement Poll, measuring Ukrainians' attitudes towards activism and engagement, reforms, and corruption, among many other issues that provide crucial insight into the country's civil society environment.
Indeed, knowledge of the beliefs of citizens gives civil society organizations a unique opportunity for a more effective response when advancing the public interest. This special issue of Highlights provides a sneak peek of some of the key findings that may come in handy while trying to understand Ukrainians, the public sector, and the country as a whole. So, sit back, relax, and read more about citizen awareness and engagement, as well as readiness to sponsor specific civic initiatives.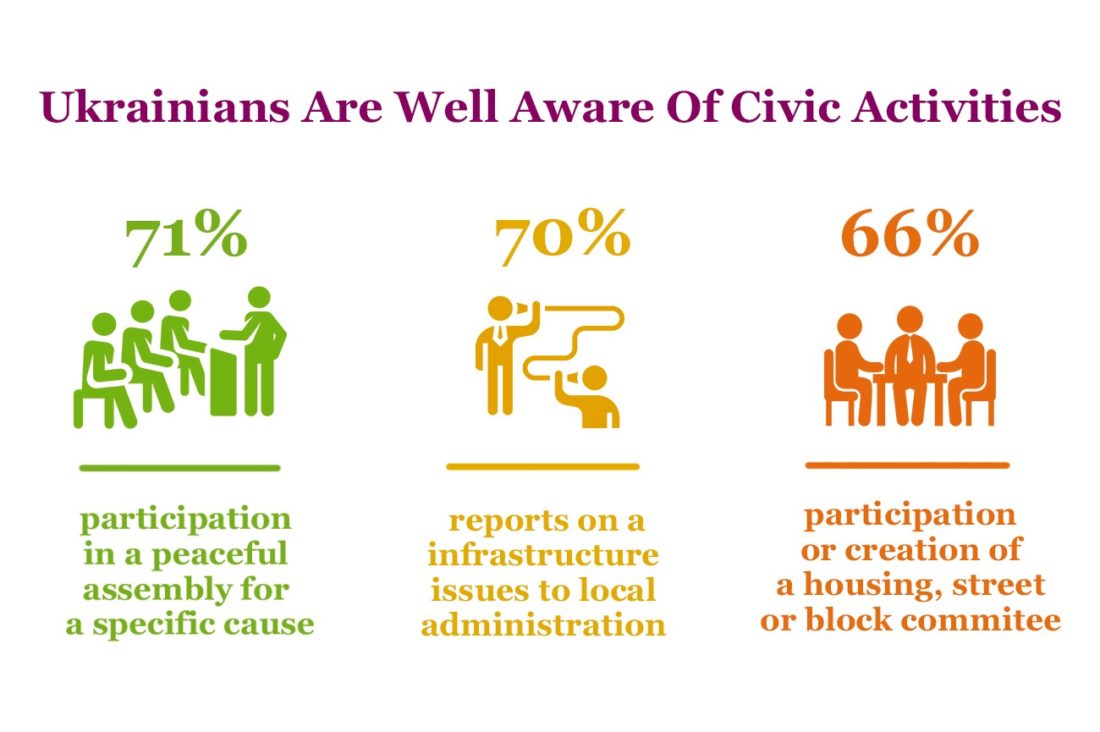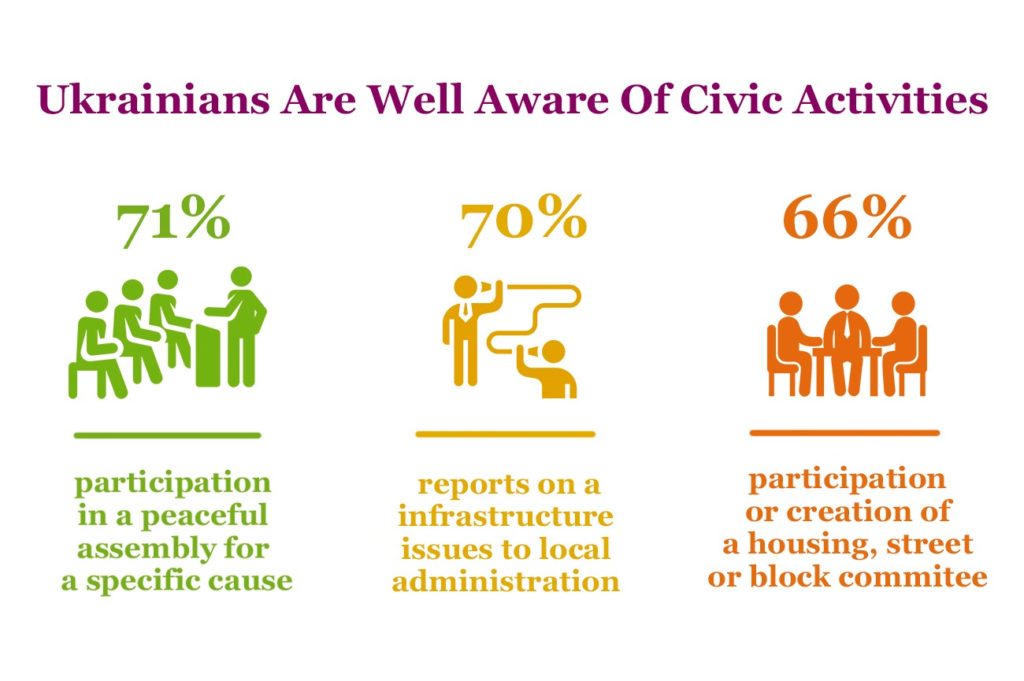 Ukrainians are Well Aware of Civic Activities
We bet you don't even know how well Ukrainians are aware of civic activities. Seven out of ten Ukrainians (70.8%) are aware of the participation in a peaceful assembly for a specific cause, 70.0% are aware of the option of reporting on a damaged road or other infrastructural issues to the local administration. 66.4% of citizens know that there is a possibility to create a housing, street, or block committee or participate in the work of such a committee.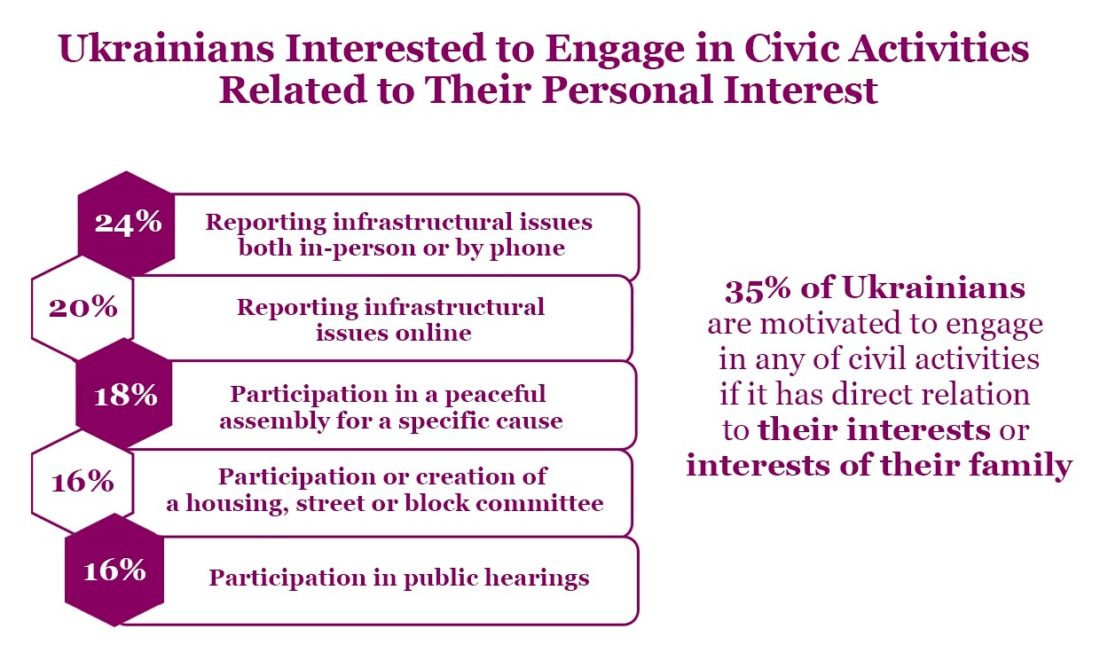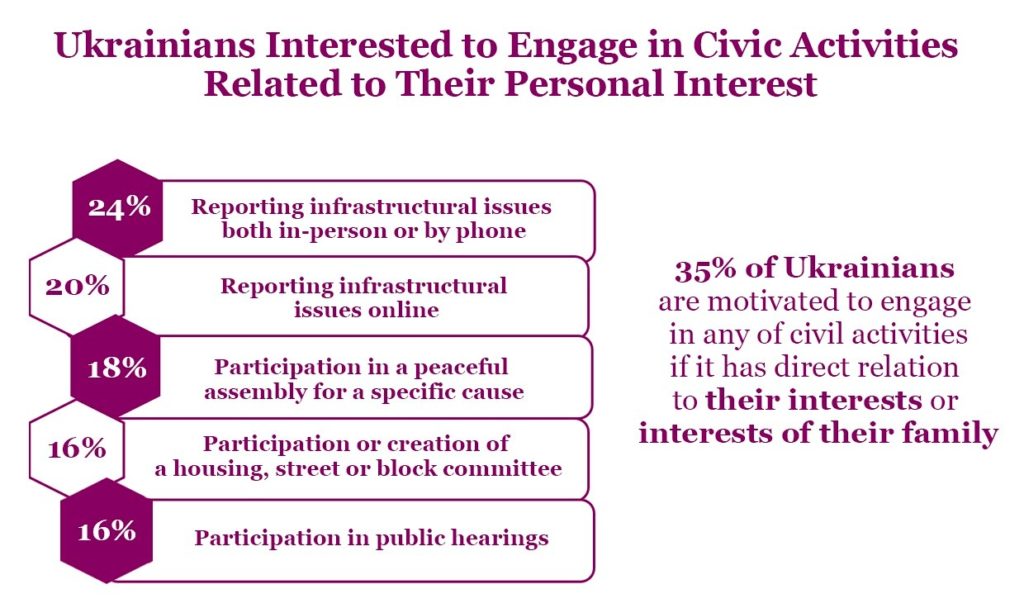 Ukrainians Interested to Engage in Civic Activities Related to Their Personal Interest
What Ukrainians are most interested to do is reporting infrastructural issues both in-person or by phone (23.7%) or online (20.4%). Respondents told us that they are keen on participating in a peaceful assembly for a specific cause (18.4%), and creation of a housing, street, or block committee or participation in the work of such a committee (18.4%). Why so? One third (35%) admitted that a direct relation to their interests and interests of their families is the biggest motivation to engage in civic initiatives.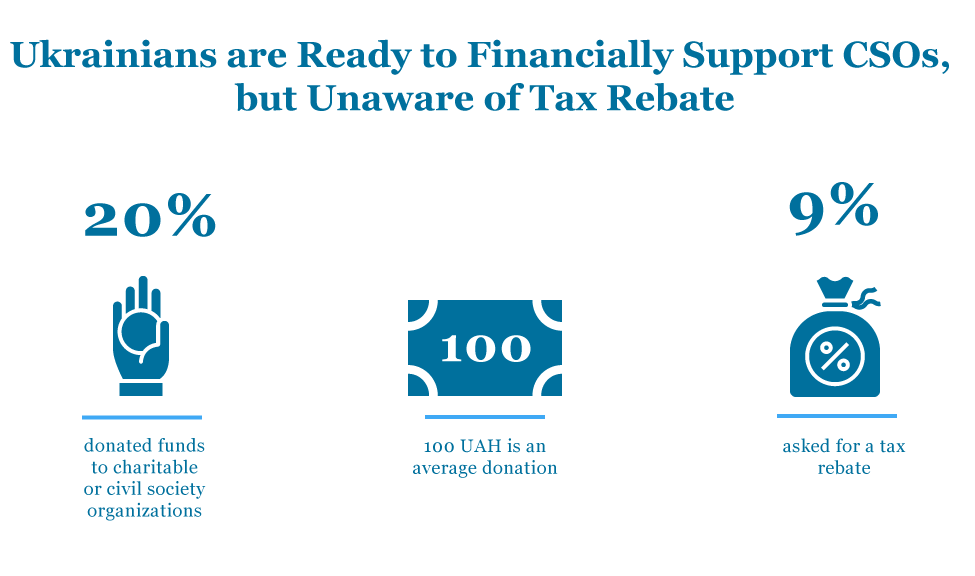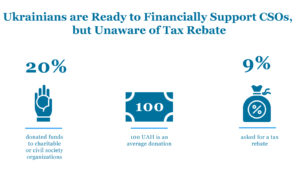 Ukrainians are Ready to Financially Support CSOs but Unaware of Tax Rebate
Citizens may support civil initiatives and CSOs in a variety of ways. They may become agents of change through the dissemination of important information, or engage as volunteers or sponsors. As for the latter type of support, every fifth Ukrainian has donated funds to charitable or civil society organizations in the last 12 months. At the same time, the average amount of such a contribution amounted up to 100 hryvnias. But not all sponsors are well aware of their rights – only 8.9% of Ukrainians who made charitable donations to CSOs exercised their right to a tax rebate.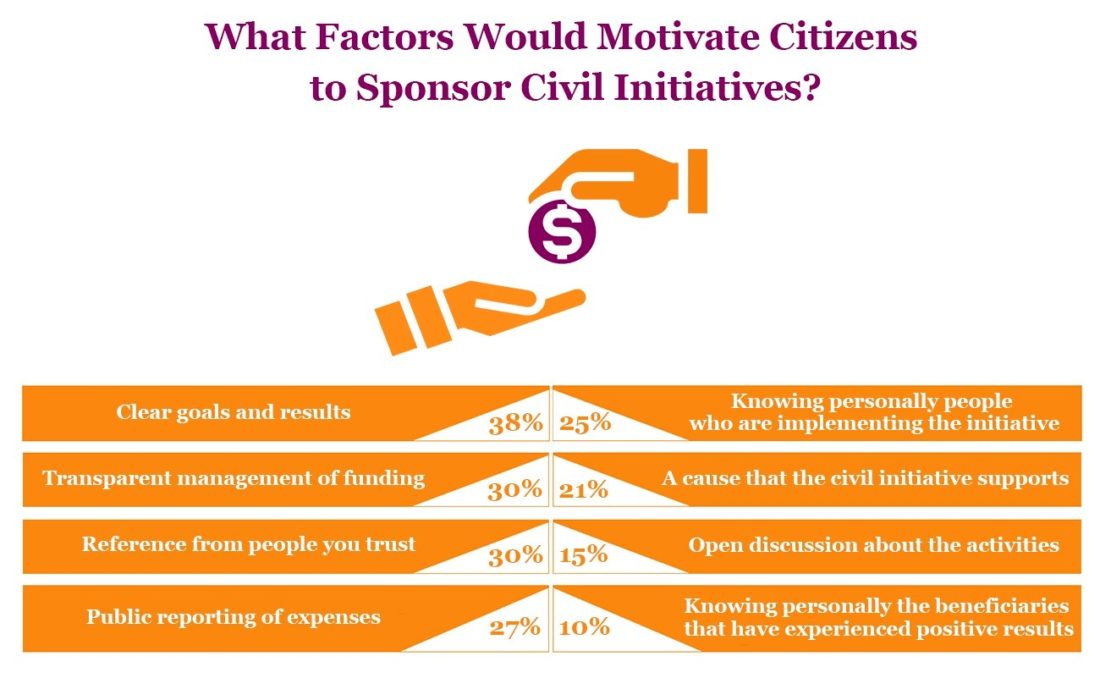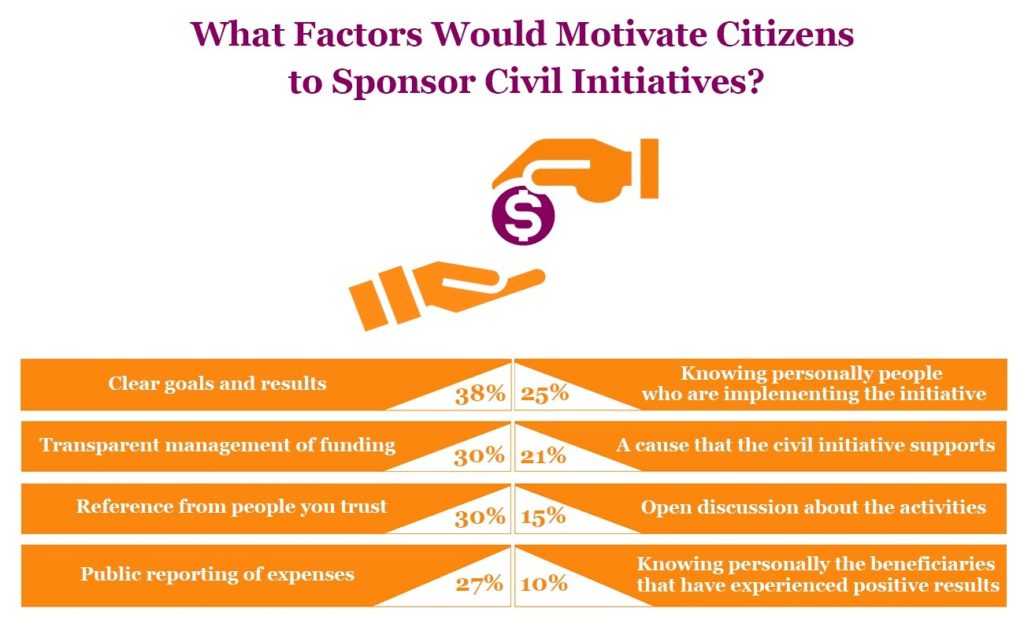 Clear Goals and Results Motivate Citizens to Sponsor Civil Initiatives
We are ready to support those we truly trust. This conclusion is confirmed by the results of our survey, which showed that more than a third of Ukrainians (37.6%) are ready to support civil society organizations that have clear goals and objectives. Among other reasons, respondents also indicated transparent management of funding (30.4%) and reference from people they trust (30.1%). But the most optimistic is the following figure – every third (31.8%) among those who joined at least one civil initiative said that it was a positive experience that led to the desired changes. So, engage to bring positive change for the benefit of your community and the state!