Oksana Maiboroda has been devoted to environmental causes for over a decade. Oksana not only enjoys the outdoors; she has been active with environmental non-governmental organizations for many years. As an arborist, her love of horticulture eventually led her to develop her own eco-initiatives. Oksana began playing an active role in organizing and assembling like-minded individuals to help plant trees in urban spaces across her native Rivne.
So in 2015, Oksana co-founded the Rivne Garden of History, a public initiative for a greener city. The initiative continues to be driven by volunteers and active residents. The group unites around their belief that green spaces not only bring more value to society, but that plants bring important value to people's lives. The Garden believes that trees carry important symbolic value, commemorating important events and historical change. The organization's greenery has been a welcome addition for the community, who utilize the spaces for weddings, community events, evening strolls, and many more selfies.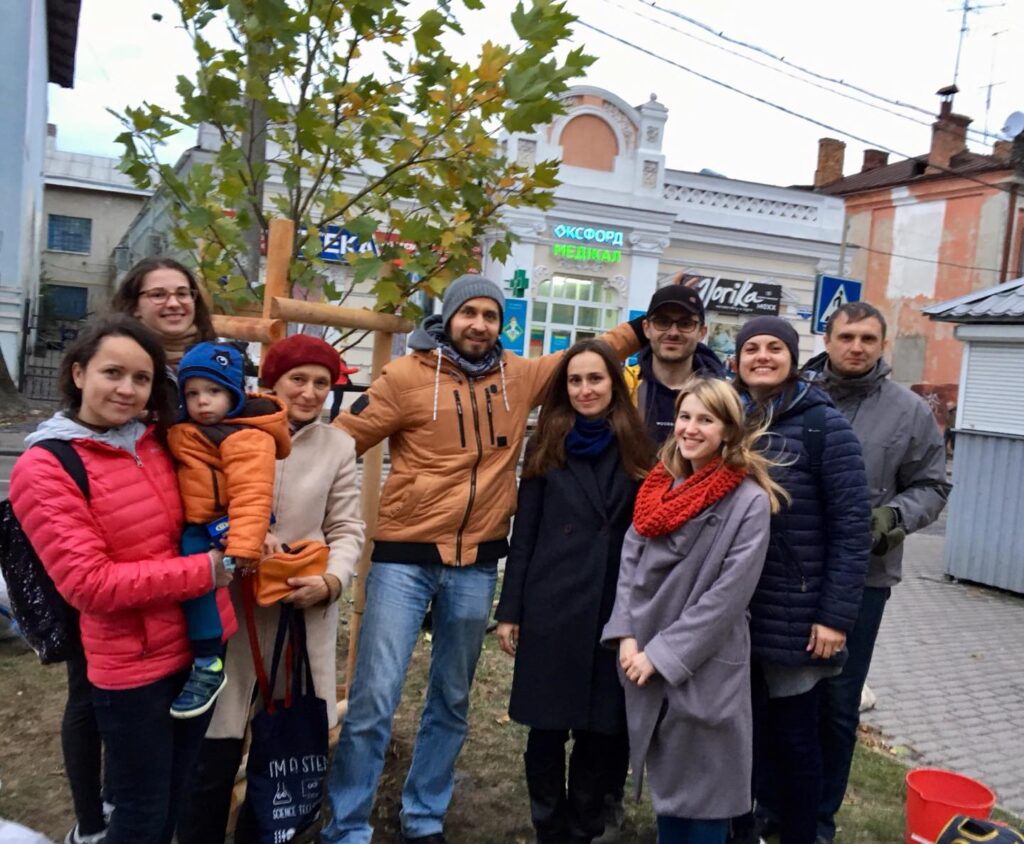 After becoming a mother in 2016, Oksana understandably became much more limited in her ability to stay involved with her other environmental endeavors and focused solely on the Rivne Garden of History initiative. Turning her attention to the development of the Garden initiative, Oksana pushed for the group to join the local Rivne Social Partnership Centre, a coalition of nearly 20 different organizations. Fortunately, Oksana recognized the need
for her organization to continue to grow and looked for ways to connect with others. And through joining the Coalition, Oksana identified an opportunity to amplify the voice of her team and launch a more effective advocacy campaign.
Through the Rivne Social Partnership Centre, a USAID/ENGAGE grantee and local coalition of civil society organizations in Rivne, the Garden's work continues, attracting new members and new advocates for environmentally-friendly policy.
The Rivne Social Partnership Centre is an example of the USAID/ENGAGE activity's efforts to scale up advocacy initiatives with issue-based grants, through the creation of local civil society organization coalitions.
When the project of local reform coalitions funded by USAID/ENGAGE started, Oksana was invited to coordinate the work of Coalition's Secretariat. Due to the joint efforts of civil society sector in Rivne, Oksana has gained the opportunity to attain more advocacy power for her environmental initiatives.
Rivne provided fertile ground for the creation of a local coalition. Through mentoring efforts made possible through USAID/ENGAGE support, the Rivne Social Partnership Centre creates conditions for better society cooperation, harnessing the community's joined actions towards common goals. After joining the coalition, Oksana noted that her organization's appeal increased. For Oksana, the USAID/ENGAGE activity translated to organizational growth for the Rivne Garden of History—enabling her eco-friendly initiatives to grow by taking on new endeavors in collaboration with other respected and well-known organizations in her city. And shortly thereafter, she saw a growing volunteer base and began to introduce innovative fundraising efforts.
At the beginning of 2018, after joining the coalition, the Garden team set a goal to develop a city greening program. To evidence the need for that program, they conducted a study of the levels of green spaces throughout the city. And with grant support, Oksana and her team were able to attract experts to provide their own analysis, hold a series of discussions, become better advocates themselves, and even publish research. But the Rivne Garden of History did not stop there—they began to grow from activists into local leaders.
As the team developed their skills and became familiar with local governance polices and procedure, they were able to identify areas of local governance and environmental policy that raised major concerns. They discovered inefficiencies in the management of green space, they found that the care of spaces was poorly implemented, and that budget funds were often wasted. The city had neglected to keep record of the millions of hrivnya spent on annual flowers, lawns, pruning, and tree removal. The team discovered that very few resources were allocated to professional care, maintenance of spaces, and other similar activities.
As a result of their work, the team are currently contributing to urban planning while also lending their knowledge in the management the city's environmental health and resources. Thus, in 2018, the Rivne City Council adopted the Program for the development and preservation of green plants in Rivne for 2019-2023, which was developed with the active participation of Oksana and her team. And the Garden team has also learned a thing or two about managing their organization—Oksana led a crowdfunding initiative aimed at raising funds for planting trees in the center of the city. With constant consideration of green-friendly policy, Oksana and her team were able to sell "Eco Bags" to 380 locals, and all revenue was used for buying seedlings of trees.
Oksana' credited the organizations' growth to the support it received from the Rivne coalition:
As we developed the initiative, we learned about and contributed to a number of problems in this area. Collaboration with the coalition has strengthened us, added resources and levers of influence, thanks to the combined efforts we managed to advance important decisions, including the program, as well as to update the existing problems of urban landscaping.
Oksana's efforts were made possible through support she received from the Rivne Social Partnership Centre, a USAID/ENGAGE grantee. Her small organization is now poised to create more than a large environmental impact for the residents of the Western city.