Digital and online democracy initiatives have blossomed around the world. The COVID-19 pandemic—eliminated traditional forms of engaging large audience— has perpetuated the use of online engagement while ushering in new engagement platforms.
With hundreds of different forms of digital participation to choose from, it is key that those online tools truly represent the interests and the voice of the public, while empowering their constituents. Indeed, the International Association for Public Participation's Spectrum of Public Participation now evaluates the extent to which an online platform merely "informs" the public or goes further to truly "empower" its constituents. Without effective and properly designed tools for digital participation and engagement—that capture the experiences of participants, provide evidence of tangible impact, and allow for proper connection to institutions—new flashy forms of engagement technology can run the risk of drawing attention and flare, leading to "participation theatre," rather than remaining focused on the goal of transforming citizens thoughts and concerns into public decision-making.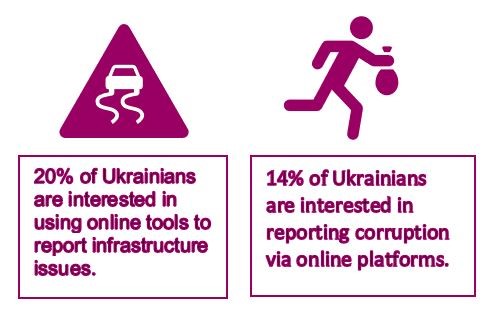 But when used effectively, online engagement importantly connect new groups who do not have the opportunity or time to connect offline. Results from the USAID/ENGAGE National Civic Engagement Poll, conducted in January 2020, indicate that Ukrainians are indeed interested in utilizing online tools. For example, 20% of respondents indicated that while they had not done so, they would be interested in using an online platform for reporting on infrastructural issues, such as poor road quality. And another 14% indicated that while they had not done so, they would be interested in reporting acts of corruption via online tools such as social networking sites or blogs. These findings raise the question: what makes an effective online civic engagement platform and what can be done to ensure they attract the appropriate audiences and empower citizens? Research from RAND Europe provides some insights.
Digital Technologies for Civic Action Pose New Opportunities
An analysis from RAND Europe, titled "How Can Digital Technology Encourage Greater Engagement in Civil Society?" addresses the great potential of online tools. In the article, authors Talitha Dubow, Axelle Devaux, and Catriona Manville cite the promise of new digital technologies' access to global communities and the ability to contribute to civic networks or mobilize around various causes. The power of online engagement tools offer the potential to shift power that has been concentrated in traditional forms of media or the government. The authors note that it is crucial to harness the technologies to more effectively reach groups experiencing particular regional or unique problems, fostering inclusivity and presentation into democratic processes. This finding has been highlighted in other studies, noting the value of online platforms in capturing more diverse and statistically representative ranges of citizens, inviting more perspectives into decision-making at an early stage of the process. And additional research from USAID finds that while it is early to assess the impact of ICT, some results in digital democracy are promising; ICT tools also have the potential to provide timely and efficient information (as is the case with mobile tools), broaden networks, and create accountability in rural settings where traditional forms of accountability are weaker.
How can we ensure that those who truly need to be sharing their voice are heard in online engagement? The ability to connect is key—without internet access or the knowledge of how to use it, even the best designed platform for online participation with local or national authorities' decision-making is meaningless. Civil society can play a key role in this regard, ensuring that online engagement is indeed inclusive, and designed with the end user in mind. In Ukraine, several civil society organizations' online initiatives are notable for incorporating these elements into their ongoing initiatives.
"National and local governments are experimenting with a range of digital tools to strengthen democratic processes, involving citizens in, for example, the drafting and review of legislation, crowdsourcing policy ideas, and consensus building around particular issues." How Can Digital Technology Encourage Greater Engagement in Civil Society?
Pre and Post-COVID, Online Engagement Matters for USAID/ENGAGE Partners
Civil society organizations in Ukraine, including USAID/ENGAGE partners, work to ensure that their forms of online engagement address experts concerns, harnessing technologies to more effectively reach marginalized groups, fostering inclusivity, and creating new generations of citizens. USAID/ENGAGE and its partners utilize a variety of information and communication technology tools in efforts to stimulate citizen engagement across spheres of civic literacy, anti-corruption, civic education, and civic participation. Within those spheres, partners' online engagement tools look to empower underrepresented populations in Ukraine. Several partners' online engagement platforms approach online engagement by providing handy tools for answering questions concerning important civic matters and sparking the interest of the general public. For example, the civil society organization Chesno offers its online platform called PolitHub, providing users with a database that encompasses 20 years of political findings. The database empowers all citizens in political decision-making, so that youth can quickly access information about candidates and representatives to make more informed, conscious electoral choices.
Other partners promote civic literacy with their tools. Mobile apps and educational instruments, including online courses and learning platforms like citizen.in.ua, and interactive maps, allow students and citizens to connect in live time. Citizen.in.ua serves as an interactive resource, aiming to provide informational and methodological support to students and teachers in Ukraine's mandatory tenth grade civic education class. It boasts a curriculum on various topics—including human rights, social-culture, democracy, media, economics, and Ukrainian foreign relations—in the form of an institutionalized course that is also downloadable-friendly for users.
Another series of tools allows users to participate in monitoring and oversight of various public services and issues, empowering citizens to hold their local officials accountable. And the Kharkiv Reforms Coalition, in collaboration with the Ukrainian Leaderships Academy and the CSO "Creativa" created an online, mobile-friendly accessibility platform that actually allows users to report lack of appropriate facilities and accessibility-friendly venues on a public map. Social networks from Global Office's Vlipy Za Sebe project now engage youth  around their "Don't Be Afraid to Open Your Mouth" Instagram campaign, to educate and encourage voting. The Vlipy Za Sebe project reports reaching almost 1.5 million users in its past reporting period, including 222,271 on Instagram, 567,166 on Facebook, and 668,217 on YouTube. The UMDPL Association's mobile friendly application, Police Under Control, provides easily accessible guidance on how to navigate their interactions with police. And Foundation.101's online app, Karatel, allows users to simply snap a photo of local issues, such as a local sanitation departments need to pick up trash, and then send it immediately to an online complaint system ready to take legal action.
Civil society organizations also use online engagement to prove that civic participation can be fun and entertaining as well. Together with the All-Ukrainian Association of Music Events, Atlas Weekend, and the M1 TV channel, USAID/ENGAGE has supported the Brave Heart summer concert. The event gathered some of the country's most popular musicians while raising both awareness and funds for COVID-19 equipment that is needed by doctors.
And online tools can also be used to fight corruption and hold officials accountable. The Anti-Corruption Action Center's "Serpom po Reytyngy" initiative takes this approach through an innovative tool. The initiative not only connects users to discuss problems, but incorporates a unique crowdfunded approach, wherein via their own contributions, users have the ability to prompt an investigation into the conduct of their own-elected officials, via the Center's own monitoring and analysis. This approach ensures that the public's interests and concerns are represented while also bringing the organization's high-level investigatory prowess to the regional level. "This project delivers impressive results, having raised since its launch in 2018 up to now UAH 511,000 from the citizens, and reaching out with its informational campaigns to 7,000,000 of Facebook users."
Moving Forward: Addressing Online Engagement Challenges
Considering the new limitations on various forms of civic gatherings, meetings, and policy-making imposed by the COVID-19 pandemic, online engagement has become even more important. And the aforementioned Civic Engagement Poll data illustrates a need to bring more users online and to become both aware of and interested in how new tools can work for them. The authors of "How Can Digital Technology Encourager Greater Engagement?" note that among those challenges attached with adopting these new platforms, the design of new digital and online technologies for civic participation will be crucial.
While offering the promise of empowering citizens, the abundance of online platforms also enables political and special interest groups to increasingly utilize digital technologies for "micro-targeting" particular demographics with various messaging. That micro-targeting can be used to collect personal data, influence election campaigns, or spread propaganda; activities that not only deter civic participation, but also lower trust in online engagement processes.  Yet another important consideration, according to the authors, is the varying access to technology and infrastructure that prevent many of the most in need demographics from communicating and engaging, including those people with limited internet access at the regional and local levels. Additionally, elderly populations and persons with disabilities are among those groups that are most underrepresented in the digital sphere. And the question persists as to whether strengthening political engagement on digital platforms merely favors individuals or groups—such as younger populations—who were already engaged, as opposed to those where the impact would be the greatest. This will also be a new challenge for online engagement tools and civil society organizations.
However, the aforementioned USAID/ENGAGE partners' efforts illustrate the variety of ways in which various audiences can be engaged. New possibilities for online engagement in civic participation are a plenty in Ukraine. And simultaneously, new technologies provide an opportunity for civil society to connect with new constituents and tear down barriers to participation. The tools that civil society chooses to use to reach key demographics is key to the success of any initiative—whether it be in raising new civic literate generations, fighting corruption, holding government officials accountable, and even bringing together youth to raise awareness about a cause via infotainment—so civil society organizations stand to be rewarded for their online engagement efforts with new constituents and supporters. Through sustained online efforts, participation can become truly effective and inclusive, fostering new channels between the people and their elected officials.