Transparency International has released its 2019 Corruption Perceptions Index and Ukraine's scorecard on corruption has slightly worsened during the last year. The results comport with a negative global trend wherein many countries have been judged to have demonstrated little to no improvement in tackling corruption.
Transparency International's Corruption Perceptions Index (CPI) has been complied annually since 1995, scoring countries levels of public corruption on a scale of 0-100. To create these scores, the CPI measures private sector opinions, utilizing surveys administered to investors, the business community, market analysts, and academic experts. Importantly, a country's score measures only perceptions of public corruption, not forms of private corruption taking the shape of money laundering or illicit flows.
A Negative Global Trend in 2019
In this year's Index, the lowest ranking score was a "9" out of 100, received by Somalia, indicating that corruption superseded governance. The high score of "87" was awarded to Denmark and New Zealand, indicating very clean governance and low levels of perceived corruption. In the last eight years, nearly 22 countries have improved their scorecards, 21 countries have declined (including the United States), while the remaining countries have made little or no progress. The majority of the 180 countries measured in the CPI fall below a score of 50—the average score being a 43 out of 100.
To address these global trends, Transparency International calls for better management of conflicts of interest, campaign finance reform, free and fair elections, public and easily accessible information on lobbyists, an independent judiciary, and protections for civil society.
Ukraine's CPI Score Falls For the First Time in Seven Years  
With a score of 30, Ukraine ranks in the lower third of the Index's 180 countries, with several dozen countries standing between Ukraine and the scores of an average country. Regionally speaking, Ukraine lags behind all of its Eastern European neighbors, with the exception of Russia (a score of 28).
Perhaps more importantly, Ukraine's score fell by two points in 2019, marking the first year that its score has declined since the Revolution of Dignity. The figure below, taken from Transparency International's new report, illustrates Ukraine scores during the last eight years. As the figure demonstrates, the pattern of modest gains has stalled in 2019.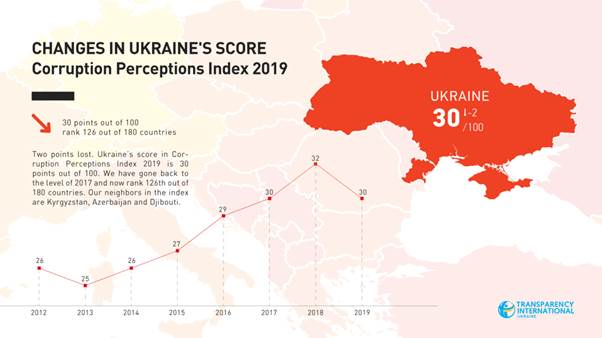 Ukraine's CPI score is based on nine different sources and saw modest gains and declines in several of those metrics, which together create a composite score. However, a large loss was observed in the Global Insight Country Risk Ratings, measuring whether individuals and businesses are likely to encounter bribery or corruption practices in their economic activity.
While Ukraine continues to exhibit relatively stronger growth in other popular indices measuring corruption and democracy—such as the World Bank's Doing Business Index and The Economist's 2019 Democracy Index—the decline in the CPI score also appears to reflect issues with the implementation of new policies, as well as the progress (or lack thereof) of reforms in new anti-corruption agencies.
For example, the CPI's 2019 report called on the Specialized Anti-Corruption Prosecutor's Office to restore its credibility and leadership, it recommended greater independence for the National Anti-Corruption Bureau of Ukraine, noted the need for implementation of reforms at the National Agency on Corruption Prevention, and recommended stripping the Security Service of Ukraine and National Police of the power to fight economic crime. During the last two years, the CPI notes that authorities  "hardly listen to the advice of the civil society and international partners… [and] sometimes actively obstructed the required changes."
Ukrainians frustration with the public sector is not isolated within the business community. USAID/ENGAGE's Civic Engagement Poll has shown that a majority of citizens have named corruption as a significant issue during the last three years (see figure below). Transparency International's new report notes that such frustration fuels a growing lack of trust in government that erodes public confidence in political leaders, elected officials, and democratic processes. While a lack of trust most certainly damages Ukraine's economic and commercial environment, it also has damaging effects for the citizenry and efforts to engage in reform.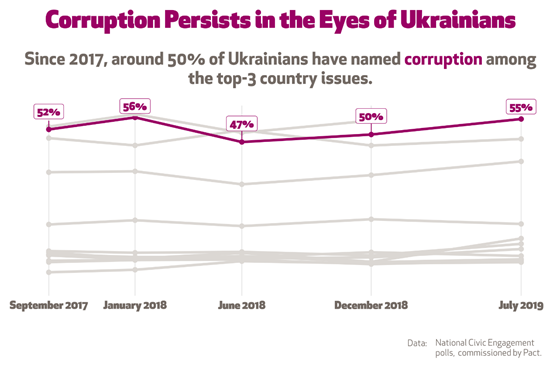 To fight corruption and prevent democratic backsliding in Ukraine, Transparency International stresses the need for an independent and professional judiciary and the removal of corrupt judges from high and low-level courts. The CPI report also cited the troubles surrounding the High Qualification Commission of Judges and High Council of Justice. USAID/ENGAGE partners have examined these bodies in recent months as new draft laws threaten their impartiality and independence by excluding international experts from the Commission's appointment processes.
Having monitored those issues and the progress of judicial and justice-sector reforms, experts from the Centre for Legal and Policy Reform are unsurprised by the new CPI score. According to the Centre, anti-corruption reform has considerably slowed during the last year due to: stalled implementation in anti-corruption policy; a need to restart judicial and law enforcement systems; the lack of large scale privatization; poor transparency from the President of Ukraine, the Verkhovna Rada of Ukraine, its committees and deputies; a missing legal framework for state control over public information; and, loose control over the financing of political parties. The latter point aligns closely with the CPI's larger thematic findings—"countries with stronger enforcement of campaign finance regulations have lower levels of corruption."