The United Nations recognizes September 15 as International Democracy Day, a day for all to reflect upon the major social, political, and legal challenges that impact the world. While addressing key aspects of international and national governments' response to COVID-19 in the wake of the holiday, UN Secretary General Antonio Guterres recently acclaimed, "[t]he best response is one that responds proportionately to immediate threats while protecting human rights and the rule of law."
Rule of law is globally recognized a pillar of democracy, and in Ukraine, the democratic trajectory of the country is intrinsically linked with progress in the rule of law and anti-corruption. Corruption and a strong rule of law remain among the top priorities for civil society, posing the paradoxical endeavor of simultaneously monitoring and reporting on corrupt actors, courts, and offices, while also encouraging citizens to participate in civic action to build stronger and more trustworthy institutions.
According to Transparency International's Corruption Perceptions Index, Ukraine currently ranks 126 out of 180 countries in terms of public sector corruption, with 23% of public service users reporting that they paid a bribe during the past 12 months.
To address that challenge, the government, with support from civil society, has launched various anti-corruption institutions since Maidan, including: the National Anti-Corruption Bureau of Ukraine; the National Agency on Corruption Prevention (recently reformed and tasked with developing national polices); the Specialized Anti-Corruption Prosecutor's Office; and most recently, the High Anti-Corruption Court of Ukraine, which has just completed its first year of work.
Civil society has and continues to aim to ensure that those institutions function effectively and remain isolated from politicized pressures. Those efforts have extended to judicial reform as well, where domestic and international civil society representatives—sitting on the High Qualification Commission of Judges of Ukraine—are tasked to ensure that those judges that win seats in key benches are appointed based upon their merits and character, not upon their business or personal connections.
While the voice of activists and expert resounds, engaging the everyday Ukrainian in the fight against corruption is one of the ultimate goals of civil society organizations. To do so, the beliefs and perceptions of Ukrainians are invaluable, offering insights into challenges, experiences, and understanding of corruption in their daily lives. The USAID/ENGAGE National Civic Engagement Poll, conducted in January 2020, captures that perspective.
The Fight Against Corruption: Progress, Responsibility, and Role of the Courts
According to the National Civic Engagement Poll, Ukrainians are disheartened in the government's efforts to fight corruption. Despite the creation of the number of anti-corruption authorities, the majority of Ukrainians (71%) believe that there has been no change or almost no change in the progress—or presumably success—of anti-corruption reforms.


Meanwhile, 79% believe that the government was rather ineffective or not at all effective in fighting corruption. Weeding out corrupt actors and institutional corruption is slow, long process for many states—but based on the poll, Ukrainians do not equate the mere creation of institutions with "progress."
Relatively speaking, Ukrainians do not see the courts as playing such a key role in fighting corruption. Only 15% of respondents in the USAID/ENGAGE poll indicated that courts played one of the biggest roles in countering corruption. Instead, Ukrainians pinpointed anti-corruption authorities (38%), followed by the President of Ukraine (32%), and police and prosecutors' offices (24%) as their top three choices. While the first and third choices are understandable, given their authority to investigate and enforce anti-corruption laws, preferring the Office of the President suggests that some Ukrainians may lack trust in the capacity in courts, or moreover, institutions. Instead, they may view political will as the more powerful force in ending corruption in Ukraine.
Indeed, the judiciary ranks seventh, trailing behind the Rada, the average citizen, and the Cabinet of Ministers for its role in fighting corruption. Despite strong calls for the creation of the High Anti-Corruption Court and a widespread criticism of the lack of meaningful criminal sentences against graft, courts seem somewhat neglected, or perhaps mistrusted, for their important role in carrying out justice.
As for their daily experience with corruption, the findings of the USAID/ENGAGE poll goes further than the Transparency International data mentioned above in measuring not only bribes, but also extortion, nepotism, and other forms of corruption.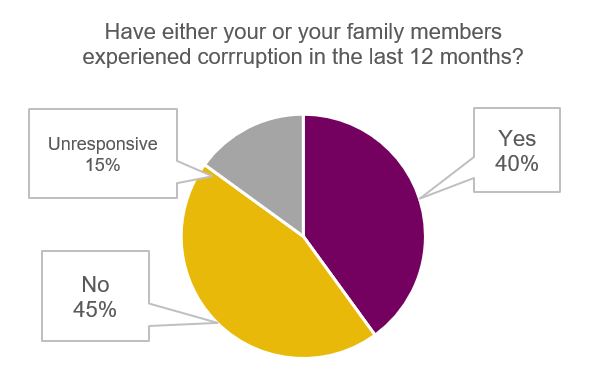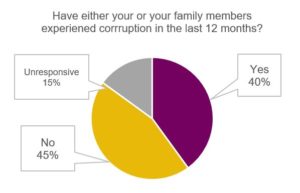 Approximately  40% of Ukrainians said that either they personally, or their family members have experienced it during the last 12 months. Meanwhile, 45% reported that neither they nor their family members had faced it, while 15% were unresponsive.
Meanwhile, respondents overwhelmingly reported that they experienced violations of their rights within the health sector (43%), an important and worrisome finding when coupled with the public health crisis and propensity for bribes to impact the quality of one's healthcare. Those spheres fighting corruption, including law-enforcement bodies (e.g. police, prosecutors) and judicial bodies where less reported to have been the site of a violation, receiving only 14% and 8% of responses, respectively. That finding might suggest that while grand corruption schemes in courts or agencies may rightfully win the attention of civil society activists, the everyday Ukraine does not experience corruption as often or as pronounced in those settings. Further research should explore the extent to which civil society organizations' corruption initiatives target the areas that most impact the average Ukrainian, which as indicated in the National Civic Engagement Poll includes, health, consumer rights, and social security and social benefits.
Civil Society Developments in Anti-Corruption and Judicial Reform
In addition to the monitoring of health supply procurement issues attached to the COVID pandemic, last six months has been full of anti-corruption and judicial reform developments. In the build up to past presidential elections, civil society organizations—including USAID/ENGAGE partners CentreUA, the Anti-Corruption Action Centre, Centre of Policy and Legal Reform, and the Kharkiv Anticorruption Center—called on the leading political parties to publicly lay out their vision of anti-corruption strategies for voters in the Justice Reform Agenda. Those efforts continue through the activities of civil society, with attention on judicial reform and their connection to politics.
The ability of political leaders to influence the fight against corruption has also been front and center, as the Constitutional Court of Ukraine declared that the Constitution of Ukraine does not provide the Executive with the power to issue decrees that unilaterally allow it to appoint the leadership of the leading anti-corruption agency, tasked with investigating corruption cases, the National Anti-Corruption Bureau of Ukraine. Civil society organizations will play a key role in overseeing that the future government policy-making in response to the Court's ruling ensures that anti-corruption agencies remain independent and isolated from politicized pressures. Meanwhile, Transparency International also continues to closely monitor the results of the High Anti-Corruption Court's first year of work.
When not protecting the independence of institutions, Ukraine's civil society organizations have been protecting themselves on various levels. Ukraine's civil society organizations continue to defend themselves from not only physical attacks—suspiciously occurring hours after reporting on corruption in a Kyiv administrative court—but also legal and bureaucratic challenges and requirements that jeopardize their work and legal status. These have included proposed bills restricting civil society leaders from entering public office and imposing new asset declarations. But USAID/ENGAGE partners have been resolute, advocating for high-level policy issues while also engaging with citizens for grassroots change.
For example, the Anti-Corruption Action Center continues to raise awareness of corruption and make it understandable and accessible for the everyday Ukrainian. It does so through its series of its Zero Corruption themed events, which will culminate in an international conference gathering political leaders from Ukraine, Europe, and the US, along with distinguished international scholars and influential activists. Those events have and continue to tackle key Agenda for Justice issues, such as the relaunch and reform of the anti-corruption and judicial institutions. The Zero Corruption conference has even won the eye of President Zelensky, who confirmed his intention to attend and recognize corruption as a continuing cancer on the country and economy.
Over the past six months, monitoring government spending and procurement are also key issues for USAID/ENGAGE partners. As the government rolled out new COVID measures this spring in response to the pandemic, normal procurement regulations were eased in order to expedite the process of rapidly dispersing much-needed medical equipment and supplies to hospitals and communities across the country. But with those limitations came the heighted risk of corruption in the health system. Fortunately, Transparency International Ukraine was waiting, alert to those risks and ready to ensure that the Ukrainian people had access to clear, objective information on how their money was being spent. On the regional level, partners like the Kharkiv Anticorruption Action Center have similarly investigated COVID procurement, exposing payments for respirators and suits that exceeded normal prices.
The two-pronged battle to stop graft while also building trust in the same institutions proceeds. As the battle against corruption wages on, civil society's sustained and multi-faceted efforts will be key, as will engaging with the everyday Ukrainian citizen. While the nuances of constitutional authority and issues of balance of power may fall outside of the day to day concerns of Ukrainians, their perspective remains invaluable. Ukrainians perceptions and experiences with violations of their rights continue to provide an invaluable source into the pressing issues that impact them, amplifying their voice, and an opportunity for stimulating public participation in regional and national level policies.