Social inclusion is defined by the World Bank as "the process of improving the terms on which individuals and groups take part in society—improving the ability, opportunity, and dignity of those disadvantaged on the basis of their identity."
Inclusion is about society adapting to the needs of people, not people adapting to the demands of society. And in Ukraine, even before the onset of the COVID-19 pandemic, advancing a more inclusive state has been a challenge. According, to experts from the United Nations, Ukraine has just started to move from segregation to integration. Traditionally, persons with disabilities and individuals identifying as LBGTQI have been among those groups that are among the most underrepresented and excluded by society, and women have also been subject to movements to restore traditional relations.
Due to government restrictions and limitations on physical contact brought on by the quarantine, inclusion has become even more important as underrepresented individuals and social groups have been left to manage the day-to-day complexities global public health crises with little support. Globally, learners with disabilities are among the most impacted. Another underrepresented group includes persons with disabilities.
However, Ukraine's civil society organizations have not forgotten about these groups. Today, they are keen on kickstarting integration campaigns to ensure that those voices are heard, to hold the state accountable and advance more considerate policies, and build a foundation so that future generations are better situated to ensure that communities are including everyone.
COVID's Aggravated Impact on Societal Exclusion  
Globally, among the hardest hit by the COVID pandemic have been persons with disabilities. Ukraine is not immune from this phenomenon, and it has been especially pronounced among persons with disabilities, including disabled students and disabled persons living in Eastern Ukraine who are impacted by the conflict.
According to a 2019 report, Ukraine has an overall inclusive education rate of just 7%. That same report details that only 6% of schools have inclusive classes, despite the fact that some 168,000 of 700,000 pupils with disabilities have special educational needs.
In addition to women, who have reported a 20% increase in domestic violence during the pandemic, the COVID-19 pandemic also adversely impacts the LGBTQI community. For example, social distancing can be particularly difficult for those individuals who are rejected by their family and encountering mental health issues. Unemployment tends to impact LGBTQI individuals at a higher rate, meaning that tough economic times make this group even more vulnerable, particularly younger people—an estimated 25-40% of young individuals experience homelessness identify as LGBTQI.
The Case for Inclusion in Ukraine
 Understanding the mentality of Ukrainians and their beliefs helps to explain some lingering stigma against underrepresented persons and the prospects for future inclusive policies. Even prior to the onset of COVID-19 this spring, some data suggest that societal efforts at inclusion can still be improved.
Aside from simply feeling disconnected, another issue concerns empathy towards the rights and needs of the underrepresented,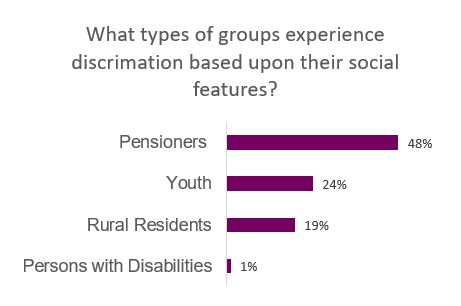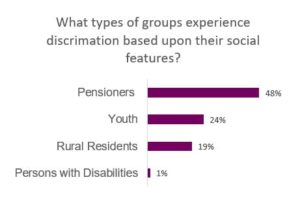 such as those disabilities. According to data from the USAID/ENGAGE National Civic Engagement Poll, conducted in January 2020, only 1% of respondents identified disabled persons as a group who experienced violations and limitations of their freedom on the basis of their social features. This figure is remarkably low considering that pensioners (48%), rural residents (19%), the working class (12%), and even youth (24%) were all considered to have encountered considerably more discrimination. This finding suggests that a lack of inclusion does not merely deny individuals of certain rights in their life, but that many people fail to comprehend the difficulties that they face on a daily basis.
The National Civic Engagement Poll also touches on the issue of sexual orientation, revealing potential stigma as well. For example,


according to the same January 2020 poll, 26% of respondents preferred not to live next to an individual who identified with a sexual orientation other than straight. While this rate may have decreased over time, it is high enough to raise concerns over stigma.
Further stigma persists in terms of gender norms. Gender stereotypes and efforts to restore "traditional" roles of men and women endanger Ukrainian women's progress in economic equality and reducing the gender pay gap. In 2017, Ukraine ranked 88 out of 189 countries on the United Nations Development Programme's Gender Inequality Index. The report cites that on average, Ukrainian women earn about 70% of men's wages. And a separate 2016 poll from the Analytical Rating Center revealed that only half of respondents—both men and women—stated that a woman could be the head of a household.
For its part, the government of Ukraine has adopted a series of reforms during the last ten years to take an inclusive approach, such as its adoption of the United Nations Convention on Rights of Persons with Disabilities. It also adopted laws that prohibiting discrimination on the basis of disability. However, much remains to be done in order to realize the implementation and guarantees provided by those laws. Accessibility remains a challenge. Simply having a law does not guarantee that improvements to inclusion are implemented, funded, or enforced.
Thankfully, civil society continues to play a key role in filling the gaps left by the lack of a mechanisms for effectuating state policy.
Inclusion Initiatives Make Civic Participation Easy and Fun
USAID/ENGAGE partners are among those civil society leaders that work to foster inclusion year-in year-out, even in the face of the global health crisis. The activities are multi-faceted, proving addressing difficult issues like stigma or sexual orientation need not only involve rigid policy advocacy, tense legal battles, or information campaigns—advancing inclusion can involve games and fun events, even during a quarantine.
Earlier this summer, the popular KyivPride parade, recognizing LGBTQI rights, took place online in order to comply with COVID-19 restrictions on mass assembly. The event was a success, gathering recognition from large private donors, and collecting over 1,200 various messages of peace and equality that were shared among participants. Inclusion matters outside of the capital too, and Zaporizhizha Pride, after holding its first pride march last year, recently won the attention and support of nine different European missions as the organization works to create a safe environment for its spring pride event. And in order to comply with social distancing requirements, KharkivPride, a USAID/ENGAGE partner, will improvise with a special parade format for this year's parade. After also holding its inaugural parade in Ukraine's second largest city in 2019, the LGBTQI advocacy group has announced that March's parade will continue, but that participants will drive automobiles.
With respect gender inclusion, The Sumy Public Circle's game "GenderPoker" is designed to raise public awareness of gender stereotypes, prejudices, discrimination and ways to overcome them. The online game serves public activists, members of non-governmental organizations, representatives of public authorities and local governments, united territorial communities, media, student youth, and those who are interested in gender issues.
Meanwhile, the civil society organization Freedom also combines inclusion advocacy with entertainment, holding a festival as a part of its "MOSAIC" project. The festival aimed to engage citizens in advocacy activities of city development of inclusion. During the festival two municipal programs designed under the project were presented, including one titled "Inclusive Enerhodar" and patrons sign petitions for the city council of Energodar to implement advancements in the city for persons impact with disability.
Connection is key to understanding, so at the event, Konstantin Muraviev, an Enerhodar local, discussed the everyday life of visually disabled people. Impacted by with his own visual impairment, Konstanin discussed the challenge that attach to his daily navigation throughout  city, and the lack of various accessible infrastructure, such as the crosswalk signals with noises or smooth transitions between sidewalks and curbs. Those barriers to inclusion require greater conversation and consideration from local leaders.
In addition to discussing challenges and informing the public, other CSOs remain committed to improving that infrastructure. The Bureau of Legal Communications, a USAID/ENGAGE activity partner, is taking steps to do so. Through a series of meetings, the organization is cooperating with CSOs of people with disabilities in its "100% of Sport" campaign. The activity draws public attention to problems of people with disabilities regarding their involvement in the sport life of the city, particularly the problems of accessibility of the city of Sumy's sports infrastructure (e.g. sport schools, sports clubs, street workouts, stadiums, and other buildings) as well as involvement of low-mobility groups of citizens in sport events.
Indeed, civil society remains concerned about a variety of inclusion issues, whether it be disabled persons access to public buildings and participation in athletics, or the stereotypes that define one's gender or sexual orientation. Throughout Ukraine, civil society organizations continue to tackle these often difficult subjects, especially at the local-level. While informing citizens and the youth that it is one's character that defines them, not uncontrollable traits, USAID/ENGAGE partners advance a more inclusive Ukraine and ensuring that future generations possess the understanding and tolerance that informs their values.